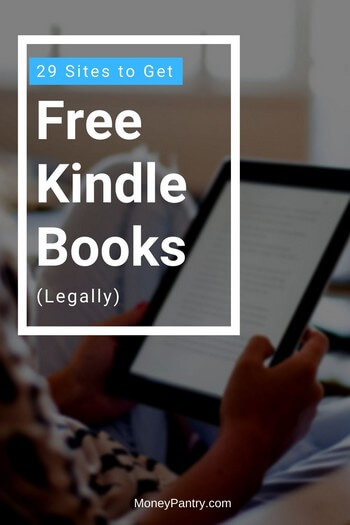 Finding free Kindle books isn't that hard. you just need to know where to downloads free Kindle books legally.
If you own an Amazon Kindle, it's safe to say you wouldn't mind finding and downloading free books so you can save money on Kindle books.
Although a specific number of Kindles sold is not known, that number is estimated to be between 20 and 90 million!
And with everything that's going on right now, people suddenly have a lot of free time to read these days.
With the COVID-19 (more commonly known as the Corona Virus) pandemic, most people have been told to stay home and practice social distancing from other people.
But since people will be away from work for the foreseeable future, buying new books for your Kindle might not be the best use of your money.
Need Easy Extra $300+/Month for Free?
KashKick
: Get paid directly into your PayPal for watching videos, surfing, shopping and more.
Join KashKick Now!
Panel Payday
: Earn up to $75 per survey. They also pay up to $50/hr for mystery shopping.
Join Now!
InboxDollars
: Paid over $57 Million to members to watch videos, take surveys, shop and more.
Get $5 instantly!
Branded Surveys
: Get $1 instantly just for joining for free. Plus get paid within 48 hours by PayPal!
Join Branded Surveys
iPsos iSay:
: If you have to only sign up for one paid survey site, go with Ipsos (high paying survyes)!
Join iPsos Now!
Swagbucks
: Get paid to watch videos, shop online, take surveys and more.
Join now & get $5 instantly!
But don't worry, there are ways to get new eBooks for you to read without spending a penny!
Here are some of the best ways to get free eBooks for your Amazon Kindle legally.
A word of caution before we begin
This article will contain a list of quite a few websites that offer free eBooks.
Some sites specialize in listing only free eBooks.
Some others offer free and reduced-priced eBooks.
And oftentimes an eBook will be listed as free only for a very limited period of time.
Before you click "download" be sure the title is in fact free.
Best Places to Download Kindle Books for Free
So if you ever wondered, "How do I get free books on my Kindle?",  you can use the sites below to download books to your Kindle device absolutely free.
1. Amazon's Free Kindle Books
There are tons of free classic titles available on Amazon.com (on this page) for you to download.
They include A Tale of Two Cities, Les Miserables, Twenty Thousand Leagues Under The Sea, A Journey To The Center of the Earth, and more.
In all, a search for "Free Popular Classics" in the Kindle Store has over 10,000 results!
Definitely worth checking out if you're a fan of classic literature.
2. And take full advantage of your Amazon Prime membership
Many of you already have an Amazon Prime membership.
The free two-day shipping, plus all the streaming content, makes it tough to turn down.
But there are plenty of other benefits that come with your membership.
But the question is, "Do Amazon Prime members get free Kindle books?".
Well, yes and no!
Let me explain…
Amazon Prime members can download and read every Kindle book for free, but thanks to the Prime Reading program, Amazon Prime members have access to thousands of free titles to choose from for their Kindle or any mobile device, so you'll always have something to choose from.
They even include titles with Audible Narration if you prefer audiobooks.
3. eReaderIQ
eReaderIQ markets itself as a site that tracks the prices for Kindle books.
And you can look for free eBooks by clicking on the "Freebies" button at the top of the page.
And you can narrow your search by using the "Select Genre" filter on the left side of the page.
And you can also set it up to show you only the new titles added since your last visit and get notifications when new titles are added.
4. Project Gutenberg
Project Gutenberg offers over 60,000 free eBooks available to download on your Kindle or to read online.
You can browse for books by clicking on the links for "Basic Search," "Advanced Search," "Recently added eBooks," and so on.
The website's appearance is a little outdated, but you should have no problem navigating the site or finding what you're looking for.
And any questions you may have regarding downloading a title can be answered in the "MobileReader Devices How-To" section of the page.
5. Freebooksy
Freebooksy is a website/blog dedicated to helping readers easily find free eBooks to read.
They post at least one new, free eBook once a day and often more.
And the titles they share cover every category you can imagine.
To download, just click on the "Kindle" button next to the title you like.
But if you see a title you like, download it quickly.
It may only be free the day it's posted.
And sometimes the titles that are posted are only samples or excerpts of books and not the entire work.
6. Manybooks
Manybooks was launched in 2004 as a platform to provide access to free digital books.
The site offers readers over 50,000 titles to choose from, In pretty much every category you can think of
And they offer a newsletter to let readers know when new titles are available
It has also evolved into a place where self-published authors can upload their works and introduce them to a huge audience of potential readers.
7. OpenLibrary
Open Library is a site whose stated goal is to "build an Open Library for the World" by making all of the published works in the world available to everyone.
Open Library has over 1 million titles to choose from.
Their specialty seems to be classic literature, but they have plenty of other options in other categories as well.
And you can easily search by author, title, or category.
8. OneHundredFreeBooks
One Hundred Free Books (or ohfb.com) is a website dedicated to helping readers find discounted and free Kindle books so you can "Read more. Spend Less."
Just click on "Free Kindle Deals" under "Readers" at the bottom of the page.
From there just look at the categories list on the left side of the page.
Once you find a book you want, click on "Kindle" where you'll be taken to Amazon for you to complete the transaction.
There is also a price-tracking tool, where you can see if or when a title you're interested in drops in price or becomes free.
9. FreeBooksHub
Free Books Hub is a site developed to help Kindle owners find inexpensive or free eBooks for their devices.
They have two different categories of free eBooks.
One category consists of eBooks free to all Amazon customers, called "Free Kindle Books."
The other is made up of ones only available to Amazon Prime members called "Free Prime Books."
The different categories are clearly labeled at the top of the page.
You can also subscribe to their email list to be notified when new titles become available.
10. DigiLibraries
DigiLibraries is another site created by readers to help readers find free eBooks in a variety of categories.
The site is pretty easy to navigate and figure out, the list of categories is listed down the left side of the page.
And it's really easy to download a title.
Just click on the title you want, look under "download options" for the right format, then click download.
And you can download up to 50 titles per day.
11. Kindle Buffet
Kindle Buffet from Weberbooks.com  is a hand-picked list of free and reduced-price books offered by Amazon.
The site offers three pages of titles to choose from, with free options at the top of the page.
The site also offers a daily email to keep you updated on any new titles they have to offer.
However, this site offers the fewest options compared to the other sites listed so far.
And it does not offer a way to search by category, title, or author.
12. Freebook Sifter
Freebook Sifter is almost like a search engine for free eBooks.
In the top left-hand corner of the page is a drop-down menu where you can choose where to search for free titles.
You can search from places like Amazon and Barnes & Noble.
The site also lists all the categories to choose from along the left-hand side of the page.
And like many of the other pages, you can sign up for daily emails to let you know when new titles are available.
One positive thing that sets it apart from some of the other pages, it offers ratings (1-5 stars) for each title.
One negative though is the appearance of the page.
What's wrong with it, you might ask?
Well, let's say it's a little old-fashioned.
But all in all, it's a useful site to find free eBooks.
13. The eReader Café
The eReader Café offers the newest offerings at the top of the page, and the listings are updated daily.
It also allows you to enter keywords to search, and options at the top of the page to search by author or best sellers.
And like Freebook Sifter, it also has a rating system.
Like a lot of the other sites, it offers a daily email to let you know when new titles are listed.
And if you don't want another email coming into your inbox each day, they have several social media accounts you can follow.
14. eBook Daily
eBook Daily is significantly different from the other sites listed so far.
Instead of offering a list of free eBooks, eBook Daily emails you a list of free eBooks for the Kindle based on your preferences.
And they offer titles from every category you can think of like mystery, sci-fi, biographies, nonfiction, and more.
But keep in mind each eBook is free for only one day.
So if you see a title you want, jump on it as soon as you can.
15. Daily Cheap Reads
Daily Cheap Reads was started by two women whose love of frugality led them to start a website to help other like-minded people find marked down or free eBooks.
They list inexpensive or free offerings found on Amazon, then post them on their site.
And new offerings are listed frequently.
It's easy to search for titles, you can enter a keyword in the search bar in the right-hand corner of the site or look under the categories section along the right-hand side of the page.
To make sure you're only looking at free titles, be sure to click "Free" in the Categories section.
The site is pretty easy to navigate, but one drawback is the site does have a lot of advertisements that can be distracting.
16. Centsless Books
Centsless Books is one of the most comprehensive sites dedicated to only free eBooks, offering titles in almost 40 different categories.
And instead of updating their listings daily, they update their offerings each hour!
And instead of just offering text that lists their current selection, each title has a thumbnail picture of the cover.
And if you don't want to check the website multiple times a day to see the newest titles, you can sign up for their email list or follow them on social media.
17. Pixel Scroll
Pixel Scroll is a little different than the sites mentioned to this point.
They offer plenty of inexpensive and free eBooks for you to download.
And instead of just offering the title and author, it offers a brief description of the book and a brief review as well.
But what really sets it apart is the fact they focus on more than just eBooks.
They also have sections dedicated to music, movies, and TV.
If you are looking for a specific title or author, there is a search bar on the right-hand side of the site.
And you can also search by category by searching the "Deals By Tag" section underneath the search bar.
You can also search by clicking "Today's Features," "Pick of the Day," "Daily Deals," and "Books" at the top of the page.
And like many of the other sites, you can sign up for their email newsletter.
18. Book Bub
Book Bub offers to help readers find great reads while helping authors and publishers find new fans.
Once you register (it's free) you'll begin receiving emails with the latest deals with a list of hand-picked selections selected specifically for you.
They will also let you know about discounts, new releases, and upcoming releases from your favorite authors.
And the offers come from a variety of retailers including Amazon, Barnes & Noble, and more.
But like some of the other sites, a title may only be free for a short period of time.
So if you see a title you want, be sure to get it then.
19. Free-eBooks.net
Free-eBooks is another site that also requires a membership.
And yes, it is free.
Once you sign up, you'll be able to download five free eBooks per month.
You can search for titles or authors by using the search bar at the top of the page.
Or you can choose to search by category, and each category is broken down into subcategories which is pretty helpful.
And on a side note, if you're an author you have the opportunity to promote your own book.
20. Free Kindle Books And Tips
Free Kindle Books And Tips is another site specializing in finding free and marked-down eBooks.
You do not get the title through their site, rather once you find something you like they redirect you to Amazon to complete the action.
The best way to make sure you're looking at the free options is to click on the Get Free Books button about midway down the page and subscribe.
You can also keep up with them by following their social media pages.
And like with many of the other sites, if you see a title listed as free you need to act right away.
The site says the title won't likely stay free for very long, prices for eBooks on Amazon can vary from day to day.
One negative thing about the site is the home page does not have a lot of information about titles they currently offer.
And the list of categories to choose from is not on the main page, but a separate page you can get to by clicking on a tab at the top of the page.
21. Book Goodies
Book Goodies is another site offering readers the opportunity to download free and deeply discounted eBooks.
As mentioned before, often times a title is free only for a very short period of time.
A cool thing about this site is they subdivide its free eBook offerings into three categories: Free Books, PermaFree Books, and Featured Free and Bargain books.
You can search for titles or authors by using the search bar, or search by categories which are listed along the right side of the page.
And like many of the other sites, you can sign up for the daily email to keep abreast of any new deals they have to offer.
Another cool thing about the site, they offer authors the opportunity to tell readers about their books.
This allows authors to go into detail about the plot, what inspired them to write the book, the intended audience, and so forth.
22. eBooks Habit
eBooks Habit is another site dedicated to helping readers find free eBooks on Amazon.
Just sign up for their daily email, and they'll send you 10-20 titles that are free at the time of the email.
And the listings give you a picture of the book's cover, as well as a pretty detailed description of the plot.
But one thing definitely stood out on the website.
The main headline under the heading said "Bargain and Free eBooks for Saturday (11/9).
Seeing a headline that's over four months old definitely raised a red flag.
One has to wonder how current the listings are and how often the website is updated if the headline is that old.
23. If you're a college student, you may have access to Free eTextbooks
Due to the COVID-19 pandemic, most if not all colleges are going to online classes only until the end of the spring semester at least.
If you are a college student and your classes are now online only, there is a chance you may have access to free online textbooks.
Mississippi State University is offering free access to online eTextbooks for the rest of the spring semester.
Check and see if your university is offering a similar program.
And if they are, by all means take advantage of it!
24. Don't overlook this offer from Audible
Schools everywhere have been temporarily shut down due to the COVID-19 outbreak.
And Audible, the subscription service that specializes in audiobooks, is offering parents a way to keep their kids entertained.
They are offering free streaming on a select number of children's titles as long as the schools are closed.
An audible subscription typically costs $14.95 per month.
If you have kids at home who normally would be in school, this offer is worth looking into.
25. Use rewards sites
There are many rewards sites out there.
The two most popular and most respected are Swagbucks and Rakuten (former eBates).
With Swagbucks, you earn points (or swagbucks) each time you complete a survey, watch a video, buy eligible products, or make a purchase at an eligible store.
Earn enough swagbucks, and you can redeem them for gift cards from a wide variety of retailers, including Amazon.
Earn those swagbucks, redeem them for Amazon gift cards, then buy that e-book you want.
With Rakuten (formerly eBates) you receive cash back from making a purchase at an eligible store.
You can get up to 40% cash back from over 2500 different stores!
Chances are you already shop at one of these stores!
Just go about your normal shopping routine, earn your cash back reward, then use it to build up your e-book library!
26. Use points/cash back from your Rewards Credit Card
Many of you probably have a rewards or cash back credit card like a Discover card, American Express card, or one through your local bank?
Have you received your cash back for your 2019 purchases yet?
If so, why not use that money to add to your book collection for your Kindle?
And if your card is a points card and not a cashback card, don't worry.
Many cards allow their cardholders to redeem their points for gift cards.
See if you have the option to redeem your points for an Amazon gift card.
But what if your card offers airline miles but does not offer a cashback option?
With the situation with the Coronavirus, people are hesitant to fly right now (and rightfully so!).
So why not trade your airline miles or points for cash?
That's exactly what The Points Trader allows you to do!
You request a free quote to sell your miles or points, they verify and transfer your points, then you get paid!
27. Use your holiday gift cards
Do you have gift cards you received as Christmas presents you have not used yet?
If the answer is yes, you're not alone.
Up to $3 billion worth of gift cards don't get used every year!
Don't become another statistic!
If you have an Amazon gift card someone gave you that you haven't used, then redeem it for an e-book.
Or use your gift card to a brick-and-mortar store to buy an Amazon gift card from them.
Or if you received a gift card to a store you don't frequent, there are ways to trade them for a gift card to someplace else.
You can go to Cardpool (and other best places to sell unwanted Christmas gift cards) and exchange your gift card for another one!
Or if you have a gift card you probably won't use and one of your friends has an Amazon gift card they haven't used or don't want, see if they will trade with you.
You won't know until you ask!
28. Get creative with your favorite store's rewards program
It's probably a safe assumption that most of you belong to your favorite store's loyalty or rewards program.
Some popular ones are Target Circle, CVS Extracare, and H-E-B Points Club Rewards.
Next time you shop at your favorite store and use their loyalty or rewards program, look at the bottom of your receipt.
It will probably say something like "You Saved $X.XX This Trip."
When you get home, transfer that amount into a secondary savings account.
At the end of the month, you'll have $25 at least.
When the time comes, use the money you've saved through that loyalty or rewards program to buy that e-book you've been wanting.
Also, be on the lookout for gift card opportunities.
Target will often time have offers if you buy three or four or five of a certain item, you'll get a free $5 gift card.
Collect those gift cards, then use them to buy an Amazon gift card in their gift card section.
Then use that gift card to select the e-book you've been wanting.
Again, you get the book you want with no money leaving your account.
29. Use your imagination & mix and match
And as you're reading this list, don't feel like you have to use one and only one of these ideas.
If you use your imagination and combine two or more, you can really come away with some great deals!
In addition to exchanging gift cards, CardPool and CardCash also let you buy gift cards at a discount.
So you could use the cashback reward from your credit, use your cash back from Rakuten, or redeem your Swagbucks for a PayPal gift card, then go to CardPool or CardCash to buy a discounted Amazon gift card!
You could get a $50 Amazon Gift card for only $45, and technically no money left your bank account!
Also, keep an eye on eBay.
They may have discounted Amazon gift cards up for bid.
If they do, redeem your swagbucks for an eBay gift card and then bid on that discounted Amazon gift card.
If you win, you'll get a discounted Amazon gift card and again no money left your bank account!
If you use your imagination, there's no limit on the ways you can save!
Consider Donating
Many of the sites that offer free eBooks do so with the help of their fans.
They often need donations to keep their operation up and running.
So if you find a site that you like and visit often, think about making a donation.
That way you'll be able to keep things going and allow others to enjoy the site's services as well.
Final Thoughts on Free Kindle Books
Many of us have a lot of free time on our hands right now.
Reading is a great way to pass the time and expand our horizons as well.
Hopefully, the websites and advice listed above have given you some ideas on how to build up your e-book library for free.
Now that you know how to find and download Kindle books for free, start reading!