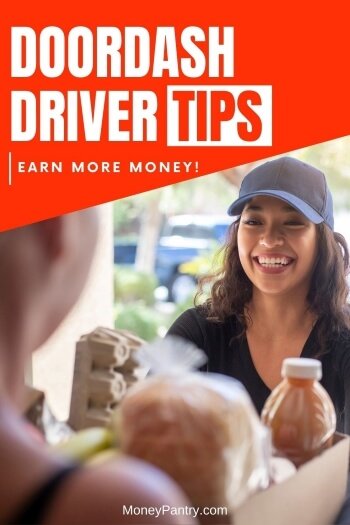 DoorDash is the leading food delivery company in the US market, surpassing global leader Uber Eats.
In 2020, DoorDash was responsible for 45 percent of all food delivery orders!
So, it's an incredibly popular platform as a food delivery service and a delivery app to work for.
Anyone who is at least 18-years old, has a vehicle, can provide a driver's license number and social security number (only in the United States), and consent to a background check can drive for DoorDash.
On its website, DoorDash says that most drivers earn $25 an hour.
Need Easy Extra $300+/Month for Free?
KashKick
: Get paid directly into your PayPal for watching videos, surfing, shopping and more.
Join KashKick Now!
InboxDollars
: Paid over $57 Million to members to watch videos, take surveys, shop and more.
Get $5 instantly!
Branded Surveys
: Get $1 instantly just for joining for free. Plus get paid within 48 hours by PayPal!
Join Branded Surveys
First Opinion
: Get paid up to $10 per survey and $300 per virtual focus groups!
Join Now!
Swagbucks
: Get paid to watch videos, shop online, take surveys and more.
Join now & get $10 instantly!
According to figures from Glassdoor, DoorDash drivers make $16 an hour on average. Pay can range anywhere from $3 to $33 an hour though.
Also, drivers can earn more money with promotions and tips. So, DoorDash can potentially pay well, provided you know what you're doing.
If you're a DoorDash driver, or are thinking of signing up, then you'll want to maximize your earnings.
DoorDash Driver Tips: How to Make More Money as a Driver
Below, I'll cover 23 DoorDash tips drivers can use to earn more cash!
So, if you're looking for DoorDash driver advice, this is the post for you!
1. Work during peak hours
If you want to earn more money with DoorDash, then make sure you work during peak hours.
Basically, this is any time that people tend to order food. So, this usually means during lunchtime and dinnertime.
What's good about working during peak times is that you can take advantage of Peak Pay. This is a type of Promotion from DoorDash.
Promotions are extra pay that drivers can get for orders that meet certain conditions.
One of the promotions that DoorDash makes available to dashers are Peak Pay incentives.
When it's busy, Peak Pay may come into effect.
Peak Pay incentives allow drivers to earn more during busy times.
Here's an example of a Peak Pay incentive:
Earn $2 extra in San Francisco between 11 a.m. to 2 p.m.
2. Bring an insulated food bag
If you want to be successful as a DoorDash driver, then you will want to provide a good customer service.
One really simple tip is to use an insulated food bag. This will keep warm foods warm and cold foods, cold.
No one wants a cold taco or melted ice cream, right?
DoorDash does provide a bag, but this might not be large enough for all orders. So, you should consider getting a larger one. It can make your job easier!
You can find insulated food bags for affordable prices at Walmart and Amazon.
It's important use an insulated bag, whether that's the one you get from DoorDash or one you have purchased elsewhere, or cooler box to keep foods at the right temperature.
If a customer orders hot items and cold items, then make sure you keep them separate. No one wants a salad steamed on top of a pizza box, you know?
So, keep hot items and cold items separate in their own insulated bags.
3. Make sure your phone is charged
When you are delivering food with DoorDash, you do not want your phone's battery to die on you. This will mean you won't be able to see any new orders or complete your deliveries properly.
Make sure you get into the habit of charging your phone before you start delivering for DoorDash.
It can be a good idea to purchase a portable phone charger that you can take with your on your deliveries. That way, you can charge your phone on the go, and you don't have to worry about the battery dying on you. It's a simple tip, but an important one.
4. Be selective with the orders that you accept
A mistake that many drivers make, particularly beginners, is that they accept every order available. While doing lots of orders will give you more earning opportunities, it's not always good for your hourly earnings.
A really simple tip is to be selective about the orders that you accept. This was one of the most common DoorDash driver tips on Reddit.
Here are some things to consider when deciding whether or not to do an order.
Where the order is going
If an order will take you too far out of the way, then it might be worth skipping. It's a good idea to only choose deliveries that aren't going too far, and that keep you in a busy area of your town or city.
The restaurant you're picking up the food from
Some restaurants are friendly and respectful towards Dashers, they have the food ready to go, and they don't waste your time. Others are the opposite though. It's best to take orders from the good restaurants and avoiding accepting orders from the bad ones.
If a restaurant always takes ages to get the food ready, and it leaves you waiting around, then your deliveries from that place will take longer.
This means that you're making fewer deliveries per hour. This will lower your earnings.
That's why, when you see an order, you should check to see what restaurant it's from and decide whether it's worth accepting that order.
If that particular restaurant always has the food ready to go, then accept the order. If it doesn't then you might want to choose another order instead.
Now, it's important to note that this will only work for restaurants that you've already been to. As you can gain more experience though, you will know which restaurants are good, and which ones you should avoid.
How much the order pays you
You should also consider how much the order pays you. This is because you only want to accept orders that are going to be worth your time and effort.
Many Dashers mention on Reddit that they have a minimum order payout, and they won't go below it. So, this minimum order payout might be $5, and they will only accept orders that pay $5 or more.
I had a browse on Reddit and found a few different minimum payouts that Dashers said they would accept.
Many drivers shared the minimum payout amount they would accept in this Reddit thread:
"I learned from this subreddit not to take anything below $6.50 and/or $1 per mile bare minimum."
"Nothing under $5, try to only do orders that are $2/mile or close to it."
"$8 minimum for anything under 3 miles and $2 per mile. $1/ mile it's no good for me."
"Used to be $6.50 (2 miles or under, restaurant that has a good, fast record for pick-up, no apartments). With gas prices, it's $7.50."
"Nothing under $5, nothing under $1.25/mile. gas prices too damn high for anything less."
"$6 is my minimum but I'll take a $5 run if it's only a mile or two
Most of the time I won't accept less then 6$ but sometimes I'll take a $5 1 mile order."
"I'm a little less picky in the mornings when it's slower, but $4.50 is about the lowest I'll go and for 1-2 miles so that if something else comes on another app I can take care of it quickly and get to the next one."
"$2 / mile and with tips."
"$1 a mile. Hell no. $2 a mile and min $8."
"$7 on a slow day $8 normally."
"Nothing under 7.50 for me."
"Minimum $6 that will get you 2 miles and then it's $2 per mile afterwards."
"$6.25 and $2/mile."
"2 dollars per mile nothing under 6.50."
"Generally nothing under $5. $2/mile as an average. $1.50/mile on the slowest of slow days."
"Generally around $8-$9 is my minimum. I definitely don't go under $8 but try not to go under $9 unless it's something I can't refuse like $8 for a 1 mile order."
"Now with gas prices, nothing under $7."
"$8 min. For the $8 it will have to be under 3 miles."
Now, you may not necessarily want to choose the highest paying orders all the time. No, you will also want to consider how long the order is going to take you to complete.
If an order pays a lot, but it will take you a while to complete, then choosing an order that pays a little lower but is quicker to complete might be a better option. This will give you more time to do other orders, and the more orders you can do per day, the more you will earn.
Many Dashers, especially beginners, will accept every single order they come across. While your acceptance rate is important on the platform, it's also important to keep your hourly earnings as high as possible.
The best way to do that is to be selective with the orders you accept. So, consider those factors above when you're deciding which orders to accept. This will make the orders worth your while, and you will maximize your earnings.
5. Complete challenges if they are available in your area
DoorDash is now offering Challenges to Dashers. This program is currently in beta. Not all Dashers will see Challenges in their area, but DoorDash says that its working to expand this in the coming months.
So, it's worth having a check to see if any Challenges are available in your area.
Challenges are incentives that allow Dashers to earn extra money for completing a certain number of deliveries within a set amount of time.
For example, you may earn $20 for completing 15 deliveries over the course of a week (Monday 12:01 a.m. to Sunday 11:59 p.m. local time).
You are automatically enrolled in active Challenges that you are eligible for in your area. So, you don't have to opt-in to participate in the Challenge.
You can open your Dasher app and select your starting point to see if you have an active Challenge in your area.
There will only be one active Challenge in a starting point at any given time period.
You can tap on the Challenge for details. On the Challenge info screen, you will be able to see all the details about the Challenge, such as the number of deliveries that are required, the days/times that the Challenge is valid for, the extra amount you can earn for completing the Challenge, and the starting points that the challenge is active in.
Doing these Challenges is a good way to increase your income.
6. Avoid Walmart orders
While DoorDash is mostly known as a restaurant food delivery service, it also offers Walmart grocery deliveries.
After much research and seeing what DD drivers have to say, the consensus is that you should avoid Walmart orders.
One Redditor says:
"Walmart orders are a no-go. You should have seen this one coming.. Walmart is a grocery store so you best believe that they're going to want 72 different things, which they will want you to deliver for $10 or less sometimes. It states on the app that it doesn't include the tip, and they're right.. most customers tip low or nothing at all for this. It's ridiculous… Stay away."
7. Don't discount local restaurants
While chain-restaurants are good for Dashers too, because they're popular so are likely to get a lot of orders, don't discount local restaurants.
Quite a few Dashers mention this on Reddit.
One Redditor says:
"Find local restaurants that are only known within a city. For example, we have one out here that's in a rich part of town that has a crap ton of orders from the locals. What this type of thing allows for is first off, making a relationship with a restaurant and potentially setting up deals for catering orders, which i've found to be quite useful, and limits your miles."
8. Communicate with the customer
One of the best DoorDash driver tips I can give you is to communicate with the customer. This is such a good way to provide a better service to the customer, and therefore increase your chances of getting a good tip! Providing good customer service can also increase your Dasher rating.
There are a few times you might want to get in touch with customers.
When you're on the way to get the food. Sending a quick message to say you are starting the delivery can be a good idea.
If there is going to be a delay. If the restaurant is behind with the order, and it's not ready to collect yet, it can be a good idea to let the customer know. Also, if traffic is bad, or there's construction on the road, then let the customer know that you're going to be a little late.
When you're on your way to the customers home. This will allow customers to look out for you and be ready to accept the food when it arrives. Also, you might want to give the customer a quick message that you're outside the house with the food, particularly if you're delivering to an apartment. Some people who live in apartment buildings will want to come down to meet you to pick up the food when you arrive.
You don't want to go overboard with messages but keeping the customer up to date with how the delivery is going is a great way to provide great customer service.
9. Look professional
It's really important to look professional on the job.
Again, this tip was also mentioned on Reddit.
One Redditor says:
"As for customers, you are dealing with food that they put in their mouths. You should care and be conscious of that at all times. Present yourself decently. Nothing crazy, but like just look clean/keep your car clean."
You can wear those red DoorDash t-shirts. But you don't have to. Just look presentable.
Avoid things like slogan t-shirts that some would find off-putting and political t-shirts too.
Basically, wear something professional, clean, neat, and inoffensive!
Looking presentable can have an impact on how much customers will tip you.
10. Get extra items for the customer
Getting extra items for a customer is a great idea, and a good way to increase your chances of getting a tip.
Examples of extra items you can pick up for the customer include:
Plastic cutlery
Sauce packets
Napkins
Wet wipes
It can also be a good idea to keep some extras in your vehicle.
This Redditor suggests this, saying:
"Keep extra Utensils&Napkins in your car (Sometimes restaurants forget to put these items in the bag.)"
11. Be friendly and polite when making your deliveries
Okay, so to up your earnings, be friendly and polite when you make your deliveries.
Being friendly and polite can up your income for two reasons. Firstly, it can up your rating, and having a higher rating is important.
Secondly, having a friendly demeanor can also increase your change of getting a tip! The more tips you can get, the more you can boost your earnings. People tend to appreciate a pleasant demeanor.
12. Use a mileage tracking app
Another tip for DoorDash drivers is to use a mileage tracking app. I mentioned expenses above, and they are important to keep track of. As a Dasher, you are an independent contractor, which is why you should track expenses. Now, this includes fuel costs and wear and tear on your vehicle.
So, you should use a mileage tracking app to log the miles you drive when delivering for DoorDash.
You can get a better idea of your hourly earnings after costs when you use a mileage tracking app.
And, you can also deduct business mileage on your tax return.
There are lots of different mileage tracking apps out there. One of the best options is Stride because it is free to use.
Here's where you can get the Stride app:
13. Work a few weekdays too
While driving for DoorDash at the weekend can be a great way to make money on the side, it's also a good idea to try earning during the week.
Lots of people choose to make their deliveries at the weekend. So, if you make deliveries during the week, you'll likely find that you aren't competing with as many drivers. People still order food during the week, like after work when they can't be bothered cooking or on their lunch break. So, this can be a great opportunity to earn.
There will be fewer drivers on weekdays which means more orders for you!
Of course, if your schedule only allows you to work weekends, then you will just have to follow the other tips on the list. But, if you have the time, checking to see how busy your area is during the week can be a good way to give your earnings a boost!
If the area is busy, then consider doing some deliveries during the week.
14. Check the order before leaving the restaurant
Okay, so one of the best ways to earn more money on DoorDash is to get more tips. The more tips you'll get, the more you can increase your income.
So, as I mentioned above, there are a few things that you can do to ensure that you get more tips, such as communicating with customers and using an insulated food bag.
Another important tip you can follow to ensure you get a tip is to check orders before you leave the restaurant.
Sometimes, restaurants miss off items that the customer has ordered, and paid for, or they put an item that the customer hasn't ordered in the delivery by mistake. Customers won't be happy if their delivery is missing items or it contains the wrong items. Even if it is the restaurant's fault, this can impact your tip and the Dasher rating that you get from customers. So make sure that you check the order to make sure it contains the right items, and that no items are missing from the delivery.
This will keep the customer happy, which increases your chance of getting a tip and a good rating from the customer.
15. Schedule your Dashes in advance
At some points, drivers may find that when they open the Dasher app, they see that their area has enough drivers, so they aren't able to Dash there.
When an area is already filled with drivers, you won't be able to make extra cash.
A way to ensure that you can actually get deliveries on DoorDash, and therefore make money, is to schedule deliveries in advance.
Here's how you can do it:
In the Dasher app, go to the "Schedule" tab. If your Dash Now button says "Schedule a Dash," then you can do the scheduling from there as well.
In the "Available" tab, you'll be able to see the upcoming days of the week. Select a day.
You can choose a starting point and available times for your Dash. If your preferred time isn't shown that means that DoorDash has reached scheduled Dasher capacity for that time slot. DoorDash says that it is constantly updating, and it suggests checking back later, or choosing another starting point.
Once you see a Dash you like, then tap on it to select your preferred Start and End Times within the given timeframe.
Tap "Save Dash."
Then, you will be scheduled to Dash for that area, day, and time. If you need to cancel the dash, you can also do this within the app.
Scheduling your Dashes in advance is useful, particularly in busy cities. Also, you could consider Dashing in another state or nearby city to get more delivery opportunities.
16. Don't waste time waiting outside of one restaurant
Waiting outside of one restaurant, even a busy one, isn't going to guarantee you a DoorDash delivery. Rather than waiting outside of a single popular restaurant, try to wait in an area where there are multiple popular restaurants in close proximity.
That way, when there's a delivery available from any of them, you'll be within that radius.
For example, places in your town that have multiple restaurants could be downtown or at a mall.
This can help you to complete more deliveries.
17. Follow customer instructions
It's really important to follow customer instructions. This simple tip can make a huge difference to your ratings and your tip!
As a DoorDash driver, you want to ensure that you maximize your chance of getting a tip from the customer, and a good rating!
One of the best ways to do this is to follow the customer's instructions.
For example, during COVID, many customers wanted contactless delivery.
Some customers might want you to put the food in a specific place. Others will ask you not to knock, etc. So, where possible, try to follow customer instructions.
If you're unsure about a customer's instructions, then contact them about it to get clarification.
18. Don't get too caught up on "the best time to Dash"
Okay, so above, I mentioned that making deliveries during peak times, so like lunchtime and dinnertime, and mixing in some weekday deliveries if you can were both good ideas.
However, every market is different.
One Redditor mentions this, saying:
"Don't listen to people's suggestions on "what time" you should dash. I find myself doing the opposite of what everyone says. Every market is different, and it takes time to learn. Eventually, you can come up with a regular route for yourself and meet your goals quickly. You will understand the habits of the consumers. For example, if people get paid thursday/fridays, you can assume the weekends will be busy and things will start to die by Wednesday, but that's my market, yours may be different."
After driving for DD for a while, you'll learn which times tend to be busier. This will allow you to drive when there are more deliveries available, and therefore, make more money.
19. Go the extra mile
If you want to give your DoorDash rating a boost, then it's a good idea to go the extra mile with your deliveries.
For example, you could give customer small thank you notes where you mention that you are grateful for their business, and then, politely, ask them to rate you 5 stars.
Also, this tip from Reddit is great if you really want to ensure you're providing a good customer service:
"When delivering the food, pay attention to which direction the customer's door opens so you don't block them from opening the door and spilling their food/drinks. I cannot believe how many people screw this up. Look at the hinges. If you can see them, good chance the door opens towards you, so don't block the door. Put it to the side, easy for the customer to reach."
It's these little extras that can make a huge difference in increasing your tips and the rating you get from customers. So, it can be worth a little extra effort to make more money.
20. Use a rewards credit card
When you drive for DD, or any other delivery company like Amazon Flex or Uber Eats, one of your biggest expenses is going to be fuel for your car.
Also, you might purchase items like bottled water and snack foods to refuel between deliveries. That's why it can be a good idea to use a rewards credit card that gives you cashback is such a good idea.
Cashback credit cards allow you to earn money back on your purchases. So, this can be a good way to earn a little more cash. Also, some credit cards even provide bonuses to new customer, which means you could get free cash!
So, you should consider getting a rewards credit card. Just make sure that you are able to pay off the card before you are charged any interest.
21. Keep your receipts
It's really important to keep any receipts for things associated with your DoorDash work, like gas or anything you've purchased for business purposes, like an insulated food bag for example.
This is good for tax purposes. When you work for DoorDash, you are an independent contractor, so you should keep receipts for any expenses
If you have those receipts for things like gas and food bags, you can write off your expenses on your taxes. This can lower your taxable income.
22. Use multiple apps
All of the tips above will help you to earn more on DoorDash, but I have a way to make even more cash, if you're willing to sign up for a few different delivery apps.
With this tip, rather than delivering with just one app, you use all of the delivery apps in your market at the same time.
For example, if DoorDash, Uber Eats, and Grubhub are all available in your market, then sign up for them.
When you want to make deliveries, turn on all three apps and accept orders from all of them. Try to pick orders that are going in the same general direction. Doing this can significantly increase your income.
By using a few different delivery apps, you can increase the number of deliveries you get, and can boost your income by completing more deliveries.
For example, if you get 2 orders in an hour from DoorDash, but also get one from Uber Eats and one from Grubhub, you can complete 4 deliveries within an hour instead of 2.
If you get $5 per delivery, you could earn $20 an hour for the 4 deliveries, rather than just $10 an hour if you had only done the 2 DoorDash orders.
If you could make 6 deliveries in an hour, you could earn $30 an hour.
To figure out how much you can make, determine how many orders you can complete in an hour, and what you think you can average per delivery.
23. Take advantage of Fast Pay (but only when necessary)
Dasher has a few different payment options, including weekly direct deposit, and Fast Pay.
Dasher Fast Pay is available in the United States and select parts of Canada.
Fast Pay can be great when you need money quickly because it allows Dashers to cash out their earnings daily, rather than having to wait for their weekly direct deposit.
To use Fast Pay, you must have a debit card, not a prepaid card, on file.
If you want to get paid the same day, then you may want to give Fasy Pay a try.
However, it's important to note that Fast Pay is not free. You have to pay a fee of $1.99.
If you don't need the money right away, then wait a week instead, and you'll save yourself some money.
Closing Thoughts
Driving for DoorDash can be a good side hustle, provided you know what tips and tricks to follow. So, give our DoorDash tips a try and start making money!