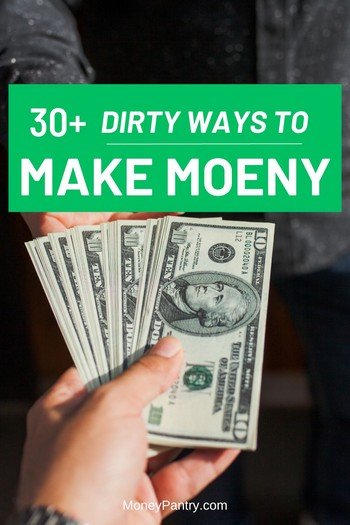 Some people do everything in their power to avoid messy jobs.
But as the saying goes, "It's a dirty job, but someone's gotta do it."
Boy, I had my share of messy jobs before going into freelancing.
I worked in fast food, where I got dirty with cooking oil and condiments.
When I cleaned the lobby, not only did I clean up spilled beverages, but I also cleaned up litter, half-eaten food, and even vomit.
I also worked in hotel housekeeping and a mail-order flower company, where I put together plant packages.
Need Easy Extra $300+/Month for Free?
KashKick
: Get paid directly into your PayPal for watching videos, surfing, shopping and more.
Join KashKick Now!
Panel Payday
: Earn up to $75 per survey. They also pay up to $50/hr for mystery shopping.
Join Now!
InboxDollars
: Paid over $57 Million to members to watch videos, take surveys, shop and more.
Get $5 instantly!
Branded Surveys
: Get $1 instantly just for joining for free. Plus get paid within 48 hours by PayPal!
Join Branded Surveys
iPsos iSay:
: If you have to only sign up for one paid survey site, go with Ipsos (high paying survyes)!
Join iPsos Now!
Swagbucks
: Get paid to watch videos, shop online, take surveys and more.
Join now & get $5 instantly!
They weren't the most pleasant jobs. However, they helped me out when I needed money. (Plus, they taught me I didn't want to work those jobs again.)
It seems like robots will take over some dirty jobs in the future to protect humans from the dangers they involve.
I find this a mixed blessing because while I'm not a fan of many dirty jobs, I understand some individuals don't mind them.
Due to the increase of robots, it's estimated that about 400 to 800 million people worldwide could lose their jobs in 2030. Plus, 75 to 375 million people might have no choice but to switch occupations and learn new skills.
That said, someone has to do the unpleasant jobs.
If you're okay with messy work, there are many dirty ways to make money.
So without further ado, here are jobs that pay you to get filthy.
Top Dirty Ways to Make Money
A lot of these jobs stink. (But for some, including you, that might not be such a bad thing.)
1. Fast Food Work
Fast food's a dying profession due to the growing number of kiosks, but it's a good starter job for teens. (Fast food was the first industry I worked in as a teen.)
Be prepared to deal with food spatters (and body waste when cleaning bathrooms).
Earning Amount: $16,000 to $30,000/year
2. Housekeeping
You have to vacuum, make beds, replace linens, and more.
As someone who used to be a hotel housekeeper, I learned the hard way that this job takes house chores to the extreme.
Where to find housekeeping work:
Hotels
Nursing homes
Private residences
Vacation rentals
Earning Amount: $21,000 to 32,000/year
3. Oil Rig
Oil rig employees work with combustible materials while walking on oily, watery platforms.
The pay's pretty good, though.
Earning Amount: $35,000 to 75,000/year
4. Garbage Collection
As a garbage collector, you need to wake up early and handle other people's disgusting and smelly trash.
Earning Amount: $26,000 to $100,000/year
5. Vet Technology
A vet technician is basically a nurse for pets.
This job requires you to draw blood, collect urine and fecal samples to diagnose illnesses, and assist veterinarians in surgeries.
Earning Amount: $20,000 to $70,000/year
6. Certified Nursing Assistance
Certified nursing assistants (CNAs) aid patients with dressing, bathing, toilet duties, and more.
(I once enrolled in a course to explore a CNA career, though I quit before I finished. Why I signed up was anyone's guess, but it was good that I found out what it entailed in the classroom rather than on the job.)
Earning Amount: $10,000 to $160,000/year
7. Janitorial Work
If you opt for janitorial work, you'll need to sweep, mop, change trash, and carry out other related tasks.
You can find work at schools, offices, grocery stores, and more.
Earning Amount: $17,000 to $50,000/year
8. Zookeeping
Taking care of exotic animals isn't all fun and games.
Zookeepers have to clean up after the animals, which means picking up the waste they leave behind.
Earning Amount: $16,000 to $210,000/year
9. Ride Operator
Like amusement parks?
Consider getting a job as a ride operator!
Note that you'll have to wash down rides when people with motion sickness throw up on them.
Earning Amount: $13,000 to $40,000/year
10. Dog Bathing
If you love dogs and don't much getting covered in soap suds, water, filth, and dog slobber, this job might be perfect for you.
Earning Amount: $20,000 to $30,000/year
11. Landscaping
Landscaping involves watering plants, weeding gardens, trimming hedges, and adding fertilizer while risking dirt, smells, and inclement weather.
But it's a great job for those who enjoy working outdoors.
Earning Amount: $19,000 to $75,000/year
12. Car Washing
Car washers have to endure being wet and covered in stains.
However, they're lightening a load of car owners while getting paid for it.
Earning Amount: $15,000 to $37,000/year
13. Mortuary Embalming
Talk about a dead-end job, haha!
An embalmer uses special chemicals to preserve the appearance of the deceased.
This occupation carries the risk of catching infectious illnesses, plus it involves blood and other bodily fluids.
Earning Amount: $25,000 to $76,000/year
14. Babysitting
Love children?
Kids can be cute and funny. But they're also very messy, especially babies and toddlers.
Prepare to deal with dirty diapers, crayon markings, puke, and other gross things many children do.
Earning Amount: $15,000 to $57,000/year
15. Sewage Cleaning
Sewage cleaners maintain sewers with pumps and other tools.
It's smelly and dangerous work since they have to clean under rough conditions, plus they're on-call employees.
Earning Amount: $22,000 to $86,000/year
16. Farm Help
If you want to work on a farm, you'll need to carry out tasks like:
Mucking stalls
Spraying crops
Milking cows
Assisting animals in giving birth
Of course, these are just the main duties. As a farm worker, you have to do a lot of other things to maintain the farm.
Earning Amount: $14,000 to $33,000/year
17. Gastroenterology
Gastroenterology involves treating ailments associated with the digestive system.
A gastroenterologist deals with body waste and odors while diagnosing illnesses.
Earning Amount: $230,000 to $530,000/year
18. Window Washing
Window washers clean dirt, bird poo, and other messes from a high altitude.
Earning Amount: $15,000 to $60,000/year
19. Pest Extermination
You can get paid to kill pests like rats, bees, and roaches.
(Not recommended for major animal lovers.)
Earning Amount: $20,000 to $60,000/year
20. Police Work
Fighting crime isn't a spic and span job.
I learned that the reason why the backseats of cop cars are hard is so that someone can easily clean body fluids from them. (Ew!)
Earning Amount: $26,000 to $90,000/year
21. Construction Work
Constructing buildings involves a lot of dust and debris.
In addition, construction is risky due to heights and falling concrete.
Earning Amount: $21,000 to $55,000/year
22. Auto Repair
Have a knack for fixing cars?
If you want to be an auto mechanic, aka grease monkey, you'll deal with a lot of grime and oil while repairing vehicles.
Earning Amount: $16,000 to $65,000/year
23. Lice Removal
Some may find this a lousy occupation.
But for others, it's not as nitpicky as it seems.
Professional lice removers go to families' homes to eliminate lice and educate them on prevention methods.
Earning Amount: $21,000 to $54,000/year
24. Plumbing
A plumber unclogs stuff like hair, grease, and other things from pipes.
They also fix leaks that contribute to drips and floods.
Earning Amount: $30,000 to $80,000/year
25. Roadkill Collecting
Collecting roadkill is a disgusting yet necessary occupation.
Removing dead animals from the street helps decrease infectious diseases and make the world cleaner.
Earning Amount: Varies; Paid per carcass
26. Slaughterhouse Work
Consider being a slaughterhouse worker if you don't mind the smell of freshly-killed animals and blood stains.
(Personally, I wouldn't do this myself, and I'm not even a vegetarian.)
Earning Amount: $24,000 to $38,000/year
27. Surgery
Surgeons deal with all types of human body fluids like saliva, feces, and blood as they operate on patients.
Earning Amount: $147,000 to $900,000/year
28. Dental Hygiene
A dental hygienist provides preventive dental care to patients.
They clean all sorts of gunk from teeth ranging from days-old food particles to cigarette stains.
Earning Amount: $35,000 to $90,000/year
29. Firefighting
Want to fight fires?
Then, you'll have to face smoky, dusty environments as you rescue others from burning flames.
These aspects of firefighting make it both dirty and dangerous.
Earning Amount: $28,000 to $79,000/year
30. House Painting
House painters leave spatters and streaks of paint behind as they add color to a new building or repaint an old one.
You can work for someone else or start your own house-painting business.
31. Dog Poop Scoop Business
I've heard about businesses that clean dog poop from private and public property.
As gross as it is, these businesses keep the environment clean, plus make the surroundings less smelly.
32. Hair Selling
Selling your hair is an old yet lucrative concept. (This is a major plot device in the short story Gift of the Magi.)
If you have extra long hair you want to get rid of, you can get paid big bucks for giving up your locks.
The haircut may be messy and stressful, but it can be worth it in the end.
Earning Amount: Varies; About $100 to $1000+
33. Cat Litter Box Cleaning Business
This is similar to the dog doo cleaning business mentioned in No. 31, except it involves litter boxes.
Cleaning litter boxes helps those who can't do it themselves, especially pregnant women who are prone to contracting toxoplasmosis.
Closing Words
A lot of the messy and gross jobs I've listed I can't dream of doing, but I know some people aren't bothered by them.
It's kind of sad that some of them will be replaced by automation in the near future. (Then again, jobs get phased out all the time, so automation creates new opportunities.)
Now you know there are several dirty ways to make money, get messy, and get paid for it, too.