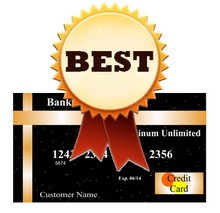 There is intense competition in the credit card industry, which is a real blessing for us consumers.
There has never been a time when the consumers are accorded with so much choices, so the wise thing to do is to do our due diligence and find the best credit cards.
Here at MoneyPantry.com, I take pride in making prudent examination on the various sorts of credit card offerings. By studying and comparing all the critical and prominent features of individual credit card, it is my hope to aid you on your decision making process, so that you can find credit cards that present the best match for your individual lifestyle.
American Express, Discover, MasterCard and Visa are obviously the biggest names in this industry, in term of acceptance by both consumers and merchants alike. But even among this handful of big players, there is still a mind-boggling number of credit cards to be considered.
Naturally, the information to be processed is going to be huge. Which is why I took it upon myself to sift through this humongous data and present you with the most pertinent information with regards to various credit cards.
I hope this can facilitate your selection process so that you could go on with your application.
I can still remember the magic when I got hold of my first credit card. It marked a transition from adolescent to adulthood.
It was indeed a wonderful moment at that time, when somebody, other than my father or mother, was willing to extend a line of credit to me.
Regardless, it's going to be a significant landmark in your early adult life, so you should take some care on lending your first credit card. But it is always about demand and supply. Even though you may be keen to lay your hand on your first credit card, the credit card issuers may not be in any hurry to get one across to you.
My advice is to focus on just a handful of companies that are popularly associated with handing out first-timers their credit cards, instead of trying to apply to as many companies as possible, and hope that you get lucky.
My Pick: Orchard Bank Secured MasterCard
A reward in the form of hotel stays may be frustrating if you don't travel out of your small town a lot. In that sense, a cash back credit card would be more meaningful as your reward is almost as good as hard cash, which obviously offers a lot of flexibility on how you would use it.
To drill home my point, some credit cards (airline credit cards) may offer you tremendous travel miles as you sign up or use their cards, but this reward is practically worthless for someone who doesn't fly.
Airline credit cards are well-known for their generous sign-up bonuses, instant status upgrade, and helping members on baggage fees.
My opinion is that you should never restrict yourself to your primary airline card. Always look for opportunity to get a partner airline card, for example, when there is a huge sign up bonus being dangled around. You can take advantage of the collaboration between airlines, like redeeming American Airlines miles on British Airways.
My Pick: Citi Platinum Select/ AAdvantage World MasterCard
Having come this far, one thing that should be clear in your mind is that when you have bad credit or no credit, it is going to be a challenge to get a credit card.
The resolution is secured credit card. Under this scheme, you will have to post a collateral in exchange for the ownership of that credit card.
The collateral will be returned to you when you decide to terminate the credit card. The plus side of this secured credit card is that it allows you to build up your credit score, which is not possible with prepaid debit cards.
In this case, Capital One Secured is probably the best option as the bank does issue a lot of such a credit cards, and you can leverage that to quickly build up your credit. At all times, make sure that you are prompt with the payment, just to make sure that there is not going to be a problem down the road.
My Pick: Capital One Secured MasterCard
With escalating gas prices, a gas credit card is an excellent tool to bring down your gas spending.
The reward program is tailored to gas purchases so you can expect significant savings as you pull up at the gas stations. But such credit cards do not give much of everything else away.
My Pick: Blue Cash Preferred® Card from American Express
A great deal of credit cards offers their users various kinds of rewards for using their cards, but you will never fully capitalize on this reward program if you habitually carry over the balance from statement to a statement.
Anyway, you can find cards that have consistent reward scheme throughout the years, as well as cards that deal with ever-changing bonus categories.
There are all sorts of variations on travel credit cards: hotel and airline credit cards are popularly known for their generous rewards program, but they also tend to be associated with strict restrictions when it comes to earning criteria and redemption mechanisms.
But the generic credit cards have more flexibility built in, like you can redeem your miles on a partner airline, or convert your bonus to statement credits so that they can pay down your outstanding travel expenses.
However, one thing about such travel credit cards is that they tend to charge extra for foreign transactions. In this case, be prepared to incur as much as 3% more on what ever purchases you make overseas.
My Pick: Chase Sapphire Preferred®
You should never be dismissive on students credit cards. A clean record on a student credit card can go a long way to help you in laying your hand on a more extended credit line down the road. Try your best to establish an unblemished payment record on student credit card.
It is going to be so helpful when it comes the time for you to apply your own credit card, get an auto loan, or buy an apartment. You will see the APR rate being adjusted downwards and better rewards just for you.
Not unlike other credit cards, there can be similar types of promotions on your student credit card, like low interest rates, and rewards programs on specific purchases like entertainment, books or eating out.
My Pick: Discover it for Students
No reward program is going to help you if you have a habit of rolling over your balance from statement to statement.
Put it this way, the reward system may be lucrative, but there is no chance in the world the rewards can offset the interest fees imposed on late or non-payment.
Here, the APR rate can help you on two fronts: a 0% introductory promotion, and a relatively lower going rate.
My Pick: The Simmons First Visa Platinum Card
The biggest advantage of a 0% interest credit card is that it could afford you some breathing space, as you consolidate your credit card debt into one credit card and pay the outstanding amount interest-free.
While it is great if you are able to pay off the debt during the introductory period (when APR is 0%), there is always the chance that you just could not clear that debt in that time-frame.
You should be realistic about it and factor in this concern in your payment schedule. This is why you should keep a keen eye on the ongoing APR, as this will be the extra charge in addition to your outstanding balance once the introductory period lapses.
Moreover, take note of the balance transfer fees (if any). This can constitute another 2% to 5% more of your outstanding balance.
This provides a means for you to consolidate all outstanding credit card balances into one. Often such credit cards will waive off any interest charges during the introductory or promotional period.
For this idea to work, you should only go for those cards that offer zero balance transfer fee (the industry practice is usually 5%) or 0% APR during introductory period.
If your idea is to buy as much time as possible to clear that debt, look out for the longest 0% APR in the market.
My Pick: Citi® Diamond Preferred® Card
The role of a business credit card can never be dismissed, especially among entrepreneurs and small business owners.
Such credit cards, when viewed in this context, should ensure low enough interest rate as well as sufficient flexibility built-in, as these are the critical factors for a small business to make it.
In general, business credit cards have their own sets of rewards, such as savings on office supplies and traveling arrangements.
My Pick: Chase Ink Plus Business
Take Your Time When Choosing a Card
Indeed, it is never easy to get down to the best credit card in town. First off, there are so many variants of credit cards to start with. For example, we have the cash back cards, travel cards, students cards and gas cards.
When you factor in all the different options represented by the above individual cards, it will be quite a challenge to pinpoint a credit card that works best for you. But armed with the right analytical tools, plenty of patience, and a helping hand from MoneyPantry, it is possible to find a card that gels with your lifestyle.
And I would like to stress this, there is no need to rush! If you don't find the right card for you, then it's perfectly all right to check out the next available card.
Resources:
Here are some recommended articles that I think anyone who has or is getting a credit card needs to read:
Final Words
Credit cards are an essential part of our lives nowadays. But we all have different lifestyles and different needs. Thankfully, CC providers have been catching up with that. So there is no shortage of cards to choose from.
As always, be sure to do your own research so you can pick a card that benefits your life style and needs.
Also, don't forget to bookmark this page so you can keep an eye on it as I will update it with the best current credit cards in the market.