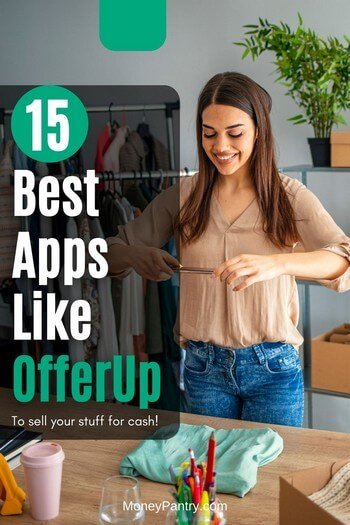 OfferUp (review) is an awesome place to sell your used stuff locally or online. Through the app or website, you can sell everything from furniture to clothing.
OfferUp enables you to sell to buyers near you and no fees are charged for local sales where you don't ship items.
You can also ship items to people. When shipped items sell, sellers have to pay a fee of at least $1.99 or 12.9% of the sale price.
While OfferUp is a great platform, it's not the only platform of its kind out there.
Perhaps you want a fee-free OfferUp alternative, or maybe you just want more sites and apps to sell stuff on?
Whatever the case, it's good to know that there are plenty of sites like OfferUp and we've covered them below.
Need Easy Extra $300+/Month for Free?
KashKick
: Get paid directly into your PayPal for watching videos, surfing, shopping and more.
Join KashKick Now!
Panel Payday
: Earn up to $75 per survey. They also pay up to $50/hr for mystery shopping.
Join Now!
InboxDollars
: Paid over $57 Million to members to watch videos, take surveys, shop and more.
Get $5 instantly!
Branded Surveys
: Get $1 instantly just for joining for free. Plus get paid within 48 hours by PayPal!
Join Branded Surveys
iPsos iSay:
: If you have to only sign up for one paid survey site, go with Ipsos (high paying survyes)!
Join iPsos Now!
Swagbucks
: Get paid to watch videos, shop online, take surveys and more.
Join now & get $5 instantly!
Apps Similar to OfferUp
Here are the best alternatives to OfferUp app for buying and selling stuff.
One of the best sites like OfferUp is eBay.
Now, eBay is a hugely popular website that gets millions of visitors. That's why it's such a good platform for selling your stuff. You can get your item out there in front of a TON of potential customers, which is exactly what you want when you're selling stuff online, right?
What's great about eBay, aside from its popularity, is the fact that it allows you to list more than 250 items per month for free!
If you list more than 250 items per month, you'll start paying a $0.35 insertion fee per listing.
Like OfferUp, eBay does take a commission. When your item sells, eBay charges a final value fee, which, for most categories, is 13.25% of the sale price or lower, plus $0.30 per order.
Next on the list we have Facebook Marketplace, and this site is really similar to OfferUp in that it allows you to sell stuff in a bunch of categories. Another similarity it has to OfferUp is that it allows you to sell to people locally or ship your items.
It's free to list items for sale on there, so that's a big bonus.
If you want to ship your stuff, rather than selling it locally, you will need to sell as a shop and pay a selling fee of 5% (or $0.40 minimum per order). But, there are no fees for local sales, so that's pretty awesome.
Mercari is a great OfferUp alternative. It's a website and app where you can sell stuff in a wide range of categories, much like you can on OfferUp.
Once your stuff sells on Mecari, you have to pay a fee of 2.9% plus $0.30 payment processing fee. So, the fees on Mecari are lower than those you're charged on OfferUp, making it a great alternative if you're looking to save some money and keep more of your profits.
Etsy is a great platform for selling antiques, clothing, furniture, vintage items, and anything handmade. The site is super popular too.
Almost 94 million people are active buyers on Etsy, so there are plenty of customers to sell your stuff to on there.
The downside to Etsy is that you have to pay a listing fee of $0.20 for each item that you list for sale on Etsy.com or Etsy's mobile apps.
You are also charged a fee when your items sell. Etsy will charge you 6.5% of the order amount in your designated listing currency. This fee applies to the total cost of the item, along with shipping and gift wrap, if you charge your customers for those.
So, the fee Etsy charges is lower than the 12.9% you pay when you ship items on OfferUp.
Anyone who's looking for a website like OfferUp where you can easily list stuff for sale should definitely try 5miles.
On the app, you can sell items in a variety of categories to people locally. And, the best part is that you can list items for sale for free on there!
Okay, so next up we have a great site called VarageSale. Now, this is so similar to OfferUp in that you can sell a bunch of different items to people near you.
As its name suggests, VarageSale is like an online garage sale. You can list items for sale for free on VarageSale, so that's definitely a bonus.
Craigslist is the original site like Facebook Marketplace. It is an awesome place to sell stuff because, well, it doesn't charge any fees. And, I mean no fees at all. You can list items for sale on Craigslist for free and you won't pay any commission when your stuff sells either.
So, if you're looking to sell stuff and keep 100% of the profits, then Craigslist should definitely be a site that you consider selling through.
You can list items for sale in so many different categories and earn yourself some extra money.
Poshmark is a website where you can make money selling your used clothing and fashion accessories, like handbags. You can also sell home décor items, electronics, and pet stuff on the site too. Overall, it's a good OfferUp alternative.
What's great about Poshmark is that it's free to list items for sale there. So you don't have to worry about paying to list an item without a guarantee that it's going to sell. You can just upload your stuff for free and you're good to go.
Poshmark does take a commission when your stuff sells.
Poshmark takes a flat commission rate of $2.95 for sales under $15. And, the site takes a 20% commission fee for sales that are worth $15 or more.
For selling vintage furniture, décor, and art, Chairish is an awesome option. You can list items for free on there.
You can add photos, a story, and some details about an item, and set your price. Chairish approves items that appeal to its shoppers. Then, you can receive and respond to verified offers and questions. And, you can even opt in to offer discounts to interior designers.
What's great about Chairish is that it will handle the shipping details for you, or you can opt for local pick-up and delivery when your item sells. You get paid after the 48-hour return window. The site sends you 70% or more of the sale price right to your PayPal account.
If you're looking for sites like OfferUp, then give Bonanza a try. On there, you can sell a variety of different items, like home décor items, fashion items, furniture, collectibles, jewelry, and more.
Bonanza doesn't charge you any listing fees, which is really great.
What I like about Bonanza is that the commission that the site charges is really low compared to other online marketplaces.
When your item sells, you pay a commission fee of 3.5%, which is much lower than the fee you're charged by OfferUp when you ship items.
If you want to sell some tech items, like an old phone for example, then a good alternative to OfferUp is Swappa. You can buy and sell used tech on Swappa.
On there, you can sell phones, laptops, computers, cameras and lenses, and gaming gear, and other tech items.
You are able to buy and sell directly with other users so there's no middleman.
All you need to do is find your product in the company's catalog, create a listing, and upload photos of your device. When your item sells, you'll get paid.
You get paid via PayPal and payment is delivered before you ship your item.
Once an item sells, buyers and sellers each pay a 3% fee. So, the fees on Swappa are pretty low, which is great because it means that you get to keep more of the profits!
You can sell refurbished tech on Decluttr. The site is a great place to try if you're looking to sell stuff like phones, tablets, and consoles. You can also sell books, CDs, DVDs, and Blu-Rays there.
You can get a free instant valuation for your stuff on there. If you like the price you're offered for your items, then you can ship them to Decluttr for free. You get paid via PayPal or direct deposit.
If you like selling clothes on OfferUp and are looking for another place to sell, then you should try Vinted. It's a website where you can buy and sell clothes, shoes, and accessories.
What's great about Vinted is that there are no fees for uploading your items or selling them there. This means that you get to keep 100% of the profits from the items you sell! If you want to ship items for sale and are looking for a cheaper alternative to OfferUp, then Vinted is a good option.
You can sell your used clothing on ThredUp. It's an online consignment and thrift store. The commission that you get from the sale depends on the cost of the item. You can earn anywhere from 5% to 80% of the selling price.
What's great about OfferUp is that it allows you to sell items in a huge range of categories, and ClassifiedAds.com is definitely similar in that regard.
On this classified ads site, you can list items for sale in a wide range of categories, such as cell phones, clothing and apparel, and jewelry.
Tips for Using Apps Similar to OfferUp
Now that you know some of the best websites and apps like OfferUp, I'll cover some seller tips that you can use to increase your chances of success. With these tips, you can get faster sales and earn more money when you sell your stuff.
Here are some tips on how to sell efficiently on sites like OfferUp.
Freshen up the items
When you have an item to sell, make sure that you take a little time to freshen it up and clean it.
Let's say for example that you are selling furniture. In that case, you'd want to wipe it down to remove any dirt, dust, or stains.
Or, if you were selling clothes, then you would want to ensure that you wash them or have them dry cleaned and also make sure that they are wrinkle-free.
Items that look tired, dirty, or stained are not appealing to potential buyers. It will likely put people off purchasing your stuff.
So, be sure to freshen up whatever items you're selling. That way, you make sure that you're selling your stuff in its best possible condition. This can help you to make sales faster.
Use quality photos
Whatever OfferUp alternative you choose to use, you should always ensure that you upload photos because this can give buyers a little more confidence. People want to know exactly what it is they're paying for after all. So, photos are definitely important.
Make sure that the photos you upload are clear, not grainy or blurry, and are taken in a place that has good natural lighting.
Photos that are grainy or blurry are likely to put potential buyers off and if you're looking to make money, then this definitely isn't what you want.
Ensure that you take clear photos where you can see the item properly.
It's a good idea to photograph the front and back of the item and get photos of it from a few different angles. For items like furniture or clothing, it's a good idea to photograph any details on the item that may be of interest to buyers.
Research prices
When you are selling stuff on the sites above, it's a good idea to research prices.
Many people price too high or too low when using sites and apps like OfferUp.
You want to make sure that you set a price that doesn't shortchange you but also provides the customer with a good deal. You should set a price for your items that is realistic, as in a customer would actually pay that amount for it.
For example, if a customer can get a piece of furniture for $250, they are unlikely to pay the $500 that another seller is charging for it.
The best way to set a fair price for your stuff is to simply search on the sites above to see what other sellers are selling their items for. Then, you can set your prices based on that.
You don't need to undercut other sellers to find success, but your items shouldn't be way more expensive than those from every other seller. Pricing items lower than competitors can help you to sell your item quickly, but don't shortchange yourself. Decide if it's worth it to take less of a payout in return for making a fast sale.
Write a detailed, but not verbose, description
Detailed descriptions are important when you're selling anything online.
They provide the buyer will all of the information they need, and if you include all the important details, this may mean that you have fewer questions from potential buyers to answer, which saves you time in the long run.
You should start your description by explaining what it is that you are selling. It's best to get right to the point as people are busy.
You could also consider stating the reason you're putting the item up for sale. For example, you could say that you are selling your old phone because you're upgrading to a new one.
Include any measurements, dimensions, and sizes, depending on what you're listing.
It can also be a good idea to list the price. Even if the price is listed elsewhere, be sure you list it again near the end of the description. Also, you could mention whether or not the price is "fixed" or "best offer."
A good description should provide buyers with all of the details they need to know, but it shouldn't be too long or boring. You want to get the buyer's attention, so make sure that your description is detailed, but not too verbose.
Be honest about the condition of your items
Although it may seem tempting to lie about the condition of the item you're selling, it's important to be honest.
For example, you may not want to mention a tear on a coat, a scratch on a bookcase, or a worn spot on a purse. But, being honest about the condition that your item is in ensures that you don't disappoint the buyer.
If you write in your listing that the item you're selling is in perfect condition, but then when the buyer receives it, there are marks, stains, scratches, or any damage that you failed to mention in the listing, then they aren't going to be happy.
This could result in you getting a bad rating on a platform, which could make it more difficult for you to get sales there in the future.
So, make sure that you are honest about the condition of the items that you sell and mention any damage, from stains to scratches, in the listing. That way, the buyer will know what to expect from the item.
Respond to potential buyers as quickly as you can
If you want to make money selling on these OfferUp alternative sites and apps, then you mustn't let potential buyers get away. It's important to respond to potential buyers who contact you about your listing as soon as possible.
If you don't respond fast enough, then a potential buyer might just purchase a similar item for another seller, which means you miss out on a sale, and the chance to make money. So, respond to customer inquiries as quickly as you can.
Know your minimum price
It's important to set a minimum price you want to get for everything you're considering selling on sites like OfferUp. So, decide on a minimum price for each item and be firm with buyers who try to negotiate on price.
When choosing your minimum price, be sure to consider things like shipping, commission, and any other fees or costs that will impact your profit. Factor these fees into the price.
OfferUp Alternatives: Summary
Explore these amazing OfferUp alternatives and find the perfect platform that suits your buying and selling needs.
Whether you're looking for a user-friendly interface, a specific niche market, or just a fresh perspective on online marketplaces and an app like OfferUp but maybe even better, these apps have got you covered.