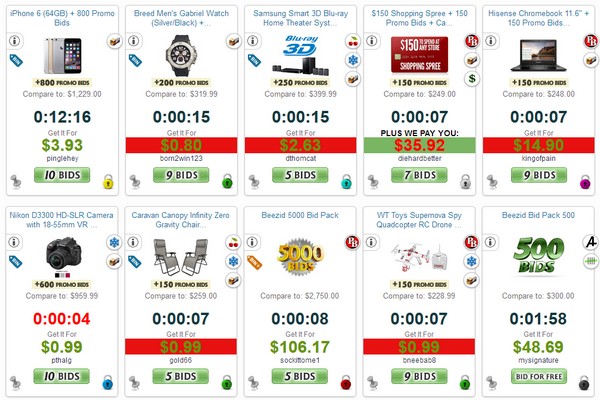 In the last few years, there has been a new and growing type of online auction markets called Penny Auction sites.
QuiBids and BidCactus are two of the biggest ones.
Need Extra Cash for Free?
If you like getting paid for surveys, and are going to join only one site, I would recommend you choose Ipsos-iSay. Ipsos is the most fun and well-paying panel. Give it a try to see how you like it. It is free anyway!

On the surface, it looks like you can buy high-end items like iPads or designer clothing and accessories for just a few dollars by bidding pennies.
But is it really that simple?…
Of course, not!
I mean, if that was the case couldn't you make money buying stuff cheap from penny auctions and selling them for profit on eBay or other places?….
To do a proper penny auction sites review, I spent some time researching and learning the idea and the mechanics behind these unique auction sites. Here is some behind the scenes information on how these sites really work.
Here is some behind the scenes information on how penny auction sites really work.
How Do Penny Auctions Work?
Here's how penny auction sites work…
Once you register with the site, you have to buy a bid package – let's say 100 bids.
Then, you use these bids to place bids on whatever item you want to get.
Each bid you place raises the price of that item by $0.01.
So, even if you bid 500 times, the price only goes up by $5. And that's where most people fall into the trap.
They don't realise (or perhaps they do but they just are in denial,) that even though the bid $1, they paid $500 for the bid package itself.
Earn Free Cash
Try Swagbucks, the famous rewards program that pays you for watching videos, taking surveys, shopping and more.

So, winning an iPad that normally costs $300, for a mear $5 may seem like a great deal, but you didn't pay just $%, you actually paid $505 for the item.
Remember, you paid $500 for the bid package(s) as well.!
And that's not the only issue…
Penny auction sites are quite different from conventional online auction websites like eBay. Unlike the usual auctions where only the winning bidder has to pay, with penny auctions you have to purchase bids in order to place them.
This means you will be paying for any items you bid on regardless of whether you get the item or not.
You won't get your bids back or your money returned if you don't win an item.
There are now hundreds of online penny auction sites.
Even registration is not free, and most will charge you a fee to join. You are then required to buy a "bid package", like 30 bids for $30.
The price of the item is $0 at the start of the auction and each bid increases the price by a penny. There is a countdown clock which keeps getting reset each time someone places a bid.
The clock even turns red during the final 10 seconds to entice people to place another bid before the timer runs out.
If someone places another bid the price goes up by a penny and the clock is reset again. You have to be the highest bidder when the clock runs out in order to get the item.
There have even been some reports that some penny auction sites use automated software to push bidding higher.
Can You Make Money Investing in Penny Auctions?
The only way you can make money with a penny auction site is to own one!
Penny auction sites make their money from the sale of bids and not the sale of products.
A camera that sold for $30 would have 3,000 bids on it. With each bid actually costing $1, the website owners earn $3000 on a camera that would have cost around $600. Even if you are the winning bidder that got the camera for $30, you would have had to pay a much higher amount than $30.
For example, if you placed 100 bids costing a dollar per bid, that means, in reality, you paid $130 for the camera. It's still a good deal but it's not as great as you might have initially thought. So, most shoppers lose money, but the website owner is the one who banks here.
Further Resources
I highly recommend checking out the following articles to help you get a better understanding of what penny auction sites are and their pitfalls.
Hidden Dangers of Penny Auctions – Yahoo! News
Online Penny Auctions & their Pitfalls – Federal Trade Commission
With penny auctions, you can spend a bundle but still leave empty-handed – Consumer Reports
Penny Auction Watch – A site offering the latest news on online penny auctions started by Amanda Lee, who was scammed by one of these sites, to inform other people based on her experience.
Bottom Line
Looking at it as a shopper: Given that there are only one winner and multiple losers, there are far better ways to be a smart shopper and spend your money more wisely.
Penny auction sites can become very addictive and some have even likened these sites to gambling. Just like casinos, though, it's the house that always wins.
At first glance, it may seem like you are getting a great deal on these sites, but that's not really the case, and it's best to steer clear well away from them for your own good and that of your wallet.
Looking at it as an investor/owner: It is a great investment. You can make lots of money if you get things right.
Although, personally I would never do this kind of business since I think they are very deceptive. But looking at it purely from a business point of view, yes, investing in a penny auction can yield good profit.
Have You Read These?...