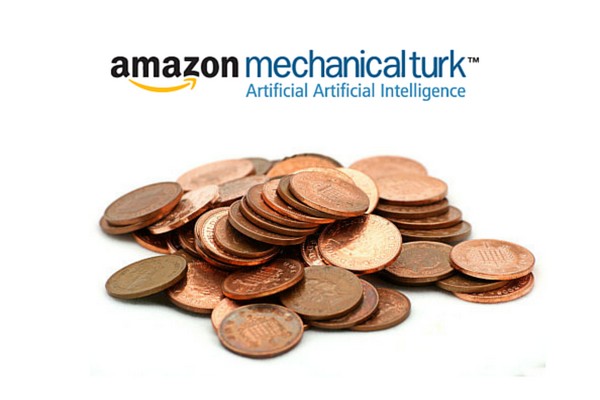 A lot of people may be unfamiliar with the crowdsourcing marketplace, Mechanical Turk.
But, if you are one of those who want to make extra cash doing simple tasks, then you should definitely take time to know what Amazon Mechanical Turk is all about.
Need Extra Cash for Free?
If you like getting paid for surveys, and are going to join only one site, I would recommend you choose Ipsos-iSay. Ipsos is the most fun and well-paying panel. Give it a try to see how you like it. It is free anyway!

I have been using this site for a long time now. And in this post, I'll be going over how it works, what you should expect, and basically giving you a complete review of Amazon Mechanical Turk, so you can decide whether Mturk is worth your time or not.
What Is Amazon Mechanical Turk?
Amazon Mechanical Turk is normally referred to as Mturk. And it is owned by the online retailer giant, Amazon.
It is a place that companies and individuals outsource small, yet time-consuming tasks (known as "HIT"s) that can not be done by machines, to freelanc workers.
What Is a HIT?
HIT stands for Human Intelligence Tasks. Tasks that, as I mentioned above, can only be done with the help of an actual human being and not by robots and machines.
That said, these tasks are relatively simple and can be completed quickly. In fact, the majority of them can be finished in less than 20 to 30 seconds.
Lingo
Mturk has its own unique terms for some words and phrases:
Hit – As explained above, a task/gig that you get paid to complete.
Requester – The client/employer, who posts a job and pays you to do it.
Worker – The freelancer who works on hits.
Examples of Hits
Say a company/website has thousands of images in archive. They want to organize these images so people can find them by searching with related terms and keywords. They go on Mturk and ask you to look at each image (as many as you want/can) and describe it in ten words or so for $0.07.
A company is trying to find out how user-friendly their site is. They'll post a "Hit" on Mturk, asking you to visit their website, spend 20 seconds looking and playing around, then come back and fill out a quick multiple-choice survey for $0.15.
Identify the differences between 2 images that are seemingly identical by looking closely at both images.
Another example – you will be asked to look at a specific photo within a page, and point out whether the image is an unlawful one or pornographic.
How Does Mturk Work?
Companies that have pending tasks that computers cannot complete, or needs human intervention for precision, post jobs on Mturk. Some of the jobs include writing reviews and detecting a phonographic image, as well as examples I mentioned above.
Mturk works like the usual micro freelancing site. One must register and search and apply for tasks.
Once you complete the task and submit the result, the client will go through it. If you followed directions given by the client, you get paid. If not, your work will be rejected.
I have been using Mturk both as a "Requester" and a "Worker" (requires two different accounts.) And while as a requester I have had lots of bad work done by workers, I haven't had any problem as a worker myself. I have always gotten paid for my work.
That said, there are hundreds of thousands of individuals and companies that use the site. So, you never know who you're dealing with. But these are (mostly) real legit companies. So if you do actually follow their directions and give them what they ask, you'll get paid.
Earn Free Cash
Try Swagbucks, the famous rewards program that pays you for watching videos, taking surveys, shopping and more.

I never experienced any scam myself but have heard of few folks who didn't get paid despite doing everything right. But those are far and few in between. Plus, you can always report them to the site if you believe your submission was wrongfully rejected.
How Much Can You Actually Earn?
It really depends on the task – how difficult it is, how long it takes, etc.
Most tasks pay pennies.
Yes, pennies!
This may sound like a bad deal but it is not that bad considering that most tasks take only 10-30 seconds to complete.
Think about this… Let's say you get a hit that pays $0.10, but that hit will only take you roughly 20 seconds to finish. So working for an hour will fetch you about $18.
$18/hour isn't that bad considering that the average minimum wage in America is somewhere around $8.
Of course, there are also bigger tasks that pay much more. For example, there are writing tasks that can pay as much as $100 for a 700-word article.
However, remember that competition for high paying hits can be quite stiff. Keep in mind that other workers would want these high-priced hits too. So, you have to be really fast in grabbing these hits. Consider refreshing your browser when searching for tasks to help you get those high paying hits.
Bonus
Now, most requesters also pay bonuses for jobs well done. So, ensuring you do the job as it was requested is a great way to earn more than the actual rate stated for completing the hit.
Depending on how much the hit pays, the bonus can be as low as a few cents to as high as $20-$30 (although bonuses above $20 are rare.)
How Do You Get Paid?
Here is how the getting paid part of it works:
You submit the completed hit.
The client (or hit requester, as they are called on Mturk) approves it.
Once your work is approved, the money will be automatically transferred to your Amazon Gift Certificate account.
Once the money is there, you can either transfer the money straight to your bank account, or you can simply keep and add it to your Amazon.com gift certificate balance and use it to pay whenever you shop on Amazon.
Mturk and Scam Rumors
Like many other online money making methods, there are some people who think Mechanical Turk is a scam.
But it's not.
Mturk is a legitimate micro-freelancing job site backed by one of the biggest companies in the world.
What more proof you need for its legitimacy than the fact that it is owned by Amazon!
The Bottom Line
I personally use Mturk both as a "requester" and a "worker" and I think it's great for both parties.
As a requester, you can get small and repetitive that can not be automated using tools and software, quick and on the cheap without having to hire a full-time employee.
And as a worker, you can earn extra money on the side.
Have You Read These?...