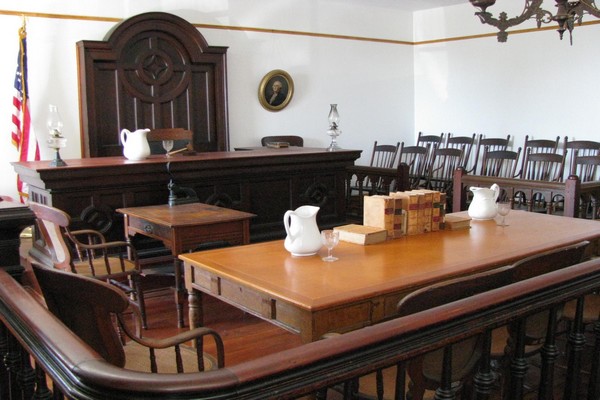 Serving on a Jury is a responsibility and duty of every American citizen, yet most of us seem to hate it. Which I guess is understandable, considering that most people are chosen to serve as jurors on boring cases.
I can tell from hearing my girlfriend's experience of serving 7 days as a juror that it indeed is boring and tedious. You are cooped up for hours with a bunch of other people trying to figure out what really has happened.
But the good part is that at least you get paid for jury duty.
In this post I am going to show you how to earn extra money by participating in online mock trials as a juror.
Need Extra Cash for Free?
If you like getting paid for surveys, and are going to join only one site, I would recommend you choose Ipsos-iSay. Ipsos is the most fun and well-paying panel. Give it a try to see how you like it. It is free anyway!

These are not real cases. These are cases made up to sharpen the skills of attorneys.
But before we get to that, let me address one of the biggest question that most people ask when it comes to doing real jury duty out there in a real court of law.
Do You Get Paid for Jury Duty?
Yes, even though as an American citizen you are required to serve on a jury when you are selected, the government still pays you.
Here is how it works:
Federal jurors are paid $40 a day. However, if the trial you are involved with becomes longer than 10 days, your pay increases to $50 a day, if you are serving in a Petit jury.
If you are serving in a grand jury, you will be paid $50 a day after serving 45 days on that jury.
You will also be reimbursed for transportation expenses and parking fees. If you are required to stay overnight, the government will also pay for your food and lodging as well.
Now, if you are serving in a State court as a jury, there is a different story here. There is no standard pay rate for jurors serving in a state court. Each state has its own rules and pay rate.
For example, here in the state of Missouri, my girlfriend was paid $75 a day for her jury duty, plus $15 a day for transportation and launch.
Some states pay $25 a day, some $50, some $55, and some, a different amount. But from what I have seen I think the average is somewhere around $45 a day, which is the same as federal court.
Earn Free Cash
Try Swagbucks, the famous rewards program that pays you for watching videos, taking surveys, shopping and more.

Getting Paid to Serve as a Juror in Online Mock Trials
How would you like to make some cash being a juror in a fake trial?…
Let me explain….
In typical court cases, the attorneys usually take center stage because they are the ones who provide the arguments and counterarguments in the courtroom. But the jury represents another
part of the litigation equation, which is just as critical. After all, it is them whom the attorneys have to convince in order to win their cases.
In other words, they often stand in the way to fame and fortune for these lawyers. But winning them over is not easy. The attorneys need to structure their case meticulously, and hope that they can extract a favorable outcome from the jury.
Online mock trials provide an excellent opportunity for lawyers to present their cases to a mock jury audience and gauge the kind of potential response when the actual litigation is in process.
For you and I (the jurors) not only we get paid, but by being a member of this online panel, our inputs will have direct influence on which a real legal process goes.
Of course, people are not going to spend their time serving as a juror on a fake trial for nothing. And that is why these sites offer to pay them. The money, of course, comes from their clients.
The companies/websites that run these mock trials for attorneys and lawyers don't do it for free. For each mock trial they run, they charge the client a certain amount. They then use some of that money to pay their online jurors.
How Does It Work?
First, you need to register with a site that runs such mock trials. There aren't many of them around. The only legit and paying one that I have found are listed below.
Registration is easy and once you become a member, your details will be collated into a jury pool.
The selection process does not take on a fixed path. A member can be selected randomly, or because of the place of residence, or any other criteria.
If you are chosen to sit in the panel, the trial case material would be sent to you. The information will be in the form of text or audio as you deliberate on both sides of the arguments.
Once you are ready, you are expected to fill out a questionnaire with regards to that trial case. And you are paid once they get your decision.
Online Jury Sites
eJury
One of the first sites of its kind, eJury has been around for a long time. The best part is that they accept jurors from all over the country. Members get between $5 and $10, dependent on how extensive the case is. They pay via PayPal.
Online Verdict
You must be a U.S. citizen and over the age of 18 to be able to sign up. Each case review usually takes anywhere from 20-60 minutes to complete. The payout ranges from $20-$60, subject to the trickiness of the case. OnlineVerdict pays via Check.
Trial Juries
Participating members are paid about $30 a case, the amount can go up if the case happens to be more complicated in nature.
Your Turn
Have you ever served as a jury?
If so, how much were you paid?
Do you find the idea of getting paid for participating in online mock trials interesting?
Will you do it if given the opportunity?