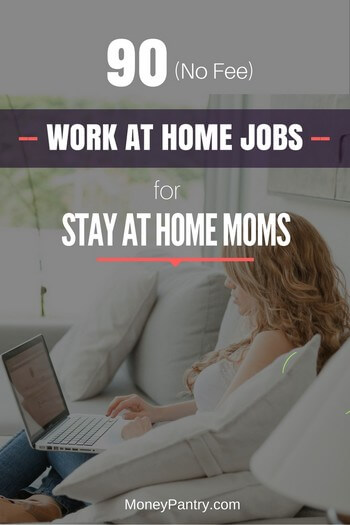 Having a baby and not being able to leave the house for a traditional 9-5 job is a big problem for many stay at home moms (and dads).
The lost income can be a huge blow to the financial security of the whole family.
But there is hope!
Thankfully, these days you can earn money while staying at home to take care of your baby.
There are tons of legitimate work from home opportunities that require no fees or investment on your part.
Need Easy Extra $300+/Month for Free?
KashKick
: Get paid directly into your PayPal for watching videos, surfing, shopping and more.
Join KashKick Now!
InboxDollars
: Paid over $57 Million to members to watch videos, take surveys, shop and more.
Get $5 instantly!
Branded Surveys
: Get $1 instantly just for joining for free. Plus get paid within 48 hours by PayPal!
Join Branded Surveys
First Opinion
: Get paid up to $10 per survey and $300 per virtual focus groups!
Join Now!
Swagbucks
: Get paid to watch videos, shop online, take surveys and more.
Join now & get $10 instantly!
No matter what type of person you're, which type of work you've been trained to do, or what your skills are, you'll find some kind of task to accomplish that allows you to earn cash.
Take a look at the list below and check out the available work according to your personality, skills, education, and preferences.
The list is far from exhausting all the possibilities, but it will give you a good indication of the number of possibilities that exist out there.
A) You are an intellectual
If you are the type of person who likes to voice their opinion, you have a few options for using that trait to earn some cash.
You won't get rich doing it, but you can easily make some extra cash in your free time.
– Survey Taker
Like those experts on TV, you can also make a few bucks with your opinion!
Companies and manufacturers use online surveys as a way to gather data about their products and services from real consumers like you and me. They then use this information to improve their products and services or come up with new ones.
You sign up for free and fill out your profile. Then, whenever there are studies that are looking for participants in your demographic (that's why you fill out your profile when you first sign up), you will get an invitation to participate.
Each survey can take anywhere from 5 to 40 minutes or more. And depending on how long the survey is, you can earn anywhere from $0.50 to $80 or more.
On average, you are looking at $2-$5 for a 10-20 minutes survey.
Some sites reward you a certain amount of points for each survey you take that can later be exchanged for cash and prizes such as gift cards for Amazon, Starbucks, and other retailers. And others will just give you cash.
Here are a few legitimate market research companies with online panels that reward you for participating in their studies:
Sites to use:
– Website Evaluator
Web site owners are always looking to improve the navigability of their sites and user testing is the best way for them to gain valuable first-hand information.
To perform this task you need a computer with an Internet connection and a microphone.
A company like UserTesting, for instance, will ask for your demographic profile before assigning you the appropriate websites that match you with their targeted audience.
Your job will be to test and evaluate websites. After you download their UserTesting screen recorder, you'll basically record your experience (what you like, what you don't, how the design looks, etc) as you go through the website.
You can make $10 for only 20 minutes of testing.
Sites to use:
B) You are a born teacher
If you are knowledgeable and an expert, there are a few ways that you can actually make decent money by teaching people what you know.
– Tutor
More and more students rely on online help or look for in-person classes for subjects like English, Math, Foreign Languages and other. Depending on your level of expertise you can work with Elementary, Middle, or High School students and with College students or Graduates as well.
Many adults in need of special training in one field also require tutors.
You can use websites that connect tutors with students. You can also post ads in places like Craigslist and offer your service. Of course, don't forget about word of mouth advertising.
Sites to use:
– English Teacher
Many of us English speaking folks don't realize the value of being a native or fluent speaker. English has become the international language, which is why there are hundreds of thousands of people trying to learn the language.
If you have a good handle on the English language, you can use to our advantage. You can either advertise your service locally (many foreigners would love the opportunity to learn English the right way) on Craigslist or neighborhood bulletin boards, or you can use specialty websites that connect you with students wanting to learn English.
Sites to use:
C) You are a people person
If you enjoy interacting with people (although it may be via phone or email), consider these jobs:
– Social Media Consultant
Every business needs now to be on Facebook, LinkedIn, Twitter, Google+, Instagram, Reddit, and similar places on the Internet. They need managers to keep up with the task, hire writers, make sure there's a flow of interaction everywhere, etc.
You can find free training and instructive booklets on the Internet and free reading material in your local library.
Sites to use:
Although these sites are general job sites, you can find positions by simply searching for them using the term "Social Media Consultant".
Mashable: An awesome guide on how to use your social media skills to earn extra money.
– Babysitter
As a people person, you may like children better than adults, and be the right fit to babysit. Working mothers and fathers will appreciate leaving their children in a friendly home instead of a nursery or kindergarten.
Site to use:
– Online Juror
Very often, attorneys recur to mock jurors to find out the best strategies before the actual trial.
You need to sign up with the appropriate sites to be informed when there are juror openings that match your address. You can only apply if you live in the same county or federal district where the trial will be held.
Every case may take a few minutes to up to an hour to review and you'll earn accordingly, from $5 to $60. You'll be paid through PayPal or by check.
Sites to use:
– Customer Service
You know how when you call your phone company that has local offices but the support staff is often answering your calls from elsewhere on the planet (India anyone?) Well, as a virtual customer service representative, you'll be on the other side of the phone helping to answer customer questions and complaints.
You only need a landline and/or an Internet connection to get this job. If you can speak other languages, this will be a plus.
You can expect to earn anywhere between $10 to $20 an hour.
Sites to use:
– Tech Support
This job often goes hand in hand with Customer Support. The rules are the same, except that you need to be experienced with some software, and technology products, and have high-speed Internet.
It pays as well as Customer Service and sometimes, depending on the technological skills required, it can pay a lot more, particularly if you speak another language.
Sites to use:
Apple (it's known as the Apple-at-Home)
– Virtual Assistant
Ok, what if you don't like tech support or direct customer service work?
The good news is some companies will hire you for other tasks such as scheduling appointments, data entry, typing documents, organizing records, and many other office tasks.
Wait a minute…
Office tasks, you say?
Yes, office tasks, but you don't have to leave your house and go to an actual office. You can become what's known as a VA (Virtual Assistant) and work right from the comfort of your own home.
More and more companies are relying on outside workers for tasks which can be accomplished online
Sites to use:
D) You spend time on the internet
As a stay at home mom or dad, you probably do a lot of shopping (be it grocery, baby care products, or what have you), searching, and browsing different websites. The good news is that there are some companies that will actually reward you for doing those things.
– Online Money Saver
Usually saving money means not spending it. Sometimes, though, in the online world, saving means finding cash rewards that only require knowing the right web addresses.
There are programs that will reward you for doing everyday online activities like searching, shopping, visiting new websites, etc.
They are free to join, and while you won't make a living, you can easily make a few extra hundred dollars by simply using these sites to do your shopping, searching, playing games, and more.
Sites to use:
– Apps Savvy Saver
There are several apps that will help you either save money, make money or both.
And while there are tons of such apps out there, if you are looking to get the most out of your time, try to stick with a few top ones.
Apps to use:
E) You are good at writing
Writing is one of the first ways most people new to the scene of online money making use to earn their first few dollars online. If you have a knack for words, this may be your best option. Depending on your skills, you could actually earn a very good income doing this.
– Product Reviewer
You may have spontaneously posted reviews on Amazon or other sites, reviewing a product. You know what it takes and how much a consumer review helps to sell (or destroy!) a product.
Companies like SharedReviews will give you money or rewards in exchange for a product review.
Sites to use:
– Freelance Writer
If you're a good writer and willing to write content for the web and blogs, chances are that you'll make good money. If you have some other field of expertise—like health or nutrition or technology—and some SEO (Search Engine Optimizer) knowledge, you'll find plenty of work on sites like Upwork.
If you're not so good, you'll still find work even though at lower rates.
Sites to use:
– Contributor to Major Online Publications
If you are really really good at writing, you can graduate from freelance writing sites and go where the big bucks are – major online publications. Some of these sites, you probably have seen and read their articles hundreds of times.
Who do you think writes those articles?
People like you and me who may even be work at home mom and dads, taking care of a baby at home.
Sites to use:
– Magazine Writer
This is along the lines of writing for major online publications. The only difference is that you will be writing for magazines. Perhaps some of which you read normally.
Sites to use:
– Translator
If you're a writer and know one or more languages, you can work as a translator. The same freelance companies hiring writers will hire translators. You may also apply to translation companies all over the world looking for online translators.
Pairs including English are always in high demand.
Sites to use:
– Professional Blogger
Blogging is an awesome way to make a living.
However, it is not as easy as starting a blog and just writing your heart out. It takes a lot of work and dedication to making a blog successful to the point where you can monetize it and make money.
The good thing is that you can use free blogging platforms to get yourself familiar with blogging and test the waters before spending money buying your own domain and hosting, which is not that much by the way (cost lest than $100 a year to get a domain name and host it somewhere).
Sites to use:
F) You are an artistic person
For those of us who have a knack for art, there are also many opportunities.
– Graphic Designer
Web sites, web pages, blogs, and everything on the Internet needs graphic design, besides the old world in print.
This means an explosion and endless expansion in the market.
Whether you're a good graphic designer or a beginner, there's work for you out there.
Look for work on freelance agencies, or start your own online service with a website which will work as a professional introduction to the quality of your work.
Sites to use:
– Photographer
Hundreds and thousands of pictures are needed every day by online publications, blogs, and websites. Stock image sites have become the go-to place for companies needing images.
And to cater to this massive need, stock image sites rely on photographers to supply them with all kinds of images. Whether you are a pro or an amateur, stock photography is a great way to supplement your income.
And the best part about this is that you don't even have to leave your house if you don't want to. You can take pictures of everyday objects, windows, doors, toys, garden, or whatever else is around you.
Sites to use:
– Craft Maker
If you like arts and all sorts of crafted items, such as handmade jewelry, you can use one of many online storefronts created especially for selling handmade crafts.
The biggest one by far is Etsy. But there are many many other sites to sell your handmade goods as well.
Sites to use:
– Artist at Heart
You may have music skills, art skills, or writing skills, whatever, you're just a creative type!
No matter what kind of skill you have, you can use it to make money.
You may sell any of your skills at $5 each at Fiverr.com. But, most sellers don't stop there, they offer extras so they actually make up to $40 or more per gig, rather than just a five.
On small gig marketplaces like Fiverr, you can earn money doing just about anything you can think of–Write a poem, design a logo, record a lullaby, make a prank phone call on behalf of a buyer… the list goes on and on.
And the best part is that you can do all of this while at home.
Sites to use:
Final thoughts
As you can see, there are a number of ways you can make money while being a stay at home mom or dad. You just have to be willing to give them a try.
If you are a parent who has to stay at home (to take care of the baby or for other reasons) and you do earn a living online, please chime in below and share your experience and expertise and how you do it.