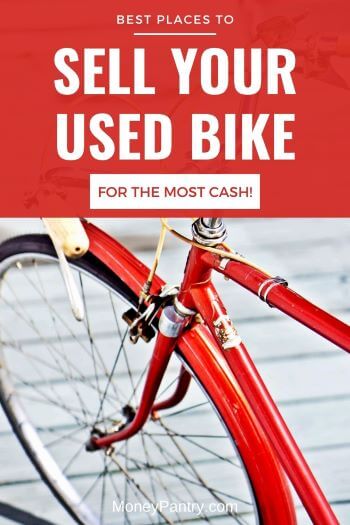 Have an old bike you want to sell for cash?
If so, you might be wondering what your options are. You probably have a lot of questions like, should I sell my bike near me? Are there any good places to sell a bike online? What is my bike worth? etc.
Well, in today's post, I'll cover all of those questions and more. I'll give you a list of the best places to sell used or bikes both online and near you.
You can sell a wide variety of bikes via these places, such as:
Mountain bikes
BMX bikes
Cross Country bikes
Cyclocross bikes
Downhill bikes
E-bikes
Fat bikes
Triathlon bikes
Road bikes
Dirt jump bikes
Endurance bikes
Utility bikes
Kid's bikes
Track bikes
And many other bikes
I'll also cover some tips on selling bikes as well as giving you a few tips on how to price yours for sale.
Where to Sell Bikes Online
Let's start with the best websites where you can sell your used or new bicycles online for cash.
Need Easy Extra $300+/Month for Free?
KashKick
: Get paid directly into your PayPal for watching videos, surfing, shopping and more.
Join KashKick Now!
Panel Payday
: Earn up to $75 per survey. They also pay up to $50/hr for mystery shopping.
Join Now!
InboxDollars
: Paid over $57 Million to members to watch videos, take surveys, shop and more.
Get $5 instantly!
Branded Surveys
: Get $1 instantly just for joining for free. Plus get paid within 48 hours by PayPal!
Join Branded Surveys
iPsos iSay:
: If you have to only sign up for one paid survey site, go with Ipsos (high paying survyes)!
Join iPsos Now!
Swagbucks
: Get paid to watch videos, shop online, take surveys and more.
Join now & get $5 instantly!
The Pro's Closet is one of the most popular and well-known places for selling a bicycle. You can submit your bike, frame, or wheels online in just minutes.
You'll need to submit two photos and some basic details about your bicycle. Then, The Pro's Closet will give you a free quote within 24 hours.
If you like the quote, then you can get a free shipping label. So, you can ship your bicycle to the company for free. Once The Pro's Closet gets your bicycle, it will inspect it before finalizing your payment.
There are a few different payment options on offer, like:
Cash
The Pros Closet store credit
Credit at your local TradeUP bike shop.
Goodbye Cycle purchases high-end used bikes. You just need to fill out the company's online form with some information about your bicycle.
The company will then give you an offer within 24 hours. If you like the offer, you can accept it and decide which shipping option works best for you. Then, you'll need to pack up your bicycle and send it to Goodbye Cycle. You can get paid by PayPal or check.
The Bike Exchange is a website where you can list your bike for sale. It costs anywhere from $9.95 to $29.95 to list a bicycle on there. The listing fee you pay is determined by the item price.
Your ad stays on the site for 60 days. If your bicycle doesn't sell, then you can renew the ad for 50% of the original fee. All ads include unlimited changes, live web statistics, and weekly performance reports.
You can post an ad for your bicycle on Pinkbike. You can sell complete bikes on there, as well as bike parts, like frames, saddles, and seat posts, and gear.
According to BicycleBlueBook, you can reach thousands of online shoppers by listing your bike for sale on its marketplace.
There are three ways to sell your bicycle with BicycleBlueBook:
Create a listing: So, you list your bicycle for sale on the site's marketplace.
Instant payout: You can get a quote for your old bicycle and receive an instant payment to your PayPal account.
Trade-in: You can trade your old bike for a new one at the company's Authorized Trade in Partners.
Reddit is actually a good place to sell stuff, including bikes. There's a subreddit called r/BikeShop. It's Reddit's bicycle classifieds where you can list your bike for sale.
Where to Sell Bikes Near Me
If you'd rather deal with a local buyer, you can find people who buy used bikes near you through the following platforms.
Next on the list we have OfferUp. This is a really great website and app for selling locally because it doesn't charge you any listing fees. This is good because it means that you aren't having to invest any money upfront.
When your bicycle sells, you will need to pay a service fee. This is either a minimum of $1.99 or 12.9% of the sale price.
Craigslist is another place to consider if you're wondering where to sell bikes. With the site, you can list stuff for free! And, Craigslist doesn't even take a commission on your sales either.
You can set your own prices. Craigslist is great if you want to sell your bike locally. And whether you have an old bike or a new and nice bike you want to sell, you can find buyers here.
With the site, you can easily create a listing and even add photos to it and it's all free.
Next on the list we have 5miles. This is a platform that is similar to OfferUp in that you can sell stuff locally in multiple categories.
You can sell pretty much everything on 5miles including bicycles. So I would give it a try if you don't want the hassle of shipping your bicycle anywhere.
5miles doesn't charge you any fees to list items for sale on there, which is great.
10. Local pawn shops
Another option that you may want to try is selling your bike to a local pawn shop. Some pawn shops purchase bicycles. I wouldn't say that this option is the most profitable one on the list. This is because pawn shops want to resell your stuff so they, generally, want to purchase your bicycle at a low price so they can resell it for a profit.
That being said, if you are looking to get cash fast for a bicycle, then pawn shops are a good option. Most often, they will pay you on the spot if they want to buy your bicycle.
If you want to find a local pawn shop, then just open up a search engine and enter the term, "pawn shop [city name or zip code]," or "pawn shop near me."
This should show you any nearby pawn shops. It's a good idea to call ahead to check if the store purchases bikes, as the items these places buy vary from store to store.
One of the best places to sell anything really is on eBay. It's a popular auction website (although you can sell stuff for a fixed price too) that gets millions of visitors. This means that there are plenty of potential customers on there who may want to purchase your used bike.
On there, you can list your bike for sale, and you get to set your own price for it too. You can list up to 50 items for free on eBay. So, that's pretty good. After your first 50 items, you have to pay $0.30 per listing. When your bicycle sells, you'll need to pay a 10% commission fee.
You could also consider selling your bicycle to Play It Again Sports.
You can take the bicycle to your nearest store, and an employee will review it based on its condition and demand. Then, if the store decides to purchase your bicycle, it will make you an offer and pay you on the spot. It's a good place for selling a bicycle near you.
13. Local used sporting goods stores
If you have a sporting goods store near you check to see if they buy used bicycles. Not all of them do, but it's worth calling to enquire. You might not always get the best price for your bicycle because a lot of these places will want to resell it for a profit.
What's good about selling to a local store is that you can often get cash on the spot. So, if you want money fast, then it really is a good option.
With SidelineSwap, you can sell a range of bicycles, like BMX bikes, road bikes, and downhill bikes. You can list your bike for sale there for free. And you can even set your own prices.
The site has a handy guide as well that can help you with pricing stuff for sale. The company provides you with a prepaid shipping label once your item sells. You do have to pay a seller's fee when it sells, which is 12% on the first 5 sales you make on the site and 9% for sales after that.
In addition to the seller fee, SidelineSwap also collects a 3% payment processing fee which is paid to the site's payment processor. What's good about the site is that the buyer pays for the cost of shipping.
Also, while the site's policy says that swaps must be shipped to the buyer using the shipping labels generated by the site, on its help guide, SidelineSwap does say that if the buyer and seller live close to each other and have both agreed on a local exchange, then the company can accommodate these sales. The site also has a page on how to partially disassemble and pack your bike.
With Facebook Marketplace, you can sell your used bike. It's a good place for selling because it doesn't charge you any fees for listing stuff on there.
Plus, you aren't dependent on a quote from a company. Instead, you can set your own prices, giving you more control over how much money you make from the sale.
Tips for Selling Your Used Bike Fast
Okay, so now you have lots of places where you can sell your bike. In this section, I just want to cover some tips on ways to sell your used bike quickly!
These tips refer to listing your bicycle for sale on sites like Craigslist rather than when you get a quote from a place like The Pro's Closet or sell in person, like to your local sports goods store.
Here are some tips for listing a bicycle for sale:
Clean up the bike
Bikes that are clean look better on the listing and they will likely sell a whole lot faster.
Try to fix up your bicycle as much as you can. If it needs any minor repairs, then try to fix it, as long as it doesn't cost you too much of course.
A bicycle that's in good condition will sell faster and for more money than a damaged bicycle will.
Take some great photos
Now that your bicycle is all cleaned up, you'll need to take some photos of it. Photos are so important because, well, potential buyers, want to see what it is that they are going to purchase.
Make sure you take the photos in a place with good lighting. Take photos from a few different angles, and make sure that you get photos of the entire bicycle and closeups of any details.
Also, ensure that the images aren't blurry, dark, or grainy. You want clear photos with good lighting.
Create a good listing
Your listing needs to include any important details on the bicycle, such as what type of bicycle it is, the model, and color, etc.
Also, you'll want to make sure that you are honest about the condition of your bicycle. Don't try to pretend that your bike is in better condition than it is. Doing this puts off potential buyers. People don't mind wear and tear or damage as long as they were warned of it beforehand.
So be honest and make sure that you mention any wear or tear or damage that the bicycle has.
Set a realistic price
You'll also need to set a price for your bicycle. You don't want to shortchange yourself by setting the price too low, but you also need to set realistic prices.
It doesn't matter how much you paid for it originally, but rather, what it's worth now.
This brings me to my next section…
How Do I Price My Used Bike?
One of the most common questions that I see when people are wondering how to sell a used bike is how to price it.
Sure, if you are using a site like The Pro's Closet, they will give you a quote. But, if you are selling on a platform like Bike Exchange, Reddit, or Craigslist, then you are going to need to set your own price.
So just how do you go about this?
Well, there are two options:
Method 1: Check the current market value
One of the best ways to price a bike is to simply check the current market value. So, go onto websites like eBay or the Bike Exchange, and see what other people are charging for a similar bike to the one that you are selling.
This is such a good idea because it helps you to set your own prices – you can see if the price that you had in mind is too high or too low. And what people are willing to pay.
Method 2: Compare the original price with how much the bike has depreciated
All items, including bikes, depreciate over time. So, how much your bike value decreases will depend on things like:
How old the bike is.
The condition it is in.
How much longer it will likely last – so it's expected lifespan.
There's a simple formula that you can use you factor in all of these elements:
Here's how it works:
Step One: Find the original price of the bike.
Step Two: Next, determine how many years you think that the bike will actually be usable. Basically, you want to determine its lifespan, so to speak. A reasonable lifespan for a bike would be five to 10 years.
Step Three: Now, you'll need to determine the depreciation expense. Divide the original cost of the bike by its estimated lifespan. For example, if you originally paid $600 for the bike, and you determine its lifespan to be about 5 years, then the depreciation expense would be $600/5, which would equal about $120 of depreciation per year.
Step Four: Next the age of your bike comes into play. If your bike is 2 years old, then that's 2 years of deprecation. So, you need to subtract the deprecation expense we calculated earlier from the price you originally purchased the bike for. If we use the $600 bike example, then you would subtract $240 ($120 x 2) from the $600 you originally paid for it. This would give you $360. So, $360 is the value of your bike after depreciation.
To be honest, I prefer method one over this method. Sure, it can be a good starting point, but I think that you sort of run the risk of selling yourself short. After all, there may be someone out there that's really interested in the specific type of bike that you have, so they'd be willing to pay you a decent amount for it.
I would always recommend checking to see what the market value is before deciding on a set number. You never know, you could get a little more for your bike than you think. Of course, be realistic. You're unlikely to get the same price you originally paid for it, and if a bike isn't in great condition, then this also lowers the price of it a lot. Just try out both methods and come up with a price that's both fair to you and realistic!
Closing Thoughts
I think that selling a bike yourself on a platform like OfferUp, Reddit, Craigslist, or Bike Exchange is a good idea. I think that you get more control over how much you get for your bike.
If you want something quick and easy, then selling directly to a company like The Pro's Closet or Goodbye Cycle are both good options.
If you want to sell a bicycle fast near you, then consider selling to a pawn shop or local sporting goods store. You don't always get the maximum value for your bike, but most of them pay you on the spot if they're interested in your bike.
Give these a try and make some money from your used bike. Do you have any tips on where to sell bikes? If so, share them with us in the comments section below.