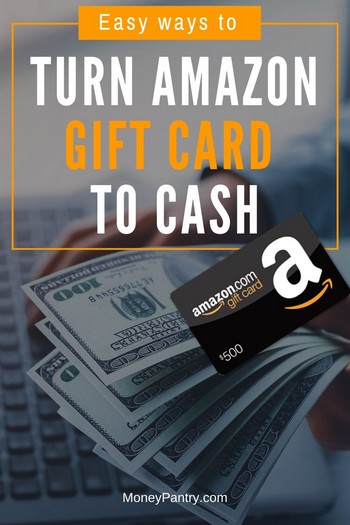 How do you trade or sell your Amazon gift cards for cash?
Here is a scenario:
Let's say somebody bought you a generous $500 Amazon gift card.
You are beside yourself.
You thank them a thousand times and can't wait to use the card.
The only problem is that you don't actually need anything that Amazon sells (which is everything by the way). Let's just say you would rather have that $500 in cash because you have to pay your rent or some other bill.
Need Easy Extra $300+/Month for Free?
KashKick
: Get paid directly into your PayPal for watching videos, surfing, shopping and more.
Join KashKick Now!
InboxDollars
: Paid over $57 Million to members to watch videos, take surveys, shop and more.
Get $5 instantly!
Branded Surveys
: Get $1 instantly just for joining for free. Plus get paid within 48 hours by PayPal!
Join Branded Surveys
First Opinion
: Get paid up to $10 per survey and $300 per virtual focus groups!
Join Now!
Swagbucks
: Get paid to watch videos, shop online, take surveys and more.
Join now & get $10 instantly!
Amazon won't (obviously) exchange the card for you with cash. And if you were to buy something and then return it, they could only credit your account, which gets you nowhere.
You can't ask your friend (or whoever that someone was that gave you the Amazon gift card) to take the card back and give you cash instead.
So what can you do?
How to Sell Your Amazon Gift Card for Cash
Well, I don't think there is one "best' way.
It all depends on your situation, how much the GC is worth, how fast you need the cash, etc.
That said, there are a few ways you can get cash for your unwanted Amazon GC or any other kind of gift card for that matter.
Here are a few options:
1. Use Reddit
Reddit actually has a dedicated subreddit for gift card exchanges where you can trade unwanted gift cards for cash (PayPal mainly) or other gift cards.
If you are not a member of Reddit yet, you'll need an account first. It's free.
Then simply visit /r/giftcardexchange, create a post with some details about your card, its worth, how much you want for it, etc. and wait for other redditors to respond.
You can also use a subreddit called /r/barter.
On this subreddit people normally barter for tangible goods rather than gift cards and gift certificate codes. But you may be able to find someone who will be willing to pay cash for your Amazon gift card.
2. Use Purse: Buy BitCoin with Amazon gift card
This site was made exclusively for the purpose of allowing people to buy and sell Amazon gift cards for Bitcoin.
Bitcoin owners create a wish list of items they want from Amazon, then people with unwanted gift cards purchase their order in exchange for bitcoin.
It is actually a very safe program. They use escrow to make sure both you and the buyer get your intended items. You get your bitcoin(s) and the buyer gets his/her amazon products.
3. Sell a $500 Amazon Gift Card for $520 on eBay!
Not only you can sell your Amazon GC, but apparently you can sell it for more than its face value!
I was baffled when I saw people buying a $50 Amazon GC for $57,99.
So I looked into it (here is a great discussion about it on Amazon Community Forum,) and from what I have gathered there may be a few reasons for why people pay more than the face value.
One theory is that people from other countries buy them and take advantage of the currency conversion somehow. So for them it actually is a win.
Another one is that the buyers are using cashback sites to shop on eBay and sometimes the cashback sites have promotions where they can earn way more cashback than the few extra dollars they paid for the GC.
And if you are not sure about that, you can always sell the GC for its face value or a few dollars lower. I looked on eBay and a lot of gift cards, including Amazon's, do sell for 100% face value or near it.
GiftCardBin allows you to sell gift cards. It used to allow you to sell them online, but it no longer supports online sales of gift cards through its site.
You can still sell gift cards though by visiting one of the company's 600 partner locations across the United States.
Here's how to sell gift cards with GiftCardBin:
Simply, use the store locator, which I've linked in the section heading above, to find a location near you.
Take your gift cards and a valid ID to the location.
Get cash for your gift cards.
Another place where you can sell your gift cards is at GC Spread. You can select the type of gift card you want to sell, and it allows you to make an offer for your gift cards.
Generally, GC Spread pays you between 60% and 90% of the value on the gift card.
If it accepts your offer, you'll be notified, so you'll know exactly how much payment to expect for your GC.
It pays you via check in 10 working days. That's not the fastest way to get paid, but it's still a good way to trade your Amazon gift card for cash that you can actually spend! Simply deposit the check into your bank account or cash it at your bank.
If you are looking for a legit place to sell an Amazon gift card, then you should definitely try BuyBackWorld.
BuyBackWorld is accredited by the Better Business Bureau, where it has an A rating. It's also really well-rated on Trustpilot. On Trustpilot, BuyBackWorld has 4.2 stars, which is a "Great" rating.
With BuyBackWorld, you can sell your Amazon gift cards quick and easily.
Here's how it works:
On the BuyBackWorld website, select the gift card you want to sell from the list of dropdown options. So, you'll need to select "Amazon."
Enter the value of your gift card.
Select the number of gift cards that you want to sell.
BuyBackWorld will give you a quote.
If you accept the quote, you need to mail your gift cards to the company. This is free to do, which is great. BuyBackWorld gives you a prepaid shipping label.
Once BuyBackWorld receives your gift cards and verifies the amounts, it will issue your payment through the payment method you prefer. Payment options include PayPal, direct deposit, prepaid debit card, or a BuyBackWorld.com gift card. Your payment is issued within 2 business days of verification.
You can sell your Amazon gift cards on QuickcashMI.
Select your gift card from the dropdown list of merchants. So, select "Amazon," from the list, and then enter the current value of your gift card.
QuickcashMI will then give you an offer for your gift cards. According to the site, you can sell gift cards on there for up to 90% cash back on select merchants. Payment is sent by check.
EJ Gift Cards allows you to trade your unwanted GCs for cash.
Search or select the gift card brand from the list.
Then, enter the current face value dollar amount on the card, and you'll instantly receive a purchase offer for your gift card or store credit.
If you like the offer, then you can accept it, and payment is sent by PayPal.
At GiftCardPlace, you can compare offers for your Amazon gift card from lots of different vendors, such as Raise and GC Spread.
Here's how it works:
Select the merchant name of your gift card from the list. So, scroll down until you see "Amazon," and then click on it.
You'll get a list of exchange rates offered by various vendors for your gift card. When I selected Amazon, I got both fixed rate offers and percentage offers from places like Raise and EJ Gift Cards.
If you like one of the offers, click on "Sell Your Card," under that particular offer to navigate to the vendor's website.
Complete the transaction and receive your payout.
GiftCash is a website that makes selling your Amazon gift cards easy.
With GiftCash, you can sell gift cards for cash. You can get payouts of up to 92% of the card's value.
Here's how it works:
Type in the brand name and balance for each of your cards. So, you will need to type in "Amazon," and the value of your cards. Then click on "Get Offer."
The site will then make you an offer for the value on your gift card. If you like the offer, you can accept it.
You'll get paid by bank transfer or cryptocurrency.
This is an app that works similarly to websites like CardPool.
You list your GC for a little less than its face value and people can buy it from you.
Gameflip is a website where you can sell Amazon gift cards. You can list your Amazon gift cards using the Gameflip website or its free mobile app.
The website says that to sell gift cards quickly, you should set the price at between 2% and 15% off the original amount.
13. Sell on Gift Card Reseller sites
This is another option. It's not the fastest one, nor will it get you the most cash, but it works.
Here are a few legit sites you can try:
14. Sell Amazon Gift Card for Bitcoin
If you're a fan of bitcoin, beside Purse, there are also other sites that let you trade/sell all kinds of gift cards, including Amazon gift certificates, for bitcoin.
Here are a few sites you can try:
Now if you don't really want Bitcoin, there are much faster and easier ways you can sell your Bitcoin for cash. So that's another option.
15. Sell it on Craigslist
You may have to sell it for a little less than its value, but that's probably one of the fastest ways to get cash in your hand.
You could sell a $500 Amazon gift card for $450 or $430 perhaps.
If not, and if you don't mind, lower the asking price.
16. Sell or trade the gift cards to friends and family
Another option is to simply sell or trade your Amazon gift card to someone you know, like a friend, family member, or colleague.
Most people buy stuff on Amazon so it's likely that you know at least one person who'd have use for an Amazon gift card.
Since you already know each other too, you'll likely get a better deal than you would when dealing with a stranger when selling online, and you'll get more from a friend or family member than you would on a site like BuyBackWorld.
Other Ways to Convert Amazon Gift Cards to Cash
Here are a few other options for cases where you don't need cash, but you also don't want the gift card.
17. Buy stuff for friends/family and get cash in exchange
Ask your other friends or family members if they need stuff from Amazon. If they do, buy it for them and have them give you the equivalent amount in cash.
And if you don't have a friend or family member who needs $500 worth of stuff, perhaps you could find a few people who may each need $50-$100 worth of stuff.
18. Buy grocery & pay yourself in cash
Most of us buy groceries a few times a week. But you can buy some of that stuff on Amazon now.
If you need the cash in a week or so, instead of buying your grocery from the store next week and paying with cash from your next paycheck, buy the grocery on Amazon now with the card and then pay yourself the equivalent amount in cash when you get your paycheck.
19. Shop with Amazon Payments
If what you need is not cash but another item that is not sold on Amazon.com, you can actually use your gift card balance to shop on other sites that accept Amazon Payments.
You can see a list of merchants that accept Amazon payments here.
20. Yard sale
You could also try selling your Amazon gift card at a yard sale. Because you're not selling through a website or company, you don't have to worry about listing fees or commission fees. Instead, you can keep 100% of the profits!
Now, there is a downside to yard sales. People mostly attend yard sales to find bargains, so you might not always get great value for your gift cards.
Still though, selling gift cards at a yard sale is definitely worth a try, particularly if you have other items you want to sell. You could declutter your home and make some money in the process.
21. Buy stuff on Amazon and flip it for a profit
If you are looking for another way to trade your Amazon gift cards for cash and don't mind putting in a little effort, then you should consider retail arbitrage.
With retail arbitrage, you purchase an item at a discount and then sell it for a profit.
You can trade your Amazon gift cards for cash using retail arbitrage.
Here's how:
Look for products on Amazon that are discounted or on sale. Amazon has a Today's Deals section where you can find great savings, coupons that can save you money, and many products are regularly discounted on there.
Use your Amazon gift card to pay for these items.
Once the items arrive, sell them online for a higher price than what you paid for them.
There are lots of great places to sell stuff online, such as:
eBay
Etsy
eBid
Craigslist
OfferUp
Facebook Marketplace
Poshmark
Sure, this method takes an extra step or two compared to some of the others on the list, but it's still a good way to trade your Amazon gift cards for cash.
22. Regift your Amazon gift card
Another way that you can get cash for your unwanted gift card is to, well, regift it.
Lots of people shop on Amazon, so an Amazon gift card can make for a great gift. You could regift your gift card to a friend, colleague, or family member. You can then keep the cash you would have spent on a gift for them in your own pocket, which is great.
So, for example, let's planned to spend $30 on a family member's birthday gift. You have a $30 Amazon gift card. So, rather than spending that $30, give simply give the family member your gift card. You can then use that spare $30 for anything you want.
You can't transfer a current Amazon.com balance to another person, so make sure you don't redeem the gift code, so you can regift the card.
23. Use your Amazon GC to purchase gifts
Just like with the tip above about regifting an Amazon gift card to a friend or family member, this tip will also free up cash for you.
Basically, you use your unwanted Amazon gift card to purchase a gift, or, depending on the value of the gift card, multiple gifts.
I spend $100s on gifts for my family each year, between birthdays, Christmas, and other events.
If you spend a lot on gifts, then using gift cards, rather than your own cash, to purchase them, can save you a lot of money.
Let's say you have a $100 gift card, and you use it to buy a couple of gifts. That's $100 in cash that you've freed up in your bank account. You can then use it on whatever you want.
So, redeem your Amazon gift card balance online, and use it to buy presents from Amazon.
Amazon sells so many different items from clothing to makeup to toys to electronics, meaning you can, likely, find gifts for everyone on there.
24. Use the card as payment
If you are planning to hire someone, you could give them your gift card in exchange for their services.
For example, if you have a teenage neighbor who babysits, then you could offer them the gift card as payment.
You could use your Amazon gift card to pay people for:
Dog walking
House sitting
Pet sitting
Mowing your lawn
Yard work
Babysitting
Lots of people shop on Amazon so they may be willing to trade their services for an Amazon gift card.
This frees up the cash that you otherwise would have spent on paying people for those services.
25. Ask Amazon for cash
I know this sounds like a crazy idea, but Amazon has fantastic customer support and they are famous for it. You just may get lucky.
It won't really cost you but a few minutes of your time to contact Amazon support and ask them. The worst that happens is that they will say no.
Final Thoughts on Selling Amazon Gift Cards
Amazon gift card is one of the most gifted gift cards. And like any other gift card you receive, there are times you wish you could have the cash instead. Thankfully, as you can see, you have a lot of options for selling or trading your Amazon gift cards.
Have you ever had to exchange your Amazon gift card for cash? Do you know of any other way one can get cash for an unwanted Amazon gift card? Let us know by leaving a comment below.