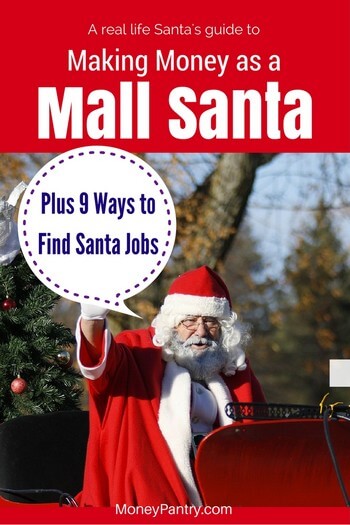 Making extra money as a Santa has to be a fun job.
The downside is that it's a seasonal job – like shoveling snow for money.
But, as you're about to find out, there are ways to make it into a year-long business, if you wish.
I have always wondered about Santa Claus jobs, how much they get paid, and whether or not the Santa's themselves are happy doing it. Thankfully, one of our readers, Bob Devon, wrote us a guest post about his own experience being a mall Santa for years.
I'll let Bob take over from here…
Background
My Santa journey started about 5 years ago, strangely at an event totally unrelated to being "Santa".
Need Easy Extra $300+/Month for Free?
KashKick
: Get paid directly into your PayPal for watching videos, surfing, shopping and more.
Join KashKick Now!
InboxDollars
: Paid over $57 Million to members to watch videos, take surveys, shop and more.
Get $5 instantly!
Branded Surveys
: Get $1 instantly just for joining for free. Plus get paid within 48 hours by PayPal!
Join Branded Surveys
First Opinion
: Get paid up to $10 per survey and $300 per virtual focus groups!
Join Now!
Swagbucks
: Get paid to watch videos, shop online, take surveys and more.
Join now & get $10 instantly!
My bride and I were celebrating a birthday for one of my employees (at the time) after regular business hours at a local winery on a late May Friday evening.
In the Wine Tasting Room, the band was playing loud music which drove many of the attendees outside. A short man sporting white hair and a nice beard walked by our table and put a business card in front of me then he disappeared.
On the card a question was printed.
"Has anyone ever said that you look like Santa?"
I've been compared to Jerry Garcia but rarely Santa (although I am round, have white hair and beard and smiling, happy eyes).
He came back later and told me that I didn't need the padding (remember, I said I was ROUND, not necessarily meaning I'm in SHAPE, although I'm not square or resemble an upside down triangle, either).
The next Wednesday, I found myself attending my first Santa Claus meeting. It was the beginning of the next chapter in my life.
How did I get the "Mall Santa" gig?
At the meeting I attended, there was a "guest speaker" who was looking for Santas to work with her at Seaport Village in her photographic venue for the Christmas Season.
I listened to her presentation and thought I could learn from her as I had NO experience being a Santa Claus.
After talking with her I decided that this could be a good place to get some experience and maybe a foothold to a future since I was recently retired from my career. (My career was exciting and very interesting involving activity with the U.S. Navy both as a sailor (9 ½ years) and a civilian federal employee for 28 years.)
This position was not as grueling as being a "Mall Santa". I was allowed time to visit with the children and do my best to convince them that I WAS Santa. My suit was expensive and made by a Hollywood Costumer who was highly recommended. Everyone that I've provided Santa Services for tells me that they have never seen a better Santa. Adele is nothing short of Marvelous.
How can you find Santa jobs?
I realize the way I got my start isn't going to be experienced by a lot of other people. Thankfully, there are many ways to find Santa Claus jobs.
1. Santa Schools
Yes, there is such a thing! In fact, there are Santa Schools all over the place.
You do have to pay to attend classes, but besides learning everything there is about being a professional Santa, you also get to network with others. And that's how most of these guys find gigs through out the year.
Some of the most well-known ones include:
2. Job sites
Christmas season is when you can find ads on many online job search engine sites for part or full-time Santa jobs for malls, parties, birthdays, as well as other private and public events.
Check out some of these postings for the 2017 season:
3. Gigs Sites
Gigs sites like GigMasters and GigSalad are great places to offer your Santa services.
And if you think it doesn't work, think again!
This guy (Santa Derek) charges $100 to $300 an hour and at the time of this writing, he has 18 events booked already in Montgomery, Alabama.
4. Specialty Santa job site
There are Santa for Hire sites that people can go to book the old man for their events. Most of these sites have a contact page where you can ask about any available job opportunities. It doesn't take much but a quick email.
Here are a few:
5. Local Malls
One of the best and fastest ways to snag a seasonal Santa position is to go and ask local malls directly.
I would especially target the ones that you noticed didn't have a Mall Santa the year before.
6. Craigslist
Posting a Craigslist ads in most cities is free (or very cheap) and it takes only a few minutes. The sheer number of people who use Craigslist everyday, makes it an amazing place to be seen by potential clients.
7. Directories
Yes, there are a few sites that act as a directory for finding Santas. They have paid and free options that let you add your name to the list for your local area.
The most famous one is SantaClausforHire.com
9. Word of mouth/referral
That's one of the best ways to keep busy. Do a good job at an event and people will start to recommend you to their friends and family. Before you know it, everybody in your town is calling you to play Santa at their event.
What you need to know
Getting experience is the key.
Being a "Mall Santa" is not the easiest job as it is "profit driven".
This type of Santa is not allowed to spend much time with the children as he is simply part of the "photographic venue". His function is to pose with the kids and generally has little time to talk with them about what they really want for Christmas.
So, the "best way" to keep this job is to be exactly what the manager wants. Do not spend extra time with the kids as it impedes that race to the cash register. Some of your expenses (hotel, meals, transportation, cleaning, etc.) are covered in whole or in part.
Often the pay is less than could be made elsewhere but it is steady.
How many hours does a Mall Santa work?
Work hours vary in this venue depending on mall hours.
Often there are more than one Santa which causes some confusion on the part of the consumer.
When the parents see a Santa that appears to be doing a good job with the kids, they decide that's what they want to have pictures with him.
When that Santa is relieved or has worked his shift, he leaves. The next Santa may not be as "attractive" to the customer as the one they saw earlier.
In general, Santas work 6-8 hours then are off.
Depending on the mall, the hours and venues vary. Some will have the Santas on site 4-6 hours then off for 2-3 before returning for another period of time. Again, the work hours a variable.
How much do you get paid to be a Mall Santa?
The pay varies by location.
Some pay by the hour while others pay lump sum (so many days for so much money).
Expenses are always the unforeseen variable.
For me, while working at Seaport Village in San Diego, I made about $160 per day, but I considered it a "learning experience".
The first year of being Santa, I worked 21 days beginning before Thanksgiving and finishing on Christmas Eve. My hours were from 11 AM to 5 PM most every day.
There were days that I did not work but I was the ONLY Santa for the season.
The next year I marketed myself by looking for other venues and private events. I did several "Christmas Tree Lighting" events which averaged about 2 hours per and paid me $200 each.
From that I distributed business cards and gathered several other private family events that I continued to do. I've added many public events such as Polar Express at several elementary schools, visits to convalescent homes and senior facilities at no cost. It gives me an opportunity to "give back" for the marvelous careers that I've had.
The best part?
There are MANY Best Parts!
I love being able to spend time with the children, watching them stare at me in amazement because "I Am the REAL Santa Claus".
I portray Santa the way I would want someone to be with my children and grandchildren.
I spend as much time as I can for the limited amount there is.
I love receiving their "Christmas Wish Lists", going over them quickly and asking them questions about the items they've included.
I like to tease them about "how good they think they've been to be asking for all of these presents".
I like quizzing them about their activities and comparing that with what I hear from their "Elf on the Shelf".
I ask "my Elves" to have the parents include a mailing address on the Wish Lists so Santa can write a letter back to the children.
I DO hand write a letter back to the kids with words of encouragement but making no promises about what may or may not show up under the tree on Christmas morning.
I love being Santa Claus.
How were you able to turn this into something more?
I market myself using business cards, little toys and candy canes wherever I happen to be.
I always have candy canes or little trinkets in my pockets to give to the kids and adults.
I am always happy. Many people tell me that I have "happy eyes that sparkle when I'm excited".
That makes me even happier!
Much of my business comes from referrals by others, including my compatriots. I belong to an established group known in southern California as "The Fraternal Order of Real Bearded Santas" (FORBS).
We network amongst ourselves to share the workload.
Some of our Santas do strictly Malls while others of us focus on private functions. I like to do a mixture of both as it keeps me active in both communities. There is much to learn about with these children.
I also like being likened to "Johnny Appleseed", planting seeds wherever I go. These kids are the future of America and the world. We have to pay attention to them, planting, pruning and preening whenever possible.
What about times when it's NOT Christmas?
There is time when Santa isn't busy, but that is sometimes all too short.
Between Christmas and the end of January each year, FORBS is busy planning our annual Reunion which is held the last weekend of that month.
The location changes most every year so there are many issues to be identified and resolved before the event.
Fortunately, we do have some very capable and well-organized people in key positions who volunteer their time to make each of these event successful.
After the Reunion, all of the Santas take some time off to rest and attend to other needs.
I usually have my hair and beard trimmed then make time for "our lives" outside of being "Santa".
That time seems to go by so quickly because the month of May is here. Time to get back into the scheduling mode for the upcoming season.
I start looking for opportunities for "Christmas in July" events.
Sometimes I get requests early on which are easy to plan for. Other times, it takes a significant effort to interest businesses and retailers of the opportunity to possibly increase their "off season" business as they start planning for the shift of seasons from summer to fall.
I review my client listings from previous seasons and send letters and reminders out to those who may be interested again. I have several families who contact me each year to schedule another visit. I cherish these return visits as I've enjoyed watching the children grow from "kids" into young adults.
When the month of September shows up on the wall calendar, it's time to get concerned about the schedule. Things begin to happen early in October as people suddenly become aware of the impending Christmas rush and start seriously planning for "The Season".
FORBS has several Chapters in Southern California and each one has a monthly meeting. Some meetings are during the week and others are on weekends. Fortunately, they are usually spread out enough through the month that we can usually make the short trips without much difficulty. Each of the Chapters operates in a similar manner.
I attend monthly meetings of the FORBS Chapter in San Diego and take the minutes in support of our Chapter Secretary, who wears many hats.
We have a Board Meeting to discuss the agenda items for the General Membership Meeting, then break for lunch.
The Chapter President calls the General Meeting to order then we conduct business in accordance with Robert's Rules of Order.
We try to attend more FORBS meetings than just our own, but sometimes it's just not possible due to conflicts in schedules. We have other gatherings and/or meetings to discuss opportunities for fundraising or collections for our benevolent programs.
The San Diego Chapter has a "Santa's Special Delivery Program" which occurs on Christmas morning and benefits several families who would otherwise not have Christmas at all.
For several years we have sponsored a "Spaghetti Dinner" that has been paid for by one of our members. He and his wife donate and prepare the meal for our fundraising. The facilities have been provided with the generosity of a local VFW Post. It has been supported by very successful and has been the main source of funding for this program.
Another facility that we have been supporting involves a local San Diego school which is located in one of the poorer neighborhoods.
We collect items then donate them to the schools for distribution to those who have little or no money to spare.
Things like:
Clothing
Toys
Books
And other
The Santas of FORBS are trying to do what we can to help.
Running the business
Each of our Santas has a business of his own.
They conduct their activities independently and each seeks out his own list of clients and/or businesses looking for services.
We have established a Job's Board that is accessible for the posting of new work and sharing of information about each Santa's current workload. Should a visit be made to our website or inquiries made about who may be available for other work, we have a means of identifying candidates for each event.
I should note here that many of our Santas are "retired" from other careers but have reinvented themselves in many ways. Some are still "young" and not eligible for Social Security and Medicare so they continue to work in their fields but looking forward to participating in more of the "Santa Activities".
We have a very active membership and are growing all the time.
Tips
There are SO MANY things that a prospective Santa needs to know.
First, they must be happy, friendly and willing to accept everything.
They have to be outgoing, a bit gargantuan and have a good sense of humor.
Santas are knowledgeable and have to know "where they came from".
They need to understand that the "roots run deep" and that the impression of "what Santa is" may not necessarily be correct.
"The Night Before Christmas" story is the updated (and generally accepted) "truth" of who Santa is but NOT the True meaning of Christmas.
I've had many families ask me to explain the "True Meaning" to their children as related to the "gifts" given to the Christ Child. It's not an easy task for the youngsters but makes some sense to those who have some religious experience through their families and church.
Make sure that you know all the names of the reindeer, the Polar Express story and "The Night Before Christmas".
Learn about the "North Pole" and what really happens there in "Santa's World". Learn the secret
Overall, be the Santa of your dreams!
A word on training for becoming a professional Santa
Training is imperative. There are many training opportunities available from commercial sources taught by instructors who have been in the "Santa Business" for many years.
These gents are a wealth of information and experiences.
Many of these experts have made a "career choice" of being teachers and mentors to those who share their passion for being "Santa". There are organizations such as FORBS that have training opportunities available as well. All it takes is a visit to a website. Research, learn, practice and perform.
Guest Writer Bio: My name is Bob Devon and I am married to the most wonderful woman on the planet (you can call her Mrs. Claus!) She is my best friend and confidant as well as my soul mate. She is also a marvelous grandma to the most precious little girl ever. I've lived a marvelous life, done many things I never expected to do. I've experienced life from a "Cold War" footing, fired live rounds at and tracked potential adversaries using various naval sensors while stationed aboard a U.S Navy destroyer. I've taught technical training, managed electrical engineers and technicians and published a cookbook. I've worked at a small Temecula Valley winery and became an assistant winemaker before becoming Santa Claus. I only wonder what may be next. Only time will tell.