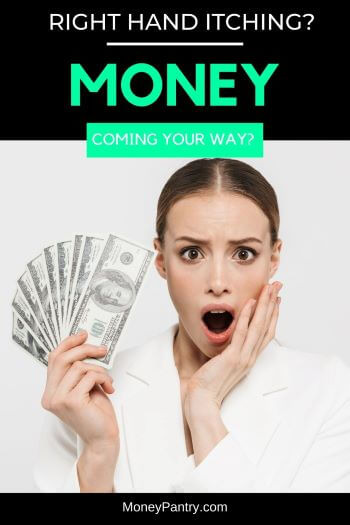 When your right hand itches, does it mean that money is coming your way?
Or will you actually lose out on cash?
There are so many superstitions out there – literally thousands. And when it comes to left hand itching meaning and right hand itching meaning, there are many different theories and beliefs.
I remember one day years ago my husband and I were cooking dinner and he dropped the spoon he was using to stir the pot. Rather than getting a new one, he just picked up the knife he'd been cutting veggies with and stirred the pot with that instead. Then he laughed and said, "If my mom was here, she'd say I was stirring trouble into my life." I had no idea what he meant, but apparently, there's a superstition that if you use a knife to stir a pot, rather than a spoon, it's bad luck.
I had honestly never heard of that superstition before my mother-in-law, but it's just one of the many 1,000s of superstitions out there. Black cats, ladders, spilled salt, knocking on wood are just a few of the most well-known.
There are superstitions out there about pretty much everything – and this includes, of course, money.
Need Easy Extra $300+/Month for Free?
KashKick
: Get paid directly into your PayPal for watching videos, surfing, shopping and more.
Join KashKick Now!
InboxDollars
: Paid over $57 Million to members to watch videos, take surveys, shop and more.
Get $5 instantly!
Branded Surveys
: Get $1 instantly just for joining for free. Plus get paid within 48 hours by PayPal!
Join Branded Surveys
First Opinion
: Get paid up to $10 per survey and $300 per virtual focus groups!
Join Now!
Swagbucks
: Get paid to watch videos, shop online, take surveys and more.
Join now & get $10 instantly!
One superstition is that if your right hand itches, it means that you could be coming into some money.
What Does it Mean When Your Right Hand Itches?
Your right hand starts to itch – are you coming into money? Or will you actually lose cash?
It all depends on who you talk to. Superstitions are sort of like old wives' tales that change over time and when passed from person to person.
This right hand itching myth is no exception.
To some, the right hand itching means that you are about to gain some money. This could be through a lottery win for example.
For others though, the right hand itching means that you will lose money.
Generally, the right hand or right palm itching means that money is coming in! Many cultures believe that when your right hand itches, it could bring you money like a lottery win.
There are so many reasons why people associate the right hand with money. It's thought to give just one because it's not just the superstitions themselves that change but also the reasoning behind people's belief in them.
One reason why itchy hands are associated with money has to do with the fact that itching palms can signify new internal energy moving through the hands.
Since the left hand is more passive, it can signify you losing money, and since the right hand is the more active hand, it can signify that you will have money come to you.
Some people link the itchy palms myth to the superstition of touching or knocking on wood. This superstition can be traced back to Celtic or Germanic folklore where supernatural beings were thought to live in trees. Touching wood after mentioning hopes was though to prevent the evil spirits that lived in trees from undoing your good luck.
Many see touching or rubbing wood as a way to release unwanted energy buildup.
Now, itching right palms in Indian culture also signifies that money is coming your way. However, this is only the case if you are male.
In Hindu culture, if you are female and your right hand itches, it actually means you'll lose money. If the left-hand itches, it means you will gain money.
Your Right Hand Itching & The Lottery
Itchy hands have resulted in lotto wins for many!
Although some people don't believe in this superstition, there have been a few reported instances where people have won the lottery right after their hands have been itchy.
It doesn't seem to matter which hand or palm itches. People have seemingly come into money after they experience an itchy hand. It could just be a coincidence, but it's still an interesting superstition.
Other (Scientific) Reasons Your Right Hand Itches
If you believe that an itchy hand means that you could have money coming in, then good for you!
Not everyone believes in superstitions though so in this section, I just wanted to cover a few more scientific causes for an itchy right hand.
Psoriasis: Psoriasis is a skin disease that can cause red, itchy, and scaly patches. It can cause your hands to become itchy.
Dry skin: I get flaky skin on my palms quite often when I don't remember to moisturize. Dry skin is fairly common, and it can cause itchy hands.
Eczema: Another skin condition that can cause itchy hands is eczema. Now, I sometimes get eczema on my hands, and it causes them to become quite itchy. Moisturizing often can help to make skin more hydrated. If you have eczema, then it could be causing your hands to itch.
Diabetes: Diabetes can sometimes cause itchy hands because diabetes can affect your blood circulation. Poor blood circulation can result in itchy skin. Most people who get this itching as a result of their diabetes tend to experience it in their legs though more often than they do in their hands. Diabetes is not as common a reason for itching as the causes above.
Closing Thoughts
Next time your right hand itches, it could mean you're going to gain some extra cash. Or it could just mean you have a bit of dry skin! Even if your right hand itching doesn't mean you'll make money, you can still bring in some extra cash by having a read through the articles here on Money Pantry.
What do you think it means when your right hand itches? Do you think that it does mean that a lotto win is in your future? Or do you think there are more scientific reasons behind it? Let us know in the comments section below.