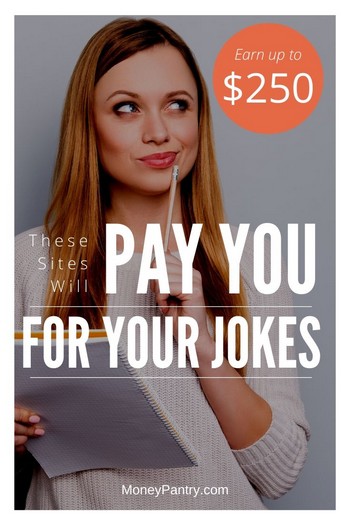 Do you love making people laugh?
Have you been called funny or witty?
If you're good at making people laugh, then you've probably thought, "is there a way I can make money from being funny?"
Yes, indeed there is.
There are lots of magazines and websites out there who're looking for people to write jokes or funny articles!
Yes, you can actually get paid for writing jokes and hilarious articles.
Need Easy Extra $300+/Month for Free?
KashKick
: Get paid directly into your PayPal for watching videos, surfing, shopping and more.
Join KashKick Now!
InboxDollars
: Paid over $57 Million to members to watch videos, take surveys, shop and more.
Get $5 instantly!
Branded Surveys
: Get $1 instantly just for joining for free. Plus get paid within 48 hours by PayPal!
Join Branded Surveys
First Opinion
: Get paid up to $10 per survey and $300 per virtual focus groups!
Join Now!
Swagbucks
: Get paid to watch videos, shop online, take surveys and more.
Join now & get $10 instantly!
And in today's post, we're going to tell you exactly how you can make money with humor writing.
Pay: $150 for your first four articles and $250 for every one after that.
If you really want to get paid for your jokes, this is the place to start.
Cracked is a humor website that features funny videos, pictures, and articles.
It pays you to write list-style feature articles.
This can be a lot of fun! If you've ever wanted to get into comedy writing, you should definitely check out Cracked.
It's not just articles that Cracked pays for either. It also pays people to create entertaining, informative images that can be shared on social media.
Pay: $25 for jokes, gags, or funny quotes. $100 for stories.
Next up on our list we have Reader's Digest. It pays you to write:
Jokes
Funny true stores
Funny quotes
So this is another one to consider if you want to get into writing funny articles and jokes.
Pay: $30 to $50 per cartoon based on reproduction size. $60 each for stories.
The Funny Times publishes funny content about politics, news, food, relationships, pets, work, business, and more.
It's another publication that will pay you to be funny.
It pays you to write funny stores that are 500 to 700 words in length.
Also, it also pays for cartoons. It accepts single and multi-panel formats, and color and black and white, although it says that reproduction is nearly always in black and white.
Pay: From $25 for short essay style pieces or more.
Imperfect Parent is an online magazine that publishes articles about parenting. The website pays people to contribute articles. It pays for lots of different articles, including humorous ones.
Basically, for funny articles, it's looking for anything that deals with the lighter side of parenting, like a parody, humorous takes on parenting, satire, and an "open letter".
Chicken Soup for the Soul pays for exciting, heartwarming or funny stories about something that's happened to you or someone you know.
So you can get paid for funny stories!
Since most people have at least one funny thing that's happened to them or someone they know, it's definitely worth submitting an article to Chicken Soup for the Soul.
Stories should be 1,200 words or less.
Basically, it's looking for stories that are told in a way that will make the reader laugh!
Chicken Soup for the Soul also pays for poems!
What's great about Chicken Soup for the Soul is that not only does it pay you for your funny stories and poems, but it will also give you ten free copies of the book that your story or poem appears in.
It says that you will also become part of the Chicken Soup for the Soul Family, and you'll be able to buy cases of your books from it at half price.
Also, you'll receive Chicken Soup for the Soul's monthly newsletter that's sent exclusively to its published writers with advance notice of new books, contests to win merchandise, and writing tips.
Next on our list is Country Magazine. This magazine looks for personal stories and photographs.
It accepts stories in lots of different genres, including humor.
Now, it says that word count is not too important, as its professionals will edit your story to fit the magazine, but generally a one page piece is 400 to 500 words.
Pay: Sasee Magazine says that payment for articles varies.
Sasee Magazine is a women's lifestyle magazine. It accepts work from writers and artists.
It's looking for content on topics relating to women, including humor and satire articles. It accepts articles that are no longer than 500 to 1,000 words long.
Pay: 30 cents to 50 cents per word.
Writer's Digest is a super famous publication that'll pay you for your funny articles.
It can be a little tougher to get work published with Writer's Digest.
This is because it says that even though it welcomes the work of new writers, it believes that established writers can better instruct their readers. So it likes writers to include their publishing credentials related to their topic with their submission, along with a brief bio.
Because it is such a well-known magazine, it gets 100s of queries each month, so it says that you should allow two to four months for a response.
Now, Writer's Digest accepts lots of different articles, but its humor-focused section is called Inkwell.
The magazine will pay you for one-time print use and continuous electronic use, but if Writer's Digest wants to reprint anything it's bought from you in anything other than electronic format, it will pay you 25% of the original purchase price per use!
While you can get paid to write for the magazine, it doesn't offer payment for unsolicited online articles and guest posts, except in the rare case your content is "highly focused or unique." In these cases, the pay is $50 to $100 depending on the depth and length of the work.
The Inkwell section is the upfront section of the magazine that's the best place for new writers to break in, according to WD.
The section features an 800-900 word lead story. But it also features short pieces, including trends, insights on news, and, of course, humor!
These short humorous pieces are 300 to 600 words. There are also features, which are 1,000 words.
So this is a great option if you're looking to make money writing funny articles.
Next on our list is The New Yorker. It has a section called Shouts & Murmurs. It offers weekly humor and satire about politics and daily life.
You can get paid to contribute to this section! Shouts & Murmors are humorous fiction.
McSweeney's Internet Tendencies is a humor and satire website that pays for submissions.
Submission can be up to 1,200 words in length, but the site does say that it favors pieces that are 1,000 or less.
The Weekly Humorist is a satire magazine. It's another humor magazine that pays you to write articles.
Articles you write for the Weekly Humorist need to be 1,500 words or less.
It accepts a wide range of article submissions, like topical, conceptual, absurdist, lists, open letters, Photoshops, reviews of inanimate objects, and fake news blurbs.  ​
Pay: Contributors are paid $20 to $60 upon publication
The Offing is a literary magazine that has lots of different sections, including Wit Tea. This is the magazine's humor department.
It's one to consider if you want to write witty articles.
Pay: Varies from job to job
UpWork is a platform where you can find freelance work. It offers work across multiple categories, and this includes humor writing jobs.
Anyone can create an account there and start browsing available jobs.
Now, when you get paid, UpWork will charge you a service fee for using the site. This is a percentage of your income, which can range from 5% to 20%. You may also have to pay a VAT fee to the site from your income as well.
It's worth taking a look, because there's a wide range of humor writing jobs on there.
Pay: Varies from job to job
Indeed is another place where you can find humor writing jobs. You can browse through lots of gigs on there. Also, you can enter your email address and get job alerts and recommended jobs sent right to your inbox.
Pay: Varies from job to job
SimplyHired offers a range of jobs for humor writers. It's worth looking on the site to see if there's a paid comedy writing gig for you there.
How to Make Money Writing Jokes Like Professional Comedy Writers
Okay, so I've given you some awesome places for making money from jokes and writing funny articles.
Now, I have a few tips for success, because, let's face it, writing's not always a cakewalk.
There's a lot of rejection and criticism of your work – so it's not for everyone.
Follow these tips though, and you'll do well with comedy writing.
Always read the submission guidelines
This should go without saying, but you'd be surprised at how many people just give the submission guidelines a quick skim or don't even read them at all.
Websites, blogs, and magazines usually look for really specific content that fits in with the rest of their content.
This means that the rules not just for what your article needs to be about and contain, but also the submission process all vary from place to place.
Most sites will provide submission guidelines, so take the time to read them. That way, your submission is more likely to be accepted.
Look at the site's back issues and previous online content
Writing for a magazine that you've never read or a website you've not really visited, just isn't a good idea.
You want to create content that's going to fit in with the rest of a magazine's or website's content.
If you pitch something to the site or a magazine that just doesn't fit in, then that site or magazine is unlikely to accept your submission.
That's why it's so important to look at a magazine's back issues and a site's published content because it really can give you a great idea of what type of content the site or magazine actually wants.
When you give an editor an idea that actually fits the publication, you're less likely to have your joke or article idea rejected.
Always proofread your work
Some places want you to pitch just an idea and others want you to submit your entire article for consideration. Regardless of whether it's a pitch or a full article, always proofread your work.
It's important to do this to ensure that your work isn't littered with errors. Sometimes it can be a good idea to read your work aloud or ask someone else to proofread it for you, as both can help you to spot and remove errors from your work.
Articles that are error-free are going to impress an editor, and make them more likely to accept your submission, and therefore, pay you!
Use feedback as a chance to improve and don't give up if your work is rejected
Writing comes with rejection because not everyone's going to like your work.
If you hear back from an editor with a rejection, take that as a chance to improve.
And keep in mind that just because one site or magazine rejects your work, it doesn't mean that others will.
Sometimes, you might just not be a good fit for that particular site or magazine.
Writing is a numbers game – the more pitches and submissions you send out, the more likely it is that you'll land a paying gig.
In the same vein, even if your work is accepted, an editor might want you to change a few things.
If the editor gives you feedback, then implement that feedback, rather than seeing it as something negative.
You're there to create content that fits the site or magazine, so give the editor the type of content they want.
Final Thoughts on Selling Humor Writing
There are so many great websites and magazines that'll pay you for your jokes or to write funny articles.
So come up with your funniest ideas, and start pitching to the sites and magazines above.
Let us know about your experiences with comedy writing in the comments section below.