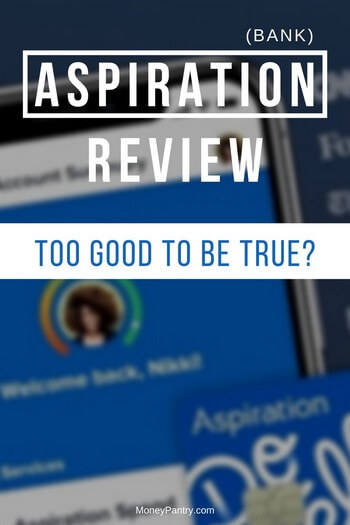 Need a new checking or savings account? In your research you may have heard about Aspiration Bank.
Online banking is becoming bigger, and one of the most well-known is Aspiration.
Is this bank any good though?
Many banks have bank account promotions, sign up bonuses and other perks. What does Aspiration offer to make it worthwhile?
And is it legit?
In this Aspiration Bank review, I answer all of those questions and more!
Need Easy Extra $300+/Month for Free?
KashKick
: Get paid directly into your PayPal for watching videos, surfing, shopping and more.
Join KashKick Now!
InboxDollars
: Paid over $57 Million to members to watch videos, take surveys, shop and more.
Get $5 instantly!
Branded Surveys
: Get $1 instantly just for joining for free. Plus get paid within 48 hours by PayPal!
Join Branded Surveys
First Opinion
: Get paid up to $10 per survey and $300 per virtual focus groups!
Join Now!
Swagbucks
: Get paid to watch videos, shop online, take surveys and more.
Join now & get $10 instantly!
What is Aspiration Bank?
Aspiration Bank (AB) is an online-only bank.
It offers services in the following categories:
Checking
Saving
Investing
Retirement
It's not your traditional bank with branches that you can visit. Instead, its services are offered online.
The other thing that makes it stand out among other financial institutions is the fact that it has a focus on giving and sustainability. These days, banks have to really compete to get your attention. Many banks offer free money in the form of sign up bonuses. Aspiration, is trying to appeal to the environmentally conscious among us.
Those things are important to a lot of people, and Aspiration aligns with people who're looking to make more sustainable choices.
Now, it's important to note that although it's often called an online-only bank, Aspiration not actually a bank. It's a financial firm. You still get a checking account etc., and your funds are still protected, but more on that below.
Get the app
You can manage your account online or through the mobile app.
The mobile app offers lots of features, which I mention below.
Here's where you can get the app:
Aspiration Bank Services
Above, I mentioned that the bank provides services in a few different areas. Below, I'll cover the banks services and the accounts they offer.
Checking and Saving
This bank offers checking accounts and also allows you to save money too.
One of the main benefits of AB is its Spend & Save account.
While it's technically two accounts, it's meant to operate for you as one seamless Aspiration account.
This is comprised of two elements:
So, pretty straightforward.
It's a cash management account that provides up to 1% APY on save funds. This is great because a lot of banks just don't offer interest.
The Spend and Save account also comes with lots of other benefits, including:
Five free ATM withdrawals each month.
Cash back rewards on every purchase you make.
Bonus rewards when you spend money at socially-conscious businesses.
A digital debit card that you receive the instant you open your account. You can use this while you wait to receive your physical card in the mail.
Unlimited, immediate transfers between your Spend account and your Save account.
You can choose your monthly fee. So, you can pay zero fees if you want to (more on that below!). There are no overdraft fees, deposit fees, debit card fees, inactive account fees or dormant account fees.
Cell phone protection insurance.
Identity fraud expense reimbursement. You have $1,000 in expense reimbursement.
A handy app that allows you to easily manage your account. You can schedule bill payments in the app. You can also use the app to deposit checks. Just take a photo to deposit your check.
Aspiration donates 10% of earnings to charity.
With Aspiration Impact Measurement (AIM) scores, you can track your personal impact as you shop, and show businesses that you're doing good for other people and the planet.
Fees
Like I said above, there are no fees with this bank. That's what sets AB apart from other financial organizations. It says it's built on trust.
Now, there are no:
Overdraft fees
Check deposit fees
Debit card fees
Inactive account fees
Dormant account fees.
You choose your account maintenance fee, even if that's zero. You "Pay What is Fair," but more on that later.
While there are no account fees, there are some service charges:
Canadian item collection: $5.00
Deposited item rev *2: $1.47
Expedited debit card: $35.00
Foreign item collection: $30.00 + Foreign bank and shipping fees
Returned item charge (check, debit) *3, *4, *5: $1.15 (per small item) $5.33 (per large item – $5,000+ effective 7/1)
Domestic wire in: $0.82
Domestic wire out: $0.82
International wire in: $2.50
International wire out: $15.00
Learn more about service charges here.
Investing
You can also invest money with AB through its Redwood Fund.
There's just a $10 minimum opening deposit.
It's open to new investors.
AB says that it makes investing easy with professionally managed funds that are 100% fossil-free or with fewer ups and downs.
So, with the Redwood fund, you basically get to invest in companies with sustainable environmental and employee practices.
Here are the different asset classes within the fund:
Information technology: 27%
Financials: 19%
Consumer discretionary: 16%
Health care: 15%
Industrials: 10%
Communication services: 7%
Real estate: 4%
Other: 1%
The bank says that with the Redwood Fund it believes that by investing in sustainable companies, it can produce strong returns while making the world a better place.
It's really trying to make sustainable investing open to everyone.
The Aspiration Redwood Fund is offered through a strategic partnership with UBS Asset Management. This is one of the world's leading asset managers, and the fund is based on a strategy that used to only be available to UBS's elite institutional and private wealth clients.
Another thing that sets the Redwood Fund apart from other investment opportunities is the fact that the bank and its portfolio managers earn what you decide is fair. And they donate 10% of that to charity.
This again aligns with AB's no fee policy.
Fees
Because the Redwood Fund is only available directly to the bank's customers on its platform, it doesn't pay gatekeepers or middlemen, which is how it's able to keep the cost down.
There are no:
Front load fees
Back load fees
Transaction fees
Performance fees
Redemption fees
There are however operating expenses. These fees in the fund go to third parties.
AB caps these annual operating expenses at 0.5% of your assets (and it makes up expenses over that itself).
Here's where this 0.5% goes:
Fund administration fees
Fund accounting fees
Transfer agent fees
Shareholder servicing fees
Legal fees
Audit fees
Custody fees
Insurance fees
Trustee fees
State registration fees
Compliance fees
Retirement
You can save for your future and on your taxes, while helping the planet with a Redwood IRA account.
AB offers a traditional, tax-deferred IRA account that you can fund through the Redwood Fund.
The minimum deposit required to fund the IRA is $10.
Basically, all of the information in the investing section above applies!
Giving
AB has a real focus on giving. It has tools to help make giving to America's leading charities simpler.
Every dollar you give goes to the causes you care about.
It offers:
Seven charitable causes
Vetted non-profits
Tax-deductible donations.
Is Aspiration Legit & Trustworthy?
Now, you know what this bank has to offer, you're probably wondering, is it legit?
Well, it is a well-known company that's been featured by major outlets, like Forbes.
Is it FDIC-Insured?
The Spend & Save account with the bank is FDIC insured for up to $2 million per depositor.
Since it's not a bank, each business day, Aspiration deposits the cash balance in the Spend and Save accounts into deposit accounts at one or more federally insured depository institutions (each a bank) up to $246,500 per bank.
Then, your deposits at each bank are eligible for insurance by the FDIC up to $250,000.
Currently, there are eight banks available to accept your deposits, meaning you're eligible for insurance up to $2 million, including accrued interest on deposit balances.
This is done through the Aspiration Insured Bank Deposit Program.
Here are the banks in the program at the time of writing:
Coastal Community Bank
Eaglebank
Ionbank
Bremer Bank, NA
Progress Bank
Bank Of New Hampshire
Manufacturers Bank
C3BANK, NA
Now, program banks may change, so check this page for a current list.
But what do customers have to say?
Is opening up a bank account with AB a good idea?
Aspiration Bank Reviews & Rating
In this section, I'm going to cover what the bank's customers think about banking with AB as well as their Better Business Bureau's rating.
From the bank's Trustpilot page, it's easy to see that customers have a great experience with AB.
On Trustpilot, Aspiration has an Excellent rating. Here's what customers had to say about their experience with the company:
"I love that I dont have to pay 3% when I travel outside of US, also i dont have to pay for ATM withdraws. Best of it yet is earning 2% cash back on my debit card purchases. I'm very happy with the customer service and the app. Best banking yet. On top of it all Aspiration do good to others and the environment."
"I love that I finally have a bank that shares my values. I can finally put my money towards sustainable causes while making smart financial decisions."
"Easy and convenient. Plus it feels good knowing I make a difference and that aspiration wants to make a difference too. Best banking experience I have ever had."
Looking at their BBB profile, the company has an average of 2 stars (out of about 30 customer reviews). And the Better Business Bureau gives the company a B rating.
I also looked at Reddit reviews for personal experiences from other customers. As you would expect, the reviews are a mix of positive and negative experiences. But overall, most people on Reddit seem to like what the bank offers and feel like their money is working harder and better for them, while also noting that their user interface is a little confusing and could use a better, easier system especially when it comes to opening an account and getting it approved.
Aspiration FAQ
We probably answered a lot of the questions you have about this bank in this review. But one of the most commonly asked question (which I found out about while researching for this post seems to be the following:
How to close Aspiration account?
According to the company's Terms of Use, to close your account you'll have to call the bank at 800.683.8529. By the way, it seems like once you close your account, you can never come back and open another account.
Pros & Cons
Okay, so as you can see, Aspiration is well-reviewed by customers, it offers savings, checking, investing and IRAs.
But, should it be your bank?
Let's take a look at some pros and cons of banking with Aspiration.
Pros
I'll start out with the pros.
It's a more ethical bank
One of the biggest benefits, aside from the fact the AB doesn't charge fees, is that the bank has a focus on giving and protecting the planet.
So, it really puts that across in the services that it offers.
Banks don't tend to be seen as caring organizations. And a lot of customers are sick of that. They want a bank that cares and that's exactly what AB does. That's appealing to a lot of customers.
According to AB, the financial industry often finances the fossil fuel industry and spends $450 million a year on lobbyists and campaign contributions. Instead, AB commits to donating 10% of earnings to charities so that it can help struggling Americans to build a better life.
Other ethical services and features of banking with AB include:
Aspiration Impact Measurement (AIM) score: It also gives you an AIM score which allows you to see and change the impact of your spending. It's a personal sustainability score. It shows you the impact you're making on people and the planet based on where you shop and spend money every day.
Conscience Coalition: These are companies that AB has teamed up with that are "doing the right thing." You're rewarded when you shop with these companies.
Planet Protection: Every time you buy gas, AB will automatically offset the climate-changing carbon dioxide from every gallon. This service isn't free though, costing $5.99 a month or $59 a year.
There are no fees
Okay, so the biggest benefit of having an account with AB is that there are no fees!
Yes, you read that right.
I mentioned above that there are no deposit fees, debit card fees, etc. So that's awesome, right?
Also, you don't have to pay any fees for investments either.
There are of course some service charges, which I mentioned above, associated with the bank's accounts. But, for the most part, you'll pay zero fees.
So, how does the bank keep its fees at zero?
Well, it does this through its Pay What is Fair policy.
With this policy, you choose the bank's fee. It provides you with financial products and services, like sustainable investments, no-fee IRAs, and high-interest cash management services, and then you pay what you think is fair.
So, you can set the bank's fee, even if that's zero. You can change this fee whenever and however often you want.
AB says that it hopes you don't pay zero, but that its business is built on trusting that you won't.
You can learn more about the bank's Pay What is Fair policy here.
You get cashback on purchases
Everyone wants to save money where they can. One of the best ways to do that is by getting cashback on your purchases.
Now, this is definitely one of the biggest benefits of the Spend & Save account.
You can earn cashback rewards automatically by using your AB debit card to buy stuff.
Yes, it's that easy!
You can even earn extra rewards for spending at businesses with a conscience – as I mentioned earlier, the bank gives you an AIM score.
AB will give you more rewards when you make purchases at businesses with the highest AIM scores.
You can earn an even higher cashback rate if you use your AB debit card at businesses that are members of the Conscience Coalition.
You can earn between 0.05% and 5% cashback depending on where you shop.
You get:
5% cashback when you make purchases at businesses with the highest AIM scores.
3% to 5% cashback when you shop at a Conscience Coalition member's store or website using your Aspiration debit card.
05% cashback on all other purchases.
You can learn more about cashback from AB here.
It's easy to manage your account
Another great aspect of the bank is just how easy it makes managing your account. You get a digital debit card that you can use instantly, while you wait to get your physical card in the mail.
You can also deposit checks in the app by snapping a photo – again a super easy way to manage your money.
You can even schedule bill payments in the app. It really makes managing your money a whole lot simpler!
Cons
Okay, so there are lots of reasons to bank with AB.
However, Aspiration is not without its downsides.
Let's take a look at some cons of banking with AB.
You can't go into a branch
Okay, so the biggest drawback about AB is probably that it doesn't have branches you can go into.
The Spend & Save account is an online-only account.
That means that there's no branch you can just go into like you can with traditional banks. If you like to go into your local branch often, then AB isn't the bank for you.
You can't deposit cash
One of the things that may put you off banking with AB is that it doesn't accept cash deposits at ATMs.
And, as I mentioned above, it doesn't have branches, so it's not like you can go in anywhere to make a deposit either.
It's trying to expand its services and features it offers though. And it's going to partner with a network of shared-deposit ATMs, which will eventually allow customers to deposit cash.
Currently, the only way to deposit cash is to purchase a money order with your cash, then deposit the money order into your account using mobile check deposit.
That's really inconvenient. If you often have to deposit cash into your account, then AB isn't the bank for you.
There aren't many drawbacks to Aspiration. Sure, it doesn't provide as many different accounts and services, like credit cards, as many traditional banks do. However, the services that it does offer are great – so it's really quality over quantity with Aspiration.
So is it Worth Banking with Aspiration?
If you're tired of paying super high fees or just want a bank that aligns with your ethics, then give AB a try.
If you want to deposit cash and prefer to be able to go into an actual branch, then give AB a miss.
It really depends on your banking needs. Are you considering switching to an account with AB? If so, let us know about your experiences in the comments below!