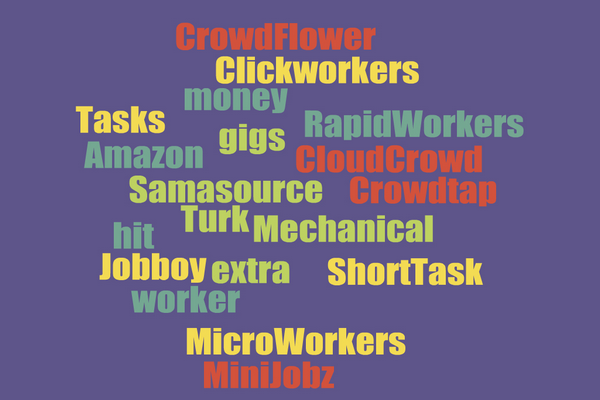 I have been making money completing tasks on mTurk as a "worker, while also using it to outsource small yet tedious tasks for my business for the last few years as a "Requester."
And like many of you, I've always wondered if there were any other site like mTurk.
Perhaps one that offers more fallibility than mTurk.
Fortunately, the rise of crowdsourcing has created a much bigger market to the point where now there are tons of mTurk alternatives out there.
So, I dug around and found ten of the most popular and user-friendly sites similar to mTurk that you can use to either earn extra money as a "Worker" or to outsource some of your work as a "Requester."
A service of UnikScripts Inc., RapidWorkers is a fast growing website.
It is similar to Microworkers (which we will talk about later) since most of the task in RapidWorkers are marketing related jobs that are aimed at helping the sites of employers grow.
You can expect to be paid immediately by PayPal once you reach the minimum payout of $4.
It is a nonprofit organization that is being run by Leila Janah.
Samasource is actually an innovative social business which connects women and youth who are impoverished, allowing them to find work through the internet.
Samasource has in-country partners to help them identify, as well as recruit poor women and youth who are making less than $3 a day on average. These partners are responsible for helping these underprivileged youth and women become Samasource workers, giving them the chance to make a decent living wage.
Workers are given two to four weeks of computer-based training to help them prepare for micro work projects, which aids them to become successful in the workplace.
These Samasource employees are given micro work that come from clients. This enables them to make a living wage as well as gain the needed job skills required to increase their lifetime earnings.
Microworkers is considered one of the best mTurk comparable sites out there.
Thousands of tasks are available on a daily basis, most of which are related to promoting websites.
Tasks are usually not that complicated. Most require entry-level knowledge and experience.
If you're already using mTurk and making money from it, you won't have any trouble on this site.
Below are some examples of the tasks on MicroWorkers:
Following someone on twitter
Rating YouTube videos
Creating a Gmail account
Testing a website's sign up process.
Uploading videos on specific video sites.
and so on…
ClickWorker is a very well-known site, specially among the work at home crowd, mainly because it has been around for a while.
After joining, you'll need to pass assessments for most job types available.
Assessments come in two types:
First is the basic assessment that will evaluate your skills such as spelling, grammar, and foreign-language knowledge.
The other one is the project assessment. The project assessment will teach you specific requirements that you need to meet when working.
Clickworkers have a huge number of micro jobs in their system, and there are an estimated 200,000 workers at this site.
Make sure to take the assessments seriously as you'll only be allowed to browse and work on the jobs after passing the assessments.
This definitely is one of the advantageous crowdsourcing sites that will allow you to earn some cash.
Normally, short task sites have specific name for freelancers.
mTurk calls them "Workers."
MicroWorker calls them "MicroWorkers."
ShortTask calls them "Solvers."
Here are the 4 broad categories of gigs available on ShortTask:
Research – Tasks like finding a competitor site, researching the airfares & giving the cheapest, researching website related to some topics etc.
Data Entry– You will need to enter some info, copy & paste jobs, extract text from images etc.
Writing – Write a review, comment, short article, proofreading etc.
Design – Logo design, banner design, header design etc.
This crowdsourcing website employs more than 60,000 workers around the globe.
There aren't a lot of gigs available here compared to other sites mentioned in this post.
Nonetheless, it's worth a few minutes it takes to sign up. Often, these small tasks sites are a stepping stone for freelancers and employers who use these sites to find long term projects and workers. You never know where and when you'll find your next big client that can get you long term work with much bigger pay.
"Join us and work from anywhere" is the slogan of CrowdSource.
This site is defiantly geared more towards the writer in you as most tasks are writing related – copywriting, blog posts, editing, proofreading, etc.
If you're a good writer who wants to make money as a writer but is just starting out, this site is a great place to get started.
You won't be able to charge premium fees, but the experience will be much more valuable to you and your freelance writing business in the long run.
You get paid the same day via PayPal.
"Contributor" is what CrowdFlower calls the "Workers."
The site has more than 30 million contributors around the world. It is one of the largest crowdsourcing companies out there.
This is more of a survey and reward site where you get paid for taking surveys.
Crowdtap is a platform where major brands come to gather feedback from everyday consumers.
As one of those consumers, you can signup and take on "missions". Each "Mission" you complete gets you a reward – cash, gift cards, samples, etc.
Sign-up, comment, like – these are some of the available tasks on Mini Jobz.
Once you have $5 in your account, you'll be paid through Payza or MoneyBookers.
You also get a free $1 sign up bonus just for joining.
Last Word
These days, crowdsourcing sites are being created left and right, so I am sure I have missed some.
But for now, these are the biggest and best alternative crowdsourcing sites to Mechanical Turk.