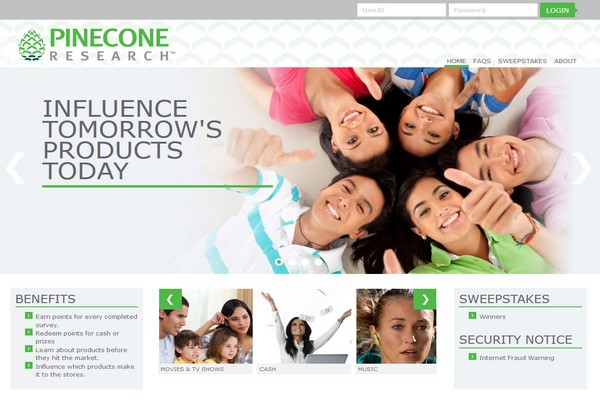 It's here again! Pinecone Research sign up link that is!
Pinecone is one of the most popular panels ever, mainly because of their $3 per survey payment and their excellent quality of surveys and tracking.
Need Extra Cash for Free?
Join Smart Panel, a new survey site where you earn rewards to share your experiences about how you use the internet. They pay you $15 just to install their free app.

But unlike other survey sites that have their doors open all year-long, Pinecone only accepts a limited number of new members a few times a year.
This panel is famous for paying $3 for every single survey, no useless points or 50 cent surveys here.
Every survey you take earns you $3.
The best part is that you don't have to wait for cash out. Every time you finish a surveys, they send you a $3 check few days later. So, unlike other panels, you don't have to wait until you reach the minim required.
But there is one big problem…
If you go to their homepage, there is no signup link! That's because, as I mentioned above, they only open their doors to new panelist once in a while for a few days/weeks. Then they close the doors until next time.
So, there are a lot of people who would love to join this panel because of their $3 cash payment for every survey deal, but they can't.
How to Join Pinecone Research?
So, what do you do? Where and how do you find their banner or sign up link?….
Well, you are in luck!
I just found out they are accepting members (only U.S. residents though) and they gave me a special link to share with you.
But hurry up, because they may stop accepting new members at any moment, not to mention because of their popularity, the spot fill up very fast.
So, sign up right now before it's too late.
Here is the link again: PineCone Research Sign Up Link
Earn Free Cash
EarningStation is a new rewards program that pays you for doing things you already do online. You can cash out after every $10 you make.

Update: They are currently not accepting new members. I will update the post when they do open the doors again. In the mean time, if you're looking for similar trust-worthy panels, try Microsoft's new Feedback Lab Community.
Other Market Research Opportunities
If you're new to the paid surveys, I really encourage you to learn more about it, if you are looking for an easy and fun way to make some extra cash.
No, you are not gonna get rich or quite your day job!
But participating in online surveys is a fun and easy way to earn a little extra cash every month. I have been doing it for almost 8 years and I'm loving it. I have received so many free products to evaluate that I lost count.
Yes, that's one of the big perks of being a survey panelist. Often times they send stuff for free to test and give your feedback on.
Many of these products may not even be available in the market yet, so its exciting to see products that may hit the market later on, knowing that your opinion (combined by other panelist's) decides if the product is good enough to hit the store shelves or needs to be worked on more before getting released.
Anyway, here are a few other top survey panels that are backed by reputed market research panels and always pay on time. They are all free to register with.
Your Turn
Let me know what you think about paid surveys in general, and also I would love to hear about experience if you already are a member of PineCone research panel. Good luck everyone.
Have You Read These?...