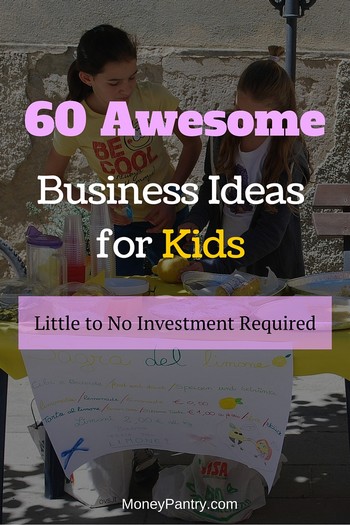 Starting a business is tough as it is, even for adult men and women.
It takes commitment and a keen eye to spot an opportunity that can be turned into a viable, profitable business.
Need Extra Cash for Free?
Try YouGov, a survey panel that rewards you for participating in their market research studies. If you join now, you will get 2000 free signup bonus!

So when it comes to teenagers and kids launching their own business, things get a little harder.
With teens unemployment rate hovering around 25% (according to NPR,) teens face a particular challenge, as they have little or no experience to offer a potential employer, and so are easily passed over for someone older who needs less training and has already proven their skills.
True, teens generally have less financial commitments to meet, and usually have someone older to call on to "bail them out" if they get in trouble, but it still costs a lot to run a car, and they may want to save up for college, too.
It's possible to volunteer or intern work to build up experience, but that doesn't tackle the question of how to become financially independent
Fortunately, technology has provided teens with a natural solution to this problem.
Become an Entrepreneur
More and more, teens are turning to entrepreneurship to make themselves financially independent.
The Internet and other technical gadgets have created a friendly environment for teens to learn how to take the initiative and set up their own businesses.
Now, no one's pretending that it's easy, although some things are easier to do than others.
There are tons of online jobs for teens that any kid can pick up. But to be an entrepreneur, you have to be a self-starter, able to triumph over setbacks and have the courage to do things that others may not.
In return, the young entrepreneur will learn many skills that will serve for life, such as being creative, responsible, dealing with finances, and even being a leader if the business grows.
Starting a Business
The Internet is the key to learning any needed skills and presents many opportunities for the budding entrepreneur to seize.
The best ideas are probably the ones that haven't been thought of yet – after all, that's how Facebook started – but there are some proven tracks which can be profitably exploited.
Earn Free Cash
Try Swagbucks, the famous rewards program that pays you for watching videos, taking surveys, shopping and more.

Here is a selection of awsome small (and big) business ideas for kids and teens that can be used as they are, or brainstormed into even better ideas.
1. Selling Used Books
Student textbooks are particularly sought after, so a teen looking to make some money probably has a good start.
Unless you can find a source of books, this is more of a one-off project to make money, but if you can become the middleman, perhaps selling off friends' books too, it will be worthwhile.
To make a real business out of this, you have to start buying and selling used books.
2. Creating Websites and Blogging
If you have a particular passion or are an expert in something that people may want to read about, have you ever considered starting a blog?
Sure, everyone thinks what they say is interesting, but if you can find the right topic, people may want to read it.
A blog requires writing time, but if it's talking about something of interest to you it's not really work.
Making money with a blog comes after you have readers, when you can start putting in links to buy products you recommend, or to send people to affiliate sites.
There's lots of information online on how to do this, and many have tried and failed. But successful bloggers can make many thousands every month, so it's probably worth a try!
3. Making Candles
There are so many different types of candles that you will never get bored making them.
You can start with a basic candle kit, or simply buy the ingredients in bulk. It's easy to learn how to do it and fun to experiment.
A good place to start is the National Candle Association which is online at candles.org and has all sorts of information about making and selling candles.
You can have floating candles, scented candles, and various types of molded and carved candles too, and there are many different niches that candles can be made for.
Candles sell well on eBay and other Internet sites, and can be sold at flea markets and craft fairs. You will even find lots of different candles sold on Etsy.com.
4. Seling Handmade Stuff on Etsy
For the creative teen, Etsy is a great way to start making money.
Just one look at the website shows the variety of things that can sell, including jewelry, candles, art, and even jam.
You can make things yourself, or find a cheap source of goods to sell.
For allowing you to have a virtual storefront on the Internet, Etsy takes a small commission, which is quite a deal if you look at the complication of setting up your own website with a shopping cart online and accepting payments.
Etsy takes all the headache away, leaving you free to pick and sell what you want.
5. Pet Sitting
Pet sitting jobs are easier to find and to do.
You may even get a job which involves regular work, letting a dog out of the middle of the day while the owners are at work.
Another pet sitting task involves walking dogs.
Unless you enjoy animals, pet sitting is not going to work out in the long run.
But if you do love petting, playing with, and being around animals, it's a way to earn money that doesn't even seem like work.
6. Becoming a Tutor
Another idea for the older teen is to make money as a tutor or instructor in things they have already learned.
Having just been through the system, they are well placed to help younger schoolchildren with their work, and parents who are eager for the children to succeed will gladly pay for the tuition.
But this idea does not have to be restricted to help with schoolwork. People will pay to learn how to use a computer better, or how to play the piano. Any skills may be something that someone else wants to pay to learn.
7. Babysitting
The perennial with older teens, babysitting is still a much-needed service.
In fact, when sitting an older child it could even be combined with tutoring, allowing the teen to charge a higher rate. This also gets around the problem of the sitter becoming bored while watching the kids.
There is a bigger demand during the holiday seasons when parents need someone to babysit while they are at work.
And thanks to startups like SitterCity and UrbanSitter it is easier than ever to find your first clients.
8. House Sitting
Similarly to babysitting, this is another great business for the older teenager.
However, because of the responsibility involved, it's probably best to find clients that are friends of the family. Many people are not going to respond well to the prospect of leaving the keys to the house with an unknown teenager for a period of time.
Housesitting can be quite easy, but requires diligence in order to make sure all the necessary jobs are done. Jobs may include watering the pot plants, bringing in the mail, and sometimes looking after pets which couldn't be taken on vacation.
Again, there are sites like TrustedHouseSitters and HouseSittersAmerica that you can use to find people in need of house sitters in your neighborhood.
9. Running Errands
People are always wanting to get more things done, and having someone to run errands for them will help them to achieve this.
It may be picking up some groceries, or running the kids to their sports practice – for this, a great driving record is required – if the teen is willing to do what's needed, then there are many opportunities available.
If you don't know where to start, use the good old Craigslist to place ads offering your services while keeping an eye on posts from local folks who may need your service.
Of course, being a tech savvy kid, you can also take advantage of apps like GigWalk and TaskRabbit to find clients.
10. Cleanup Service
For minimal investment in materials, the entrepreneurial teen can start offering selective cleanup services.
For instance, how often do garages get so cluttered that they don't even have room to take the family car?
Surely people would pay for someone to come and sort out all their stuff?
The same can apply to any other spare room that has become a dumping ground for unwanted or neglected articles.
Cleaning it out is forever on the to-do list, so if someone comes along to offer assistance, they can charge a reasonable amount.
This is best done in your neighborhood, so go door-to-door soliciting clients – or simply walk the street, looking at any open garages for potential customers.
11. Social Media Expert
This is where old and the new businesses meet.
Many older and more established businesses realize that they need to use social media increasingly to stay current, yet are struggling when it comes to the practicalities.
The typical teen, who is already active on Facebook, Instagram, Pinterest, and whatever the latest social site is, is remarkably well placed to help an established business with this task. They can either concentrate on one particular media outlet, such as Instagram, or offer to be the expert in all things social media.
This task demands professionalism, both in dealing with the businesses when you are asking for work and when supplying the posts, and it can be well rewarded.
More Small Business Ideas for Kids
There are opportunities everywhere.
We just scratched the surface when it comes to kid-friendly business ideas. So put your thinking hat on and get to work.
And if you need more ideas and inspirations, here are some:
Senior Errand Service
Haul-away Service
Snow Removal
Plant Maintenance
Pool Cleaning
Curb Painting
Small Engine Repair Service
Yard Service
Web Design Service
Paper Routes
Freelance Writing Services
Translation
Laundry Services
Virtual Assistance
Proofreading and Editing
Video Creation
Selling Used and Unwanted Stuff on Ebay
Gift Wrapping Services
Device Set Up
Washing Cars
Jewelry Design
Making Greeting Cards
Poop Handler
Upcycling
Becoming an Online Personality
Party Animal
Photography
Pimp My Ride
How-to Videos
Garage Sales
Lemonade Stand
Computer Repair
Decoration
Party Assistance
Moving Service
Video Blogging
Catering Services
Making Stickers with Interesting Sayings
Lawn Care Services
Weekend Window Cleaning
Grow Stuff
Kids Taxi
Language Instructor
Music Lessons
Construction Cleaning
Gutter Cleaning
General Maintenance/handyman
House Painting
Pressure Washing
Watch out for Taxes
You may not want to think about it, but you should.
If you earn more than $400 in any year, then the tax man wants to know about it.
Depending on the circumstances, you may owe income tax and self-employment tax.
It's not worth taking a chance, as the IRS has ways to find out what you're doing.
The IRS website has detailed information for entrepreneurs, including explaining how you can work out the approximate taxes you will owe.
Conclusion
The job market is still not where it should be. Even after hitting an eight-year low of 4.9 percent unemployment rate (according to The Bureau of Labor Statistics), a lot of people are struggling to find jobs. Some people are finding out that they have to take matters into their own hand and create their own jobs.
Being an entrepreneur and running your own small business as a kid (or an adult) can an extremely rewarding experience.
If it works out well, what you do may even become a full-time career. But in any case, gaining a little independence and getting the experience of different types of work is invaluable.
This type of work develops your patience and perseverance, as not all things work well all the time. There will be successes and failures, and the person who wins is the one who has, at least, one more success than failure.
I hope these kids and teen-friendly business ideas will spark more ideas for you so you can launch your very own small business.
More Money Hacks