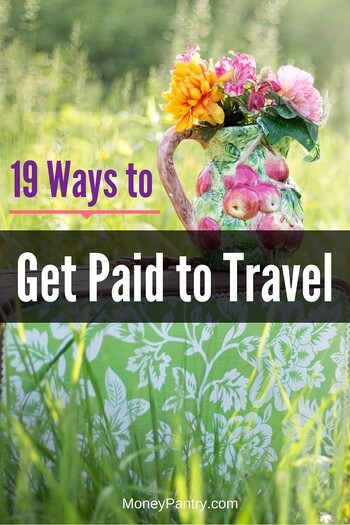 "Travel is the only thing you buy that makes you richer." – Anonymous
Most of us love to travel the world.
The only issue is… well, traveling is expensive!
And for many of us, it's an expense that gets pushed to the back of the "priorities" line.
But what if there was a way you could travel the world for free and even get paid for it?
Need Extra Cash for Free? If you like getting paid for surveys, and are going to join only one site, I would recommend you choose Ipsos-iSay. Ipsos is the most fun and well-paying panel. Give it a try to see how you like it. It is free anyway!

Well, there are actually a few ways to do that.
Here are some of the best ways you can get paid for packing your bags and hitting the road.
1. FlightCar
To start at the beginning, what can you do to avoid all those hefty parking fees when you leave your car at the airport to go on vacation?
FlightCar has an answer.
With FlightCar, you get your airport parking for free, and you may even make some money.
You simply have to agree that your car can be rented out while you are away.
All the renters are screened and approved members of the scheme, and FlightCar makes sure it is insured.
If your car is used, then you get paid for the rental. If no one borrows your car, at least the parking at the airport is free and they will also give you a car wash. No way to lose with this one!
2. AirBNB
Most people have heard about AirBNB by now. It's a website that arranges short-term rentals of properties.
So while you are away on vacation, you can use AirBNB to rent out your home temporarily, giving you more cash to spend towards your next vacation.
You might also want to look at AirBNB for a place to stay on your next vacation – they have properties for rent in 190 different countries.
3. GigWalk
How about being paid for doing your sightseeing?
This is now possible by using an app called GigWalk.
Simply, it tells you about little jobs that someone needs doing near you, wherever you are.
The jobs include things like checking on a shop's display or actual secret shopping in a particular retail outlet.
Earn Free Cash Try Swagbucks, the famous rewards program that pays you for watching videos, taking surveys, shopping and more.

The jobs can range from a few minutes to a couple of hours, and the pay can range from $3 to $100 or more, paid into your PayPal account.
It only works in the US at the moment.
4. FieldAgent
FieldAgent is an app similar to GigWalk and is run by a market research company.
So you can expect to do market research type tasks, such as mystery shopping or even testing products.
The jobs take a few minutes, and may pay $10 each.
You also get an opportunity to win $50, which is given to the top three submissions on particular jobs.
5. Takelessons.com
If you haven't got time to travel, then maybe you can use your skills to make money.
When you use Takelessons.com, you offer your teaching skills remotely.
It doesn't matter if you are teaching music, algebra, history, or a language. You simply sign up giving your hourly rate and see who wants to learn your subject, which you teach on Skype.
Payment is made directly into your PayPal account.
6. ClarityFM.com
ClarityFM gives you the chance to use other skills remotely – in this case, business related skills.
It's a teaching forum for budding entrepreneurs, and uses experienced professionals and industry experts.
If that describes you, you can apply to ClarityFM, but be aware they do verify your credentials to ensure that they provide a quality service.
If you're really good, it's rumored that you can charge hundreds of dollars for each call.
7. Fiverr
You may have heard of Fiverr, the website that allows people to sell a wide range of services for a nominal price of $5.
You can get it in an app, and use it on the move.
You might want to offer your services for writing or proofreading, or perhaps offer something particular to the place you're visiting.
8. Start a Travel Blog
People dream of starting a travel blog, and using it to fund their traveling around the world.
It's harder work than that, and difficult to make it pay. In fact, they say that even successful bloggers can take at least a year before they establish themselves online and start making money.
But if travel is your passion, and you have the means to get started, then this is one avenue you can explore to help you pay for those vacations that you love.
For example, check out TheSavvyBackpacker, an awesome travel blog founded by James & Sue, a couple who travel through Europe while spending as little as possible.
They, of course, make money from their travel blog through ads and affiliate offers.
There are much more examples of successful travel blogs out there, and while each of these sites has their own unique voice and style, they all have one thing in common – it took time and a lot of hard work to go from zero visitors to thousands of visitors a day.
So set realistic expectations if you're going to start your own travel related blog.
9. Try WWOOFing
If you like the idea of sustainable and organic farming, and are concerned with the environment, you should look into WWOOFing.
WWOOF stands for World Wide Opportunities on Organic Farms, and it's an association that helps place volunteers with farmers who need help.
Typically, in return for volunteer help, the farmers, or WWOOF posts will offer food and accommodation, as well as some learning opportunities.
You will have to work, but it can be a great experience, and it's available in a great number of countries.
10. Become a Photographer
It's not likely that National Geographic would want your photographs, as they have strict professional standards for high definition pictures taken with expensive cameras, but that does not mean that your pictures aren't worth something.
If you like taking pictures while on vacation, look for interesting and unique subjects, something that is not run-of-the-mill so that your photos stand out.
You can sell your photographs in many places, and one of the easiest things is to list them on a stock photo website where you are paid a royalty every time someone purchases the image.
11. Offer to Be a House Sitter
You probably won't be paid for it, but you will at least get your accommodation for free.
If you're responsible, and wouldn't mind looking after someone else's house while they're away, then there are websites that list opportunities.
Here are a few you can check out:
Stays can vary from a few days up to months, depending where and why the owners are away.
12. Work for Your Keep
If you really want to keep the cost of your vacation down, maybe you need to work a couple of hours each day. That's the deal you can get doing Work Exchange.
Check into HelpX.net where the opportunities are listed.
In exchange for a little work, you get room and board, and sometimes they'll even give you a little spending cash.
13. Be an Au Pair
This is an idea that originated in Europe and has now spread to the US, albeit in a slightly different form.
The concept is that the au pair is accepted as a temporary member of the family, given their own room and some free time, and in exchange helps look after the children.
This is not a short-term appointment, some au pair's work for a year or more, experiencing another country's culture and quite possibly becoming fluent in the language.
Check it out at Goaupair.com for more details.
14. Work at a Resort
Instead of just visiting a resort, have you considered working at one?
That way you get the vacation atmosphere, usually have an enjoyable time, and earn money too.
Resorts often like to employ staff from different countries; for instance Camelback Inn in Scottsdale, Arizona, once imported an entire staff of Brits.
You can work on the front desk, in food service, or in the guest services.
You don't even have to work at conventional resorts.
To work on a cruise ship, check out sites like AllCruiseJobs.com, or if you like the mountains, try IfYouSki.com.
15. Be a Secret Shopper
But secret shop for the travel industry. Rather than simply going into a store and buying goods, and later commenting on the service and appearance, travel secret shoppers may take a vacation and provide feedback to the operators.
For example, Trivago will pay you for staying at hotels if you promise to take a few questioners before and after your stay.
A great company that does conduct travel related mystery shopping assignments is Sensors Quality Management Inc.
There are always stories of people who go on vacations for free or next to nothing by taking on shopping assignments from this company.
Of course, you pretty much have to go where you're sent, as that is where they want the feedback, but you should get a free vacation and even collect some pay for your work.
16. Use Your Travel Knowledge As a Tour Guide
If you know a lot about a particular area, then you can get a job as a tour guide, hosting parties around and answering their questions.
You could try contacting travel agencies to see who is interested in your services.
One company you can try is ToursByLocals.com. They don't just employ local people, but you should have as much knowledge as someone who lives in the area so that you can be an effective guide.
17. Teach English As a Foreign Language
Also known as TEFL, this is a popular way to earn money while visiting other countries.
If you are a native English speaker, you have the basic qualifications to become TEFL certified, and this can be done in an intensive one month course.
You can expect your travel and accommodation to be paid, and you will receive a salary. You may even be able to take on private tuition in the evenings, helping friends of people you already know through the class and supplementing your income.
Check out Dave's ESL Café for more details.
18. Be a Flight Attendant
If you're serious about wanting to travel a lot, then a flight attendant's job may be for you!
Of course, it is hard work while you are at work, and you will work irregular hours, as required.
On the other hand, if you are on international flights you will frequently spend the night in a foreign city before turning around, and you get great benefits in terms of free or discounted flights for yourself and family or friends.
For a higher paid and "higher flying" job, you might even want to get trained as a pilot, though this requires a lot more work and commitment.
19. Become an International Trader
For an interesting entrepreneurial opportunity, why not travel the world buying local artifacts, and importing them for sale at a great profit.
If you make sure you buy quality goods, which you can still get cheaply in many regions, there can be a lot of profit to be made.
And all your traveling for business would be tax-deductible.
The Bottom Line
If you have a passion for travel, then the opportunities above represent many different ways of satisfying that passion.
As you can see, you don't necessarily have to have a fortune in order to travel the world.
With many of these options, not only you travel the world for free or cheap, in some case you can even get paid for doing it.