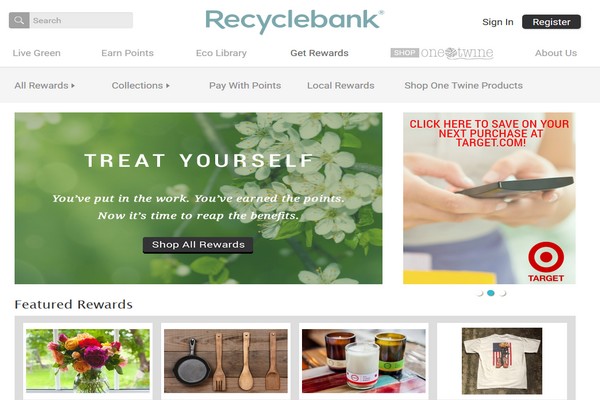 Earning points and redeeming them for free gift cards and cash is fun.
Usually though, you have to go through online reward programs where you get paid to sign up for offers and do surveys for points.
But there is an easier way…
Your trash!
That's right, you can turn your trash into gift cards and prizes.
Wanna Earn an Extra $200+/mo Free?
Get paid to play games, shop & more. Paid out
$57 Million
so far!
Join InboxDollars & Get $5 Free!
Get paid to take fun surveys. They have paid their members over
$32 Million
so far.
Join MySurvey Now!
Earn cash for sharing your opinion with one of the
best paying
survey sites.
Join iPsos Now!
Get paid to have your voie heard in boardrooms, media, & government? Joing today & be entered to a $1,000 Contest Draw.
Join Springboard America!
Earn
$1-$5
for each survey you take. Plus get free products to test.
Join Toluna now!
And we're going to show you how.
To get started, you need to use a free program known as RecycleBank.
What Is RecycleBank?
RecycleBank is a program created to help educate people about the importance of recycling.
And to encourage people to recycle, they offer incentives.
They already have over 4 million users and the community has recycled a combined amount of 3.5 billion pounds!
How Do I Earn Points?
First things first, you need to sign up for an account by going to recyclebank.com.
Once you become a member (which is free by the way,) you can earn points by participating in different activities and achieving certain goals.
These include:
becoming more energy efficient
opting for recycling
networking with others to educate them on how to develop healthier environments
and participating in "Green" games
It's a win-win situation – you do your part in helping to keep the environment cleaner and greener while at the same time getting paid for it.
You can also earn points by referring your friends and family to the program.
What Kind of Rewards Do I Get?
RecycleBank offers a wide range of rewards especially free gift cards for major brands, some of which include:
Dicks Sporting Goods
Amazon
1-800 Flowers
Regal Entertainment Group
Recyclebank has also partnered with many local businesses to offer gift cards and discounts that you can use at local businesses (think restaurants, shops, Movie Theaters, etc.)
Get Your First 20 Free Recyclebank Points
If you like to join and earn rewards for recycling, RecycleBank will even give you 20 free points for signing up and taking a short quiz.
Here is how to get your first 20 free RecycleBank Points:
Go to RecycleBank.com and sign up for a free account.
Then log in to your account to find a quiz tab in your dashboard.
Take the quiz and earn your first 20 points just like that!
Is Recycle Bank Legit?
After coming across so many scam "reward"sites, it's a legitimate concern to have. Thankfully though, RB is as legit as they come.
RB is a subsidiary of Recycle Rewards, Inc., a company that has won numerous awards, including Champion of the Earth (a United Nations' Environment program) in 2009, as well as Time magazine's 2009 Responsibility Pioneer.
Is It worth It?
I think so!
Look, we know recycling helps to keep our plant cleaner and greener. Add the free gift cards and prizes you can earn from doing what you probably already are doing and it just becomes a no brainer.
Even if you're not that concern about the environment, I'm willing to bet you care about your wallet.
Sure, this isn't going to pay your mortgage, but it just may pay for a few cups of coffee.  or a few Amazon gift cards.
Don't like coffee? Redeem your earned points to get a few Amazon gift cards!