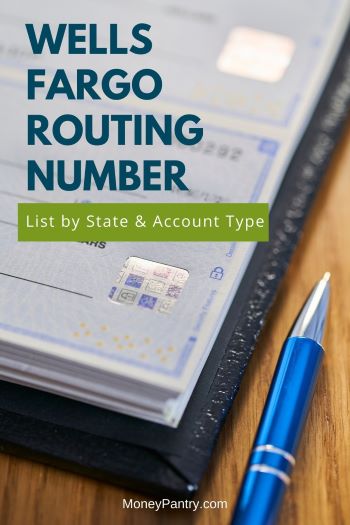 Looking for your Wells Fargo routing number?
If you have a Wells Fargo account in the U.S. and need to receive or send money, you will need to have a routing number at hand.
Routing numbers are used for all sorts of transactions from setting up direct deposits to ordering checks online.
Below, you'll find routing numbers for different states, as well as different account types.
By using the right routing number, you can ensure that payment arrives in the right place!
Wells Fargo Routing Numbers
Whether you're looking for the routing number for your state or for command asset programs, we've got you covered.
Need Easy Extra $300+/Month for Free?
KashKick
: Get paid directly into your PayPal for watching videos, surfing, shopping and more.
Join KashKick Now!
InboxDollars
: Paid over $57 Million to members to watch videos, take surveys, shop and more.
Get $5 instantly!
Branded Surveys
: Get $1 instantly just for joining for free. Plus get paid within 48 hours by PayPal!
Join Branded Surveys
First Opinion
: Get paid up to $10 per survey and $300 per virtual focus groups!
Join Now!
Swagbucks
: Get paid to watch videos, shop online, take surveys and more.
Join now & get $10 instantly!
Wells Fargo Routing Numbers by States & Territories
Since Wells Fargo is such a large financial institution, it doesn't just have one routing number. Instead, it has several different ones which vary depending on the state where you hold your account.
You can find routing numbers for Checking accounts, Savings accounts, and more for your state.
Here are the Wells Fargo routing numbers by states and territories:
Alabama: 062000080
Alaska: 125200057
Arizona: 122105278
Arkansas: 111900659
California: 121042882
Colorado: 102000076
Connecticut: 021101108
Delaware: 031100869
District of Columbia: 054001220
Florida: 063107513
Georgia: 061000227
Hawaii: 121042882
Idaho: 124103799
Illinois: 071101307
Indiana: 074900275
Iowa: 073000228
Kansas: 101089292
Kentucky: 121042882
Louisiana: 121042882
Maine: 121042882
Maryland: 055003201
Massachusetts: 121042882
Michigan: 091101455
Minnesota: 091000019
Mississippi: 062203751
Missouri: 113105449
Montana: 092905278
Nebraska: 104000058
Nevada: 321270742
New Hampshire: 121042882
New Jersey: 021200025
New Mexico: 107002192
New York: 026012881
North Carolina: 053000219
North Dakota: 091300010
Ohio: 041215537
Oklahoma: 121042882
Oregon: 123006800
Pennsylvania: 031000503
Rhode Island: 121042882
South Carolina: 053207766
South Dakota: 091400046
Tennessee: 064003768
Texas: 111900659
Texas – El Paso: 112000066
Utah: 124002971
Vermont: 121042882
Virginia: 051400549
Washington: 125008547
West Virginia: 121042882
Wisconsin: 075911988
Wyoming: 102301092
American Samoa: 121042882
North Mariana Islands: 121042882
Puerto Rico: 121042882
Virgin Islands: 121042882
American Forces Abroad: 121042882
Now, according to Wells Fargo, if you're a California customer and you opened your account in Southern California, then you may see a different routing number on your checks than the number displayed in the list above. You can use either number.
Wells Fargo Routing Numbers for Wire Transfers
Do you need a routing number for a wire transfer?
This will be different to the numbers outlined in the States & Territories section above.
The number you use will depend on where the source of the incoming wire transfer is:
Inside the United States: Your routing number 121000248.
Outside the United States: Your SWIFT code is: WFBIUS6S.
So, you use a SWIFT code rather than a routing number if the source of the incoming wire transfer is located outside of the United States. SWIFT codes are basically used for sending money internationally via wire transfers.
Wells Fargo Routing Numbers for ACH Transfers
Okay, so for sending an ACH transfer to any Wells Fargo account, a routing number is required. This is the same as the numbers mentioned in the Wells Fargo Routing Numbers by States & Territories section above. Just look up the number for your state.
Wells Fargo Routing Numbers for Command Asset Program
The Command Asset Program number is 102307164.
Wells Fargo Routing Number for Prepaid card (Wells Fargo EasyPay Card)
If you are using a prepaid card account type, then your Wells Fargo EasyPay Card routing number is 031302777.
Wells Fargo Line of Credit Routing Numbers
Your line of credit routing number will depend on the first 3 numbers of your account:
001: 073000228
003: 104000058
038: 122105278
072: 091300010
082: 092905278
083: 091400046
114: 121042882
117: 122000247
119: 124002971
163: 102000076
203: 091101455
300: 091000019
433: 112000066
451: 102000076
552: 074900275
553: 041215537
569: 125200057
585: 107002192
650, 651, or 654: 121042882
661, 662, or 663: 321270742
727: 075911988
737: 102100918
742, 743: 122101191
746: 071101307
748, 768: 122101191
808: 111900659
810: 102301092
825: 321270742
So, for example, if the first three digits of your account are 553, then your line of credit routing number would be 041215537.
What is a Routing Number?
Every financial transaction carried out by banks requires an account number and a routing number. This is to ensure that, well, the money ends up where it is supposed to!
Otherwise, banks wouldn't know which accounts to send funds to and that's no good for anybody, right?
Both account numbers and routing numbers are assigned when you open an account.
Whether you need to set up a direct deposit or order checks online, you'll need to ensure that you have your account number and your routing number at hand.
A routing number is a nine-digit figure that banks use to identify specific financial institutions within the United States. The number also shows that the bank is a federal or state-chartered institution which maintains an account with the Federal Reserve.
Smaller banks may only have one routing number, but larger banks, like Wells Fargo, have lots of different ones. This usually differs based on the state in which you have the account.
What are Routing Numbers Used for?
Routing numbers are required for lots of different financial transactions, such as:
Ordering checks online.
Setting up a direct deposit, like your paycheck, for example.
Paying bills automatically from your Wells Fargo account.
Having payments such as your pension deposited into your account.
To pay in a check.
To make a wire transfer to someone.
To make an ACH payment to someone.
How Do I Find My Bank's Routing Number?
There are a few ways that you can find your Wells Fargo routing number:
Find your routing number on a check
If you have a Wells Fargo check, then you should be able to easily find your routing number.
There are 3 numbers on the bottom of all Wells Fargo checks.
From left to right, these are:
Routing number
Account number
Check number
So, your routing number is the first number on the left. It is nine digits.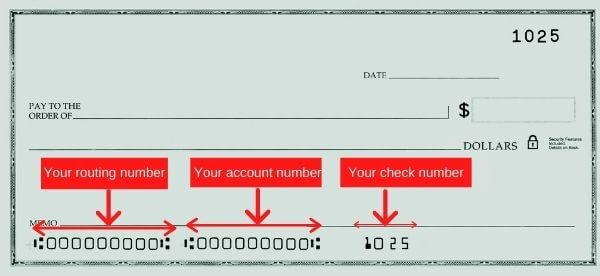 Find your routing number on the Wells Fargo website
Wells Fargo actually has a really useful tool on its website that you can use to search for routing numbers by state, account type, and more.
Basically, you just answer some simple questions about what you need the number for, and Wells Fargo will give you the right number.
Find your routing number with Wells Fargo Online Banking
You should be able to get your Wells Fargo routing number by logging into online banking.
Contact Wells Fargo
If you are still unsure about your routing number, then simply get in touch with Wells Fargo. The bank's customer service representatives will be able to assist you in finding the right number.
You can find contact details for Wells Fargo here.
Summary
Whenever money is transferred anywhere, it's so important to get the details right. So, make sure that you use the right Wells Fargo routing number for your particular transaction. By doing so, you'll make sure that the money ends up in the right place!