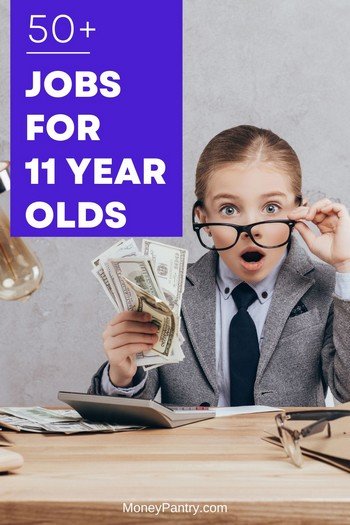 Got an 11 year old?
And are they eager to make money?
It's tough to find work for preteens because many establishments won't hire people that young since they need to comply with child labor laws.
But if you look hard enough, there are many jobs for 11 year olds to do.
It's a good idea to start kids off young in earning money.
Not only does getting a job help them learn financial responsibility, but it also keeps them from pestering you for an advance on their allowance when they want to purchase something like a new bike or a pair of sneakers.
Need Easy Extra $300+/Month for Free?
KashKick
: Get paid directly into your PayPal for watching videos, surfing, shopping and more.
Join KashKick Now!
InboxDollars
: Paid over $57 Million to members to watch videos, take surveys, shop and more.
Get $5 instantly!
Branded Surveys
: Get $1 instantly just for joining for free. Plus get paid within 48 hours by PayPal!
Join Branded Surveys
First Opinion
: Get paid up to $10 per survey and $300 per virtual focus groups!
Join Now!
Swagbucks
: Get paid to watch videos, shop online, take surveys and more.
Join now & get $10 instantly!
Having your child work can help you, too.
According to a Pew Research Center poll, 70 percent of adults across 19 countries — including the United States — fear that the next generation will be financially worse off than their parents.
If you fear for your child's financial future, getting them a job now could put your mind at ease since they might be in a better financial position by the time they're adults.
Below are ideas to help your child get started on the road to financial independence.
Full-time & Part-time Jobs for 11 Year Olds
Your preteen might want to take on one or more of these jobs.
1. Running a Lemonade Stand
I know this one's a bit cliché, but you can't go wrong with lemonade stands, especially on a scorching summer day.
Your kid doesn't have to limit themselves to lemonade, though.
They can sell fruit punch, iced tea, or Arnold Palmers.
2. Babysitting
Babysitting was and still is one of the first jobs for teens and preteens.
Most parents these days hire college students or nannies to look after young children.
However, if your kid is mature and responsible for their age, they can begin watching over the neighbors' children and possibly prepare for a career as a preschool teacher.
3. YouTubing
Apparently, everyone and their dog has a YouTube channel these days.
It's also cool that people can monetize their video content.
This is perfect if your child enjoys being in front of the camera and has creative ideas they want to film and display on the Net.
4. House Sitting
Going out to run an errand for a few hours?
Have your child look after the house while you're gone, then pay them when you return.
5. Blogging
Blogging's perfect for young aspiring writers to express their thoughts and interests while making money.
They can build a free website using a platform like WordPress to begin.
6. Pet Sitting
Young pet lovers can start their own pet business by watching over their neighbors' animals and go from there.
7. Car Washing
Just because they're too young to drive doesn't mean they can't learn to wash a car.
This activity isn't just a money-earner; it's a money-saver since it teaches kids that they don't have to bring a vehicle to a car wash to keep it clean.
8. Web Development
Does your kid enjoy coding?
If you happen to be a web developer, they can aid you in your projects while getting paid, kind of like an at-home apprenticeship.
9. House Painting
Have them help you paint the house (and pay them) when needed.
Your child could also advertise house-painting services around the neighborhood.
10. Dog Walking
Dog walking allows your kid to kill two birds with one stone: they earn money and get exercise.
11. Assisting in Your Family Business
Own a restaurant or grocery store?
Let them assist you in your duties. (This is good practice if you plan on having your kid take over the business one day.)
12. Plant Sitting
Plant sitting is a very easy job.
All one has to do is water it and make sure the plants get some sunlight.
13. Leaf Raking
When fall arrives, your kid can get paid to rake leaves.
They can make the job easier (and more fun) by inviting their friends over to help.
14. Snack/Soda Selling at Sports Games
Sports fans?
You and your kid can sell snacks and soda at baseball or football games while spending quality time together.
15. Lawn mowing
Your kid can cut the lawn and earn money for it.
That said, gas-powered mowers may present a hazard, so depending on your kid's maturity level, it's probably best if they use a push mower instead.
16. Computer Repair
If they can diagnose and fix a computer problem, it's about time they start getting paid for it.
A knack for fixing computers could lead your kid on a path to a computer technician career in the future.
17. Snow Shoveling
If your kid doesn't mind working hard in cold weather, they can operate their own snow-shoveling business in the neighborhood.
18. Modeling/Acting
Do they wish to be in a film, TV show, or commercial?
Seek out opportunities where they can bask in stardom.
19. Senior Assistance
Some seniors live alone and have virtually no support system available.
Consider checking local senior centers to see if your kid can lend a hand by running errands or helping with chores.
20. Selling Goods at a Farmer's Market
If you have fruit, vegetables, meats, arts and crafts, or other products, you and your kid can sell them at your local farmer's market.
21. T-shirt Design
Does your kid possess an artistic flair for T-shirt design?
They can make money by selling them to their peers at school or craft events.
22. Office Assistance
Work from home?
If so, your kid can help you lighten your workload by shredding papers or filing documents.
23. Answering Surveys
Survey sites aren't just for teens and adults.
KidzEyes and PanelPolls appear to be the only survey sites that are okay for 11 year olds.
24. Hot Cocoa Stand
Everyone's familiar with lemonade stands, but hardly anyone's heard of hot cocoa stands.
When winter arrives, your kid can set up shop in an indoor space and sell hot cocoa drinks.
25. Pool Cleaning
Own a pool?
Your kid can make some extra bucks cleaning and maintaining it.
26. Origami Making
Being able to make artwork from pieces of paper is awesome enough.
It's even better if a kid can earn money by selling their creations in person or online.
27. Dusting
Have a barely-used feather duster?
Your kid can put it to good use —plus get paid — by dusting around the house.
28. Yard Sale
If your kid has old toys and clothes lying around, encourage them to sell them at your next yard sale.
Holding a yard sale helps them clean up a bit and earn money while doing so.
29. Make and Sell Gift Baskets
Most people enjoy purchasing gift baskets for holidays and special occasions.
Your kids can put together gift baskets to sell to friends and loved ones. (This option is likely to be a real boon during Easter.)
30. Garage Cleaning
Clutter in your garage?
Give your kid an incentive to clean it up by offering to pay them to spruce it up.
31. Book Writing and Selling
There's no age limit for writing a book.
Your kid can pen a fiction or non-fiction story and sell it as an e-book on sites like Amazon and Barnes and Noble.
32. Voice Acting/Narration
If your kid has a knack for reading texts aloud or character impressions, they might like to engage in voice acting or narration.
Some of the opportunities available in this niche include audiobook narration, cartoon dubbing, and commercials.
33. Party Entertainment
Is there a younger kid in the neighborhood with a birthday coming up?
Your child can surprise and entertain them with any talents they might possess, like balloon-making, clowning, or singing.
34. Christmas Gift Wrapping
Your child can make extra bucks during the holidays by wrapping presents with friends, family members, and neighbors.
35. Logo Design
If your kid enjoys playing with graphic design tools like Photoshop or Canva, they can make money creating logos.
Where to find clients?
Help them search for potential clients in town and online through Freelancer, Upwork, and other freelancing platforms.
36. Recycling
Talk about turning trash into cash!
Many recycling centers pay money in exchange for bottles and cans.
37. Landscaping
Working in the yard gives your kid plenty of fresh air and allows them to apply their creative touches.
Besides pulling weeds and watering flowers, they can earn money decorating the yard with strategically-placed stones, flamingos, and pinwheels.
38. Selling Baked Goods
Does your child enjoy baking sweet treats like cookies and cakes?
They can bake and sell their treats at upcoming parties or raise money for a special cause.
39. Fence Painting
If your fence needs a new coat of paint, enlist your kid to help you and pay them afterward.
(Just make sure they don't trick the neighborhood kids into doing the work for them, ala Tom Sawyer, ha!)
40. Errand Running
Sometimes, people need someone to run errands on their behalf and are willing to pay money for it.
Your kid can carry out tasks like picking up laundry or mailing letters/packages.
41. Photography
Is your kid a shutterbug?
They can make a side income by snapping pictures of loved ones or nature and selling them online.
42. Advertising/Marketing
Perhaps you own a business (or know of some local businesses) and thought about having your child help with advertising measures.
If your kid doesn't mind interacting with the public, they can pass out flyers, pamphlets, and/or coupons to attract customers.
43. App Development
Nearly everyone these days enjoys playing app games on their phones.
Maybe your child received inspiration from an app game they played and wants to apply their programming skills to build a new game (and money from it).
44. Jewelry Making
Does your kid like making homemade necklaces and bracelets?
They can make money with their talents by selling their wares online or in person.
45. Window Washing
If your house windows are overdue for a scrubbing, consider paying your kid to get the job done.
Your child doesn't have to stop there; they can offer to wash their neighbors' windows, too.
46. Golf Ball Fetching
Some country clubs and golf courses need people to retrieve stray golf balls.
This creates a win-win for both golf establishments and your kid because golf courses stay clean, and your child makes money from the golf balls they sell.
47. Tech Support
Many kids today possess computer and phone skills that surpass most adults.
Your kid can assist others with tech-related tasks like installing a new operating system on a computer or web design.
48. Event Setup
Run a catering business?
Have your kid assist you (and earn money) in event setup.
They can help set up chairs and tables before an event and then take them down when said event ends.
49. Farm Work
If you run a farm or know someone who does, your child can be a farmhand.
Farm hands typically assist with feeding animals, cleaning, and growing crops.
50. Bike Repair
Some kids do an excellent job fixing up their bikes, and if your child's one of them, they can use their talents to aid others in repairing their bikes.
(This could also be a stepping stone towards opening a bike shop.)
51. Tutoring
If your child gets good grades in school, they can earn money helping other kids with schoolwork.
Tutoring sessions can take place after school or during summer vacation.
52. Soap/Bath Bomb Making
Soap-making has been around for centuries, and the art seems to be returning.
Does your child create their own soap or bath bombs?
They can begin a new business venture by selling their creations to friends and neighbors or on the Web.
53. Video Game Testing
If your kid's a fan of video games, they can earn money to test them.
Some game testing events take place in person, while others are online.
54. Selling Used Clothes
Have gently-used kids' clothing?
Stores like Plato's Closet buy brand-name used clothing as long as it's in good condition. (If there's no Plato's Closet in your town, sell them online.)
It's fast pocket money for your child.
55. Power Washing
Cleaning the gutters or anything else outside the house with a power washing machine can be a fun way for a kid to make money.
56. Furniture Assembly
Is your child your go-to person when you have trouble putting together new furniture?
Pay them next time you need help assembling a new table or chair.
57. Christmas Decorating
Kids can make money assisting their neighbors in putting up Christmas lights and ornaments during the holiday season.
Financially Empower Your Preteen with These Jobs for 11 Year Olds
It's wonderful that preteens these days have so many ways to earn extra money.
Some of them — like app development and survey taking — didn't exist when I was a kid. (I didn't get my first job until I was 15, and that was at a fast food restaurant.)
Because there are plenty of jobs for 11 year olds today, your kid can start earning now so they can be financially prepared for the future.