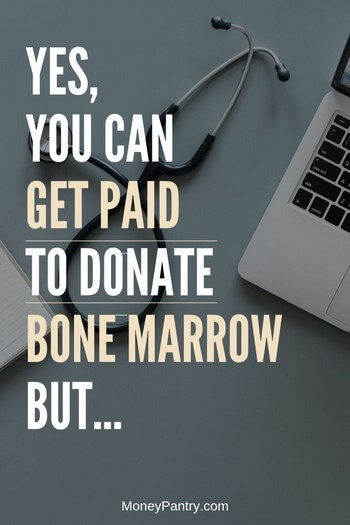 Want to get paid to donate bone marrow?
Well, we're going to level with you here.
Unlike, donating plasma, sperm, eggs and blood for money, you can't actually get paid to donate bone marrow.
It's actually illegal to make money from selling body parts in the United States.
Does this mean that you'll get no compensation at all from donating?
Heck no.
Need Easy Extra $300+/Month for Free?
KashKick
: Get paid directly into your PayPal for watching videos, surfing, shopping and more.
Join KashKick Now!
InboxDollars
: Paid over $57 Million to members to watch videos, take surveys, shop and more.
Get $5 instantly!
Branded Surveys
: Get $1 instantly just for joining for free. Plus get paid within 48 hours by PayPal!
Join Branded Surveys
First Opinion
: Get paid up to $10 per survey and $300 per virtual focus groups!
Join Now!
Swagbucks
: Get paid to watch videos, shop online, take surveys and more.
Join now & get $10 instantly!
While you won't get paid per donation like when you donate plasma, sperm or eggs, you do get compensation of some form, which we'll talk about below.
But first, let's take a look at what bone marrow is and why donating it is so important.
What is Bone Marrow?
Bone Marrow is a soft fatty substance that's found in the cavities of some bones, including the hip and thigh bones.
What makes bone marrow so vital is that it is home to stem cells.
These are immature cells that can become red blood cells, white blood cells, or platelets.
Basically, most blood cells in the body develop from cells in the bone marrow.
In fact, bone marrow makes more than 200 billion new blood cells every day, as well as white blood cells and platelets, so it's pretty amazing.
In the United States, each year 10,000 people are diagnosed with diseases that require bone marrow transplants.
There are many diseases that pose a threat to bone marrow and prevent it from turning stem cells into those essential cells.
So donations are really, really important.
How Do You Donate Bone Marrow?
You need to join a marrow registry first.
Then the registry will match you to patients looking for a transplant.
To join the registry, you'll need to have a cheek swab so that you can be matched to patients.
Once you're on the registry, you will be called to donate if you're a match for a patient.
While the spongy bone marrow that's found inside your bones is what produces blood stem cells, these blood stem cells also exist in your bloodstream. They are called peripheral blood stem cells.
So you can donate cells from the marrow itself or from your bloodstream. Each one has a different process:
Bone Marrow Donation Process
This is a surgical procedure which is performed in a hospital while you are under general or regional anesthesia.
Once under the effects of the anesthesia, the doctor will use needles to withdraw the liquid marrow from the back of your pelvic bone.
This process generally takes one to two hours.
Once the bone marrow has been collected, you will be taken to the recovery room while the anesthetic wears off.
After that, you may be taken to a hospital room so that the nursing staff can monitor you. You'll most likely be released once you are completely alert and able to eat and drink.
Peripheral Blood Stem Cells (PBSC) Donation
This is where the marrow stem cells are taken from the bloodstream instead.
PBSC donation is a non-surgical procedure that you can undergo in an outpatient clinic.
For five days, you'll receive daily injections of filgrastim.
This is a drug that increases the number of blood stem cells in your bloodstream.
During the donation process, a needle will be inserted into your arm and your blood will be extracted into a machine that separates the blood stem cells.
Then the rest of the blood is returned to your body through the other arm.
The process is called apheresis.
It's very similar to the process of donating plasma.
90% of PBSC donations are completed in one apheresis session that can take up to 8 hours.
10% of donations are completed in two apheresis sessions and each one takes four to six hours.
70% of donors give bone marrow cells this way.
It's a newer method that's less invasive than your regular bone marrow extraction.
Where Can You Get Paid for Donating Bone Marrow?
Here's the deal, donors never pay to donate marrow and are never paid to give it either.
Like we said above, it's illegal to sell body parts in the US.
Why Bone Marrow Donors Aren't Paid Per Donation
Under the National Organ Transplant Act of 1984 the sale of human organs is outlawed.
And bone marrow is considered to be an organ.
Back in 1984 though, the process for donating was different. Now, it can be taken just as plasma can, from your blood, in 70% of cases.
In 2011, a Maine mother Doreen Flynn whose two daughters required transplants filed a lawsuit arguing that donors should be paid.
Flynn and her legal team from the Institute of Justice argued that because your body replenishes marrow, unlike an organ like a kidney, it should be treated in the same way.
Also, back in the '80s, marrow was taken from the hip with a wider needle.
Now, just 30% of people give bone marrow this way.
Thanks to newer techniques, 70% of donations are now taken from the bloodstream. So it's just like the process for donating plasma.
The U.S. 9th Circuit Court of Appeals ruled in Flynn's favor and said that donors should be compensated.
It argued that marrow stem cells that are taken from the donor's bloodstream (through apheresis) are components of the blood and not the bone marrow, meaning they are outside the ban on organ sales.
However, the Obama administration asked a San Francisco appeals court to overturn the court's decision.
From our research, the case still appears to be under review.
So How Can You Make Money Donating Bone Marrow?
While you won't get paid per donation as you do with sperm and plasma, you can still get some form of compensation. It's not illegal to have your expenses covered.
If you want to get paid to donate bone marrow, we'd highly recommend that you check out Be The Match.
It's a national marrow donor program that you can register with. And it actually does provide some form of compensation.
How Much Do You Get for Donating Bone Marrow?
Like we said above when you give bone marrow you don't get paid per donation like you do when you donate things like plasma or sperm.
You do receive some form of compensation though.
Here's what Be The Match has to say about donor compensation:
"All medical costs for the donation procedure are covered by the National Marrow Donor Program® (NMDP), which operates the Be The Match Registry®, or by the patient's medical insurance, as are travel expenses and other non-medical costs. The only costs to the donor might be time taken off from work."
The phrase "other non-medical costs" is pretty vague, but it could mean that you receive some kind of compensation outside of medical and travel expenses.
That's why we'd recommend registering with Be The Match because it's a legit company and it does offer compensation.
Other Places to Donate Bone Marrow for Money Near You
There are a couple of other places to donate:
DKMS
You can register with DKMS to be a donor.
Here's what the organization has to say about compensation:
"If your employer does not provide paid time off for donation, DKMS has a financial assistance program for lost wages compensation. If you qualify for assistance, your coordinator will give you more information about applying for aid."
Gift of Life
Another place to register as a donor is at Gift of Life. Again, you won't get paid but you could save someone's life.
Here's what the organization has to say about compensation:
"Will I be compensated for donating?
A: No. By law, compensation is not permitted."
So again you won't be paid.
Be The Match is a great option because it does attempt to provide compensation to donors.
Who's Eligible to Donate Bone Marrow?
There are age and medical requirements you'll need to meet to become a donor.
And these vary from place to place.
Age
One of the biggest requirements for donors is age.
You have to be over 18 years old to donate bone marrow.
But you also can't be older than a certain age.
The age cap varies.
For example, Gift of Life allows people up to 60 to join its registry. But it's only free to register for those who are aged between 18 and 35, as it says transplant centers are less likely to request older donors. Donors over 36 years old will have to pay the laboratory processing fee for their swabbing kit, which costs $60.
Be The Match looks for donors aged from 18 to 44 years old, but will also allow donors up to 60 years of age to donate. Again payment is required to join for donors above 44 years old.
Basically, the required donor age ranges from 18 to 60 years old.
Do check the eligibility requirements for the registry you plan to sign up to.
The age limit for donors is not intended to discriminate.
The reason for the age cap is that cells from younger people tend to provide better outcomes to patients according to research.
Weight
Another important criteria is your weight. With most registries you have to meet a certain weight to height ratio.
So your BMI should be in a healthy range.
If your BMI, both underweight and overweight, would present a risk to your safety then you might not be eligible to register.
Many registries, like Be The Match have weight guidelines for joining so do check those out.
For most places, the height and weight guidelines allow a BMI of up to 40.
Weight limits are not intended to be discriminatory – instead they are to ensure donor safety. Donors with a higher BMI may face complications like increased risk for anesthesia when donating bone marrow, and with PBSC, compromised access to the veins.
Other Eligibility Factors
There are many other factors that determine a person's eligibility. For example, people with HIV or AIDs are unable to donate.
Other medical issues, like asthma, some autoimmune diseases, and a history of heart surgery or heart disease may prevent you from donating bone marrow.
Most registries have a list of medical conditions that would rule a person out as a donor.
Do check with the particular registry you sign up with.
How is Bone Marrow Matched?
Getting a match can be difficult.
Doctors search for a donor that matches a patient's tissue type – particularly the human leukocyte antigen (HLA) tissue type.
HLA is a complex of genes found in every person's DNA that regulate your immune system.
Basically HLAs are proteins or markers that your immune system uses to recognize which cells belong in your body and which ones don't.
Since HLAs are responsible for whether a transplant is accepted or rejected by the body a close match between your markers and the patient's is crucial.
To match you to a patient, you will have a sample collected from inside your cheek on a cotton swab.
This will determine your tissue typing.
As HLA is a genetic factor that is inherited from parents, you might think that the patient's family would make the best donors.
However, only around 30 percent of patients find a suitable donor within their own family. This is because the genes you inherit are a combination from your parents.
The 70% of patients that can't find a match in their own family have to search marrow donor registries to find a match.
According to Be The Match, about 1 in 430 people on the registry in the US will actually donate bone marrow or peripheral blood stem cells (PBSC) to a patient.
There is a huge variation in tissue types, so you might not ever donate.
If your tissue is pretty common, then you may match someone.
If you have an uncommon tissue type then you might never match a patient. On the other hand, you could be the only one on the registry who could save someone's life.
Donation FAQs
Donating is something that a lot of people have questions about. And that's to be expected.
It's not like giving blood where most of us have at least an idea of what the procedure is like.
No, comparatively, donating bone marrow is much lesser known.
In this section we're going to cover some common questions that people have about bone marrow donation.
So if you've ever wondered about things like "where can I donate bone marrow near me?" or "what's bone marrow donation recovery time like?" read on!
Is it painful to be a bone marrow donor?
As we mentioned above, there are two main ways that the cells are taken – through your blood or from your hip bone.
If it's taken via the bloodstream, then the only pain you'll feel is when the needle first goes into the arm and you may feel a little discomfort but nothing more than you would feel if you were giving plasma.
If you have to undergo extraction from the hip bone, then the area will be anaesthetized so you won't feel any pain.
Of course afterward the area may be a little tender.
Is donating bone marrow dangerous?
Every medical procedure comes with some risks.
These risks depend on how the bone marrow is taken.
With peripheral blood stem cell donation, where the cells are taken from the blood, the risks are minimal.
But, the medication you take before the apheresis process that increases the number of stem cells in your blood can cause side effects, like:
Bone pain
Muscle aches
Headache
Fatigue
Nausea
Vomiting
However, these symptoms usually go away within a couple of days once you stop the injections.
Also, while filgrastim injections are commonly used to treat cancer patients, using it on healthy donors is a relatively new concept. So no data is available yet about the long-term safety of it.
The NMDP has used filgrastim to aid in transplants since the 1990s though and no donors have reported any long-term complications from filgrastim injections.
When the marrow is extracted from the bones themselves, you are given an anesthetic.
This could be a general anesthetic, and there are always risks involved with the use and effects of anesthesia during surgery.
Damage to your bone, nerve, or muscle in the hip region could also be a risk.
Can I donate bone marrow?
If you meet the eligibility requirements and are found to be a match for a patient then you can donate bone marrow. Being on the donor registry doesn't mean that you will be able to donate though, as matching patients and donors is complex.
Can you die from donating bone marrow?
No medical procedure is without risks.
According to Be The Match 2.4% of donors experience serious complications. And these complications are due to anesthesia or damage to bone, nerve or muscle in the hip area.
Like with any surgical procedure, the risk of side effects from the anesthesia are present. Although serious side effects of anesthesia are rare.
Some common side effects of general anesthesia are sore throat, which is a result of the breathing tube, or mild nausea and vomiting.
Not all extractions are done under general anesthesia. Some bone marrow donations are taken while you are under regional anesthesia.
A decrease in blood pressure and a headache after the surgery are common side effects of regional anesthesia.
How many times can I donate bone marrow?
Wondering how often can you donate bone marrow?
Blood stem cells and bone marrow regenerate completely. This means that technically you can donate it several times throughout your lifetime.
Whether you will actually be able to donate bone marrow or stem cells though is another story.
Like we said above HLA markers in a patient and donors have to be a close match.
And, it's rare that a person would come up as a match for several people.
You could get called a few times to donate or never get called as a potential match.
So it's difficult to say how many times you could donate.
Does bone marrow grow back?
Yes. Cells replenish themselves in four to six weeks.
How long does it take to recover from donating bone marrow?
According to Be The Match, the median time for recovery for PBSC donors is a week.
The median recovery time for marrow donation is 20 days.
Marrow and PBSC donors generally can return to their regular activities, like worth within one to seven days.
Of course, everyone's different so recovery times can vary.
Why Donating Bone Marrow isn't a Good Way to Earn Cash
It's not legal to make money selling bone marrow so it really isn't a viable option for anyone looking to make money.
Donating bone marrow is important and more people should register to do it.
For making cash though give it a miss.
Unlike sperm donation, there's no infrastructure or market in place that actually caters to marrow donors who want to be paid.
It's just not available yet.
The Flynn court case we mentioned above could change all of that.
For now though, it's not a good way to make money.
So what do we recommend instead?
What Can You Donate for Cash?
While marrow donation may not pay, there are plenty of other things you can donate for money, including:
Plasma
Plasma is a component of your blood and it's in high demand from companies who need it to produce medications and for other medical purposes.
You can donate plasma twice a week.
And you could make anywhere from $280 to $400 a month.
Check out this post to learn more:
Eggs
If you're a woman aged between 18 and 35 you could make money donating your eggs.
Pay is between $3,000 and $15,000 or more per donation.
Check out this post to learn more:
Sperm
If you're a man aged 18 and 39 years old, you could make money as a sperm donor.
You get paid anywhere from $280 to $1,500 a month.
Check out this post to learn more:
Other (Legal & Easier) Ways to Earn Cash
Also, there are plenty of other things you can do to make cash, other than donating stuff.
You might want to check out these posts if you're looking to make money:
So there are plenty of ways to make cash!
Final Thoughts
Donating bone marrow can save people's lives so it's something that everyone should consider.
For making money though it's just not viable.
Donating plasma is much more profitable – because it actually pays you.
Other than that though, consider giving some of the above articles a read because they offer so many easy ways to make cash – without you even having to leave the house in many cases.
As we said, everyone should consider donating bone marrow but to help others alone, not for making cash.
Maybe in the future, laws will change and donors will be paid, but for right now, plasma donation is the better choice for making money.
Let us know if you've ever donated bone marrow before and what your experience was like.