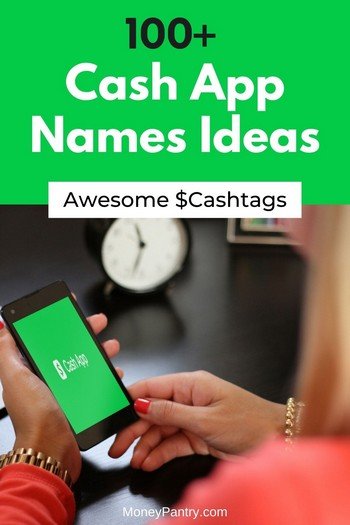 Cash App names are an important part of the Cash App platform. Owned by Block, Inc. (formerly Square Inc.), Cash App is a peer-to-peer (P2P) mobile payment service.
And while there are many apps like Cash App, it's one of the most incredibly popular apps. In fact, more than 40 million people use Cash App!
It's not hard to see why millions of people use the platform. With Cash App (review), users are able to send and receive money using a mobile app anytime, and it is free.
Other great features include the ability to purchase stocks and Bitcoin for as little as $1 and access to free ATM withdrawals if you have at least $300 coming in each month. So, there really is a lot to love about the platform.
If you're creating a Cash App account, you'll probably know by now that you need to come up with your own Cash App name. And, it's not as easy as it sounds, right? It may be leaving you a little stumped. If that's the case, then this is definitely the post for you.
Below, I've given you over 100 Cash App name ideas that you can use. Before we get onto the list of ideas though, I'll cover what a Cash App Name is and how to create one.
Need Easy Extra $300+/Month for Free?
KashKick
: Get paid directly into your PayPal for watching videos, surfing, shopping and more.
Join KashKick Now!
Panel Payday
: Earn up to $75 per survey. They also pay up to $50/hr for mystery shopping.
Join Now!
InboxDollars
: Paid over $57 Million to members to watch videos, take surveys, shop and more.
Get $5 instantly!
Branded Surveys
: Get $1 instantly just for joining for free. Plus get paid within 48 hours by PayPal!
Join Branded Surveys
First Opinion
: Wanna get paid for every single survey (+ high paying online focus groups) with cash or direct deposit? This is for you!
Join Now!
Swagbucks
: Get paid to watch videos, shop online, take surveys and more.
Join now & get $5 instantly!
What is a Cash App name?
On Cash App, all users have a name, which is called a $Cashtag. A $Cashtag is a unique identifier for individuals and businesses that use Cash App.
Put simply, a $Cashtag is essentially your username on Cash App. It is the name that you can use to send or receive money from. So, it's pretty simple really!
The main rule with Cashtags is that they must include at least 1 letter and they cannot be longer than 20 characters. Also, no duplicate $Cashtag names are allowed. So, your name will need to be unique.
Please note that $Cashtags can only be changed twice. Prior versions become inactive so that they can't be claimed by another customer. You can switch back to a previous $Cashtag anytime.
How to Make a Cash App Name
In order to make a Cash App name, you will need to follow the sign-up process. It's important to note that Cash App is only available in the United States and the United Kingdom, so if you don't reside in one of those countries, then you won't be able to use Cash App. PayPal can be a good alternative.
If you are in the US or UK though, then you can go ahead and sign up for Cash App.
As you may already know, Cash App has an app that's available for Android and iOS devices.
Here's where you can get it:
Here's how you can get started with CA:
Download the app for iPhone or Android.
Tap on Cash App to launch it.
Then, you will need to create a CA account. To create an account, you can enter your phone number or email address.
Cash App will send you a secret code via text or email, which you'll need to enter.
Connect your bank account to Cash App.
Now, it's time to choose a $Cashtag. Like I said before, this can seem a little overwhelming, so be sure to check out our list of Cash App names below. Your $Cashtag is a unique username that you will use to send and receive money.
Enter your zip code.
Now you can start using the app.
Now, to claim a $Cashtag, you must have an active debit card linked to your Cash App. Also, you can add a credit or debit card to your account as a way to issue payments.
Once you have linked your bank account to the app, it's easy to add a card to your Cash App account.
Cash App supports credit or debit cards issued by American Express, Discover, MasterCard, and Visa. Most prepaid cards are also supported but depositing to these cards does not work.
ATM cards, PayPal, and business debit cards are not currently supported by CA.
Now, you're all set up, but just how do you pick a Cash App name?
Cash App Name Ideas
Coming up with a $Cashtag can seem a little overwhelming. So, we have a list of Cash App names that you can try. Now, since all names on Cash App need to be unique, you may find that when you come to sign up, a particular name is already taken. If that's the case, then you could consider adding a number to make it unique.
Here are 101 Cash App name ideas.
Cute Cash App Names
The names in this section are cute and fun, and they can be pretty easy to remember, which is always a positive when it comes to usernames! You can come up with your own idea of a cute Cash App name by thinking about things like your favorite animals, colors, or flowers.
$DisneyFan
$FrugalMommyof4
$CuddleMonster
$Ladybug
$Fabulousspender
$Coffeecoinnoisseur
$TheCatsPajamas
$DogMom
$ThriftyShopper
$VeryVintage
$DogDad
$SuperSaver
Funny Cash App Names
Funny names involve humorous references, and plenty of play on words. Funny names are easy to remember, and well, a whole lot of fun!
$RunForrestRun
$LukeIAmYourFather
$TheTigerPrince
$AvocadoOnToast
$Givemethedough
$Peaceloveandharmoney
$Checkmeout
$Whatacoincidence
$Goodharmoney
$CentsAndCentsibility
$Coingratulations
$DoughraTheExplorer
$YouArentMakingCents
Cash App Names for Girls
Here are some good Cash App names for girls:
$PinkIsMyJam
$PrettyInPink
$MissPrincess
$FinickyGirl
$GamerGurl
$ShootingStarGirl
$PrincessSprinkles
$FierceLioness
Cash App names for Boys
Here are some good Cash App names for boys:
$ManBoy
$VikingBoy
$BreakingBoy
$CosmicKid
$KidBlaze
$DinoKid
$LordDude
$RacingDude
$GoofyKid
Celebrity Cash App Names
Some people want to fool other users into sending them cash by using a celebrity name. That is unwise, and well, sort of like a scam.
Others though, like yourself, just want a fun sounding celebrity name, and that's such a great way to come up with Cash App name ideas. You can have lots of fun with these creative twists on celebrity names.
Here are some celebrity-inspired Cash App names:
$TaylorThrift
$JimmyCarrey
$ReeseWithoutaspoon
$ElijahWouldnt
$JustinBeeBear
$KimKarcashian
$WillemDaFriend
$FloydMoneyweather
$BenCashlack
$SnoopDollars
Unique Cash App Names
Unique Cash App names can incorporate your name, and you can use them to show people the reason that you have your account.
Since the combination of your name and the purpose or need for your account is pretty unique to you, this can result in a pretty unique Cash App name.
$[LastName]WeddingFund
$[YourName]CollegeFund
$[LastName]FamilyReunion
$CashFor[YourName]Cats
$Help[FirstName]BuyACar
Random Cash App names
As the section heading will tell you, these Cash App names, are, well, random! If you're not looking for a specific type of name, try these random ones:
$MintChocolateChip
$CouponsCollector
$CupOfJoe
$TheChickenOrTheEgg
$DoctorCool
$WorrisomeDragon
$DangerousCarrot
$Abnormalbumblebee
$Elegantspinach
$Jealousghost
$TacoTime
Gamer Cash App Names
If you enjoy playing video games, then you'll love these game-inspired Cash App names.
Here are some gamer Cash App Names:
$Minecoinhunter
$GTAPro
$CSGOer
$SnakePlissken
$TookAnArrowInTheKnee
$Coincraft
$CallofDollars
Famous Cash App Names
These Cash App name ideas are inspired by famous characters from movies, TV shows, and more.
$JohnMcClainesMoney
$DollarsforDarthVader
$HarryPottersPurse
$CaptainAmericasCash
$CaptainJackSparrow
$RonaldMcDollars
$JamesBond00$
$Princecashing
$Dumbledollar
$FrodoBudgetings
$ChecksLuthor
$ClarkKash
Business Cash App Names
The Cash App names below can help you to promote your business and get paid! You can incorporate your brand or your own name into your $Cashtag, so your customers know that it's you.
$SimplyNails
$NailsBy[FirstName]
$BeautifulHairCuts
$Paint4ALiving
Cool Cash App Names
If you are looking for cool Cash App names, then consider the names below:
$NerdCool
$CoolPapa
$RockGeek
$HotCrazyStyle
$ProDude
$TrueRockStar
$FreshStyle
$HotMoney
$TruePunk
$LordCool
Closing Thoughts
There are lots of Cash App name ideas you can try, so consider the ones on our list above.
If the name you try to use is already taken, then, like I said earlier, you can try adding a number to the end of it.
Also, another way that you can come up with even more name ideas is to think about your interests.
For example, think about your favorite movies, TV shows, foods, or whatever it may be, and then try to come up with clever names based on that. For example, if you enjoy the show Friends, then try to come up with a name based on a reference from the show, or if you love painting, then come up with a name that's related to that.
This can work for any of your hobbies or interests. You can also do this with things in your life, like if you're a mom, then incorporate that, if you're a dog owner, of a particular type of dog breed, then you could incorporate that.
Think outside of the box and use your creativity to come up with Cash App names.