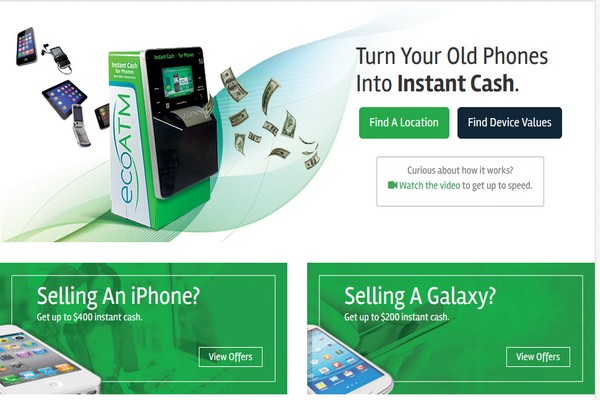 When we go to an ATM machine, we use our debit card, type in our pin number, and then get out the cash that we may need. It is a common occurrence that a person may do several times per week.
But, what if there was a way to go to an ATM and get cash for recycling electronics and gadgets?
Need Extra Cash for Free?
If you like getting paid for surveys, and are going to join only one site, I would recommend you choose Ipsos-iSay. Ipsos is the most fun and well-paying panel. Give it a try to see how you like it. It is free anyway!

This idea sounds amazing, and one in which most people would not believe, but there is such an ATM that does this.
This ATM takes the old electronic gadgets that you may no longer need or want, and gives you cash in return.
How crazy is that?
An ATM that Gives You Cash for Your Old Electronics!
This amazing concept is the idea of EcoATM, a company based in San Diego. They have taken the "paid recycling" idea to a whole new level.
And if you are worried about this idea and the company really paying, rest assure that all research points to this being a real company with a real idea that works.
The company was named as a 2011 CES Design and Engineering Award Honoree by the Consumer Electronic Association or CEA.
In addition, the company recently go their first round of funding at $14.4 million. Coinstar was one of the companies that actually invested into this company.
EcoATM was also won the "Next Great Idea Challenge" by Coinstar.
The first EcoATM was installed in September 2009; And as of July 2014, there are 1,100 kiosks in malls and large retailers in 41 states.
These EcoATM's have collected over three millionth device to date! Now that is amazing!
And if you care about the enviroment and energy saving, you're gonna love this; in 2013, the collections from the ecoATM network of kiosks saved enough energy to power more than 2,750 U.S. homes. Not to mention, the amount of hazardous waste it reduced equals to the weight of about 267 refrigerators.
Earn Free Cash
Try Swagbucks, the famous rewards program that pays you for watching videos, taking surveys, shopping and more.

How it Works
First, you have to have the consumer electronic devices to put into the ATM.
EcoATM states that they accept virtually any type of consumer electronic. This means you could put in cameras, laptops, iPods, cell phones or the like.
The next step is to locate one of these ATM's, which I'll show you how, later.
Once you find it, you take your gadget to the ATM. Once you put the gadget in from the special slot, the machine will actually (thanks to its sophisticated technology) recognize your gadget, and then looks at its condition to determine the market value of it.
The ATM then connects to the live interment market for used electronics and finds you the best price.
If you agree to the price, you will get the cash right then and there, eliminating any waiting period and having to find a buyer on your own.
The ATM works through the use of advanced machine vision, artificial intelligence, and electronic diagnostics, according to the website of the company.
Now, the really interesting thing is that the company is able to find a second life for 75% of the devices collected through an EcoATM. For the other 25%, the company has partnered with certified eWaste reclamation facilities to ensure those materials are responsibly reused and recycled.
What Devices EcoATM Accepts?
At the moment, these machines only have the capacity and capability to accept phones, MP3 players and tablets. But the company says they are going to expand this list in the near future to include bigger gadgets as well.
Who knows, maybe one day you could get cash for your old fridge via an ATM!
How Much Money Can You Expect?
Obviously, this depends on your gadget and its condition. However, the numbers I have seen and heard are anywhere between $1 to $250 per device.
The plus side is that during the transaction, the machine will give you the option to donate your money to a charity.
Where Do You Find One of these ATMs?
These types of ATM's are only available in a few states right now, and there may be stipulations in place for these ATMs.
For example, those who are in Washington have the stipulation that they have to be a Microsoft employee to use the ATM.
This is one of the biggest disadvantages of these ATM's, as they are not in a location that can service everyone.
The good news is that the company has said that they will be expanding and will continue to do so year after year, thus you may find an ATM close to you in a short period of time.
You can look at EcoATM's Find a Location page to find the nearest kiosk to you.
You can even find some of their kiosks in your local Walmart or Kroger stores.
Bottom Line
This is just amazing. Who would have thought that you could take your old and unused electronics to an ATM and trade it for cash!
I think even though this is not going to be a consistent source of income for you, it will still be a great way to rid yourself of some clutter in your home, while also ensuring that you are getting the best price possible.
Have You Read These?...