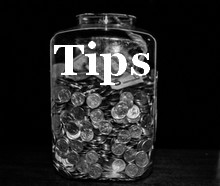 Tip Jar is the page where I share short and to the point money tips, ideas, and opportunities.
You see, most ideas can be turned into decent posts with enough content.
But once in a while, I come across money-making/saving opportunities, tips, and ideas that are short, sweet, and useful, but can't really be used as a post on their own. There is just not much to say about them, and I don't like to publish extremely short posts.
So, I created this page as a virtual jar where I drop in any short and useful money tips I come across.
Basically, I will be adding any money ideas that can't be made into a decent post on their own, to this page.
Of course, as with any tip jar (or at least I hope that's the case), tips will be dropped into this virtual jar at different intervals. That means, the Tip Jar page will be updated often with new money tips and ideas.
Bookmark this Page!
So, to make sure you don't miss your new tips, do bookmark this page and check back often for new tips and ideas.
With that said, let's open the jar…
1. Get $10 from RedBull Because it Doesn't Give You Wings
Update: The Court held a Final Approval Hearing on May 1, 2015 and approved the Settlement. So it is now too late to apply. But if you have already applied, you will be getting your cash soon.
I recently came across a post on Reddit about a lawsuit brought on by a man against RedBull on the basis that the company misled him by using the term "RedBull Gives You Wings". He says he tried RedBull, but he didn't get any wings, lol!
Whether you agree with this thing or not, that's a whole another post on its own.
But for now, if you want to get $10 from RedBull, you can fill a claim for free on a special site that was made for energy drink related settlements.
And although with some lawsuits you need proof of purchase, with this one you do not need any proof of purchase. Just fill out the form and wait a few weeks/months to receive your check in the mail.
And if the settlement proposal is approved (the hearing is set for March 2015), RedBull will either send you a $10 check or a $15 voucher for Red Bull products.
Apply at: EnergyDrinkSettlement.com
Good luck.
2. Get Paid to Walk Into Department Stores (Walmart, Target, Best Buy, JC Penny, Macy's, and many others)
There is an app called Shopkick that rewards you points for doing a variety of tasks. You can then redeem these points for gift cards and other prizes.
One thing it rewards you for is walking into a participating store.
Yes, literally walking into a Target store, for example, earns you 30 points.
While in there, you can also scan products and earn 25 points for every item you scan with your phone.
So, scan 50 items, and you have got yourself 1250 points.
What can you get with 1250 points?
Well, 250 points = $1.
So, 1250 points gets you a sweet free $5 Target (or any other store gift card you want).
You can use your gift card right there in the store as it gives you a code you can use at the register.
Tip: On Saturdays they offer bonus points of up to 100 for walking into a participating store.
So, using this app, you can basically earn a free $5 gift card every time you go to your local Target, Walmart, or any other participating stores they have.
You can sign up and download the app by going to ShopKick.com.
3. Become a Product Tester for Under Armour & Get Free Shoes and Athletic Gear
Wear Testing is one of the ways many companies test their products. One of those companies is Under Armour.
Basically you'll have to fill an application, and if you are accepted, the company will send you a product (shoe, t-shirt, shorts, etc) to test by wearing it for a set amount of time. You then send the product back for them to evaluate and see the condition of it after X amount of use.
Essentially, you have the chance to get free shoes and any kind of athletic gear UA makes.
And yes, it's all free for you. You don't pay anything, not even for shipping.
You can sign up to become a tester on Under Armour's website.
4. Get $5 Free & the Opportunity to Earn More
Paid surveys are a great way to earn a few extra dollars in your spare time. The best way to do it is to take surveys when you have a few minutes down time, like when you're waiting for the bus, or in your doctor's office.
But normally you have to take the survey on your desktop. Thankfully the iPoll survey site has come up with an app that makes it easy to take their surveys on the go.
And the best part is that they give you $5 free just for installing the app. Then you can keep earning by taking surveys from anywhere and anytime.
You can install the app using links below.