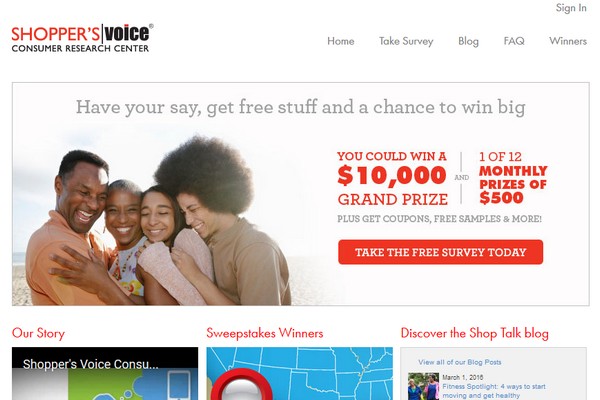 We had a few emails from a few our readers wanting to know about Shopper's Voice and whether it's a legitimate survey site that pays people for participating in studies or just another scam.
I decided to put together a short and to the point review of Shopper's Voice so all of our readers can benefit.
What Is Shopper's Voice?
Shopper's Voice is a kind of consumer research center that connects brands with consumers.
It's almost the same as online surveys but the rewards here are not cash or gift cards normally, but something better, depending on how you look at it. More on that later.
Need Extra Cash for Free?
If you like getting paid for surveys, and are going to join only one site, I would recommend you choose Ipsos-iSay. Ipsos is the most fun and well-paying panel. Give it a try to see how you like it. It is free anyway!

Shopper's Voice is not a market research company.
They are a service which helps brands reach out to their potential customers. That is why their approach is different.
Shopper's Voice is all about quality products and recognizable and trusted brands. That is one of their most important advantages.
Brands like Nestle, Proctor and Gamble, and Johnson & Johnson don't reach out just to anyone for advertisement.
Why?
Because their reputation is too important.
Tailored Recommendations
Shopper's voice gives you a free membership when you sign up for their mailing list.
The process of signing up is actually the survey you take, which will let this service create special recommendations for you.
The mail you'll be getting from them will be solely based on the preferences you mentioned in your survey.
Does Shopper's Voice Pay?
As I mentioned earlier, SV does not reward members with cash.
Earn Free Cash
Try Swagbucks, the famous rewards program that pays you for watching videos, taking surveys, shopping and more.

However, the fact that money is not the main type of compensation doesn't mean that money is entirely out of the question. But those are mostly just entry to their monthly sweepstakes and drawings.
Other types of compensation come mostly in the form of free samples, discount coupons, special offers, and free samples.
And considering the brands and services involved with Shopper's Voice, the little time you need to spend on the survey is apparently worth it.
The Bottom Line
If you are a couponer and shop a lot, you will like the access it gives you to tons of free samples, exclusive deals, and discount codes from some of the major brands.
However, there is one issue that you may want to keep in mind.
And that issue is the possible feeling of being spammed by an increased number of emails. As we mentioned earlier, Shopper's Voice shares your info with brands and companies that are behind products you buy so that they can send you exclusive coupons and discount codes.
So after a while, your inbox will be full of such emails.
But there is an easy fix for it.
If you want to avoid that feeling, you should probably consider creating a separate email just for Shopper's Voice through which you would register. That way your main email won't seem overflown, and you would be able to thoroughly browse through your offers without distractions.