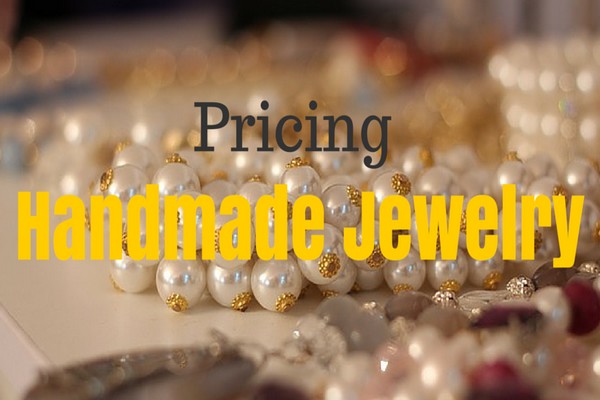 A while ago I wrote a guide on making money selling handmade jewelery online.
It takes a creative mind and handicraft skills to design and make jewelry, but when it comes to pricing your handmade products, it takes a different sort of skill.
You need to have a good head for math in balancing overhead, market value, labor and materials costs, if you want to price them competitively for sales.
Most Common Formula
My research shows that the most popular and proven formula is:
Need Extra Cash for Free? If you like getting paid for surveys, and are going to join only one site, I would recommend you choose Ipsos-iSay. Ipsos is the most fun and well-paying panel. Give it a try to see how you like it. It is free anyway!

For Retail: Cost Price (labor + price of materials) x 2 = Wholesale
For Wholesale: Wholesale x 2 = Retail
With this formula, you can have a consistent model to calculate your profit.
Following is a simple illustration on how to get there:
1. Have a clear idea on your materials costs. As you go procure your supplies, make sure every item purchased is accounted for.
Divide your materials costs by the packages you are making. Consolidate all your purchases on all supplies.
Some items like clay, glue or fabric are common and can be used across projects, do your best to estimate how much of each goes into individual project and the costs they constitute.
For every completion of a product, try to equate a dollar value to it, in terms of raw materials and supplies.
2. Translate your time and effort to complete a creation into an equivalent dollar value. Try to establish a minimum hourly rate so that your effort would not go into vain.
Start to monitor the cycle time, i.e. from start to finish, for every project so that you know exactly how much time you invest into them.
3. Keep track of overhead costs and see if you can apportion these costs to individual piece of jewelry.
Make an estimate on the average amount of time you spend on things like maintenance on equipment or other materials and tools.
You can split this time span by the average number of finished products during the same time frame. Another cost component here is the packaging and/or labeling of your jewelry (cost varies dependent on how much you are selling).
In addition, there will be other related costs like website listing fees or a retailer's cut if you consign the lot to a local retailer.
4. Now you can accumulate your estimated costs (from step 1 through 3), multiply this number by 2 to establish your base-selling price.
If you perceive this number as not so competitive, explore how you can improve your costs rather than tweak the multiplier.
Earn Free Cash Try Swagbucks, the famous rewards program that pays you for watching videos, taking surveys, shopping and more.

5. To help you on step 4, you can also check the market for similar items. Here I am referring to stores (neighborhood and online) and craft fairs.
Two sites that provide good reference point for my pricing strategy are etsy.com and ebay.com, which are 2 of the best places to sell handmade jewelery.
The idea is find products that match your handicrafts ad how much they are selling for. So don't lose focus on items that are listed there (which can be a lot).
Try to strike an optimum price for your products based on what you find from the marketplace.
Other Popularly Deployed Pricing Models
Wholesale
Here are common wholesale pricing models used by jewelry designers:
3 x the material cost
$20/hour • labor plus 1x materials plus 50% (or whatever you want your hourly wage to be)
Eyeballing i.e. guessing at what it should be worth (not recommended, but common)
$35/hour • labor plus 1x materials
$26/hour • labor plus 1x materials plus 50%
Retail
And here are common retail pricing models used by jewelry designers:
1.4 x wholesale
1.6 x wholesale
1.7 x wholesale
1.8 x wholesale
1.9 x wholesale
2.0 x wholesale
The ever common but not recommended "eyeballing" method
Bottom Line
Not one formula fits all, so you may have to experiment different models before you decide what works best for you and your market.
Nevertheless, we can talk math all we want, but ultimately customers pay for the creativity embedded into your jewelry products, not the raw materials that make up the handicraft.
So, it is reasonable to price in your creativity regardless of what model you employ, on condition it represents your unique vision and expertise, of course.