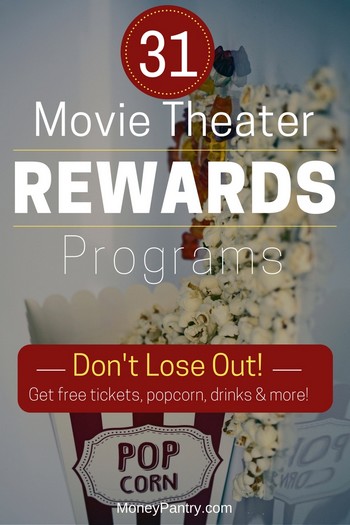 Joining movie theater loyalty programs is an easy way to save money on movies.
We spent $27.2 billion at the movie theater in 2015.
That's a lot of money!
That's not a surprise really considering that in the U.S. alone 28% of us go to the movie theater more than once per year and 4% of the world population attend a theater once a week.
Fortunately, there are ways to save money on movie tickets, snack, and drinks.
Want $5 Free?
Join InboxDollars for free. InboxDollars pays you to watch videos, search, shop, take surveys, and more. They have paid out $57 Million so far!

Most cinema companies have rewards programs that keep customers coming back and doing so frequently.
Many of these programs offer more than cheap or half price movie tickets.
The list below guidelines the loyalty programs of those companies.
The biggest of the American cinema companies are AMC, Regal, and Cinemark all of which have great rewards:
1. AMC Stubs Rewards
AMC Entertainment Inc. owns around 1,000 theaters around the world with 11,000 screens.
661 Of those theaters are in the United States with another 244 theaters in Europe and 86 in China with the rest spread around another 11 countries.
AMC also controls Carmike Theatres,  UCI and Odeon Cinema Group, and Loews Cineplex Entertainment.
AMC Stubs is free and easy to join.
Also, you can always keep track of your account online.
Its benefits include:
Free refill on large popcorn during every visit
Up to $2 off every Tuesday
This program also grants points (20 points for every $1 spent) that gives you a $5 coupon to use on food and drinks once you earn 5,000 points.
Free large popcorn on your birthday
When ordering any 4 or more tickets online, the fee for online purchase will be waived
Alternatively, for the major movie-goer, there is a Stubs Premiere rewards program available for $15 per year.
This program's benefits are:
A free XL drink coupon upon joining
Free refill on large popcorn during every visit
Up to $5 off every Tuesday
The points system becomes cheaper (100 points for every $1 spent)
Large soda and large popcorn for free on your birthday
The online purchasing fee is waived regardless of how many tickets are purchased
Free soda and popcorn upgrades
In most locations, a Premiere line can be found at the box office and concession area. This line is for Premiere members only and can cut down on time and hassle otherwise spent in lines.
Besides loyalty programs AMC also offers a few other ways to save money on entertainment.
For example, right now teens can get a special Cherry Coke and popcorn for $5.99.
Also, for a one-time charge of $24.99 ($20.99 for Stubs members) they have the refillable (throughout the entire year, day after day) large popcorn bucket to be refilled at the price of $4.49 during every visit.
2. Regal Crown Club
Regal Entertainment Group is a company that has 7,400 screens in the US in 588 cinemas located in all 50 states.
Regal has a Monthly Mobile Coupon that is available to all who download the regal app.
With this app, you could get 15% off your order when you buy a large popcorn, large soft drink, and nachos at the same time.
Regal also utilizes their Crown Club to reward its members.
Enjoy 50% popcorn on Tuesdays
25% Off candy every Monday
And a chance at prizes and opportunities to enter sweepstakes
The Crown Club also uses a points system that awards you 100 points for every dollar spent at the box office or the concessions.
You may use these points to redeem free concessions or upgraded concessions or free movie passes.
For example, a soft drink upsize costs 1,500 points, a small popcorn is 7,000 credits, and a free 2D movie is 15,00 credits.
You can also use your points to buy movie posters, merchandise, and memorabilia as well.
Crown Jewel program
Regal also has a Crown Jewel program that rewards frequent moviegoers.
The lowest level, Emerald, rewards its members 250 points for every attendance over 6 times per year.
The second level, Ruby, awards those who attended more than 10 times a year 500 bonus points every visit.
And finally, the Diamond level, those who go to Regal Cinemas 20 times or more a year, earn 1000 bonus points every visit.
3. Cinemark Connections
Cinemark Theatres is the third largest cinema company in the US with 497 theaters and 4457 screens.
It should also be noted in 12 other countries, mostly in Central and South America, the company owns another 148 theaters with 1106 screens.
Along with a weekly email that contains coupons for concessions at Cinemark Theatres, they also have two different programs for frequent movie-goers:
Cinemark Connections
Movie Club
Cinemark Connections
Cinemark Connections is free to join.
It gives you access to:
Member only screenings
Behind-the-scenes footage exclusive to Cinemark Theatres
And the ability to enter contests and giveaways
Also, in an attempt to keep people off their phones, customers who use the app have the option to put their phone on the "Cinemode feature" which allows you to earn points by not using your phone throughout the feature.
Other ways to earn points are to buy tickets and concessions.
Once points are earned rewards will be available such as discounted tickets and free concession.
Movie Club
The other program, the Movie Club, isn't free.
It costs $8.99 per month and with it you get:
A ticket for admission (reusable up to three tickets at the $8.99 price)
20% Off concessions
And the ability to pick your seat at no charge when using these tickets
You can also use this program to gain points in the Connection program.
In the rest of the United States there are many other companies that will reward you for choosing them:
4. Alamo Victory
Alamo Drafthouse Cinema is a fairly new concept that blends a restaurant with a movie theater.
Their unique seating allows them to have a full-service bar and restaurant running while the movie is too.
So far Alamo has 25 "theaters" operating in Texas, Colorado, Michigan, Missouri, New York, California, Nebraska and Virginia that offer cold beer and mixed drinks, hot meals and sandwiches, and snacks and popcorn at all viewings.
Alamo works rewards customers with their Victory program which is a benefit system based on visits per year:
Citizen (0-4 visits per year) grants you at least 2 free, surprise screening invites a year and one free birthday ticket.
Fighter (5-8 visits per year) grants you at least 2 free, surprise screening invites a year, one free birthday ticket, and a Buy One Get One free non-alcoholic milkshake once joining the fighter level.
Captain (9-12 visits per year) grants you the two free screening invites, a free birthday ticket with free popcorn, as well as a snack voucher once the captain level is achieved.
Commandant (13-49 visits per year) grants you the two free screenings, a free birthday ticket with popcorn and soda, a buy one get one free entrée item coupon, invites to advance screenings, and access to early ticket buying.
Top Brass (50+ visits per year) grants you the two free screenings, two free birthday tickets, a free pizza or burger coupon, invites to advance screenings, access to early ticket buying, and an exclusive invite to a Top Brass member only celebration.
Alamo also has a youth (15-17 years old) rewards program called the Victory Vanguard which gives patrons $5 tickets on any 2D film screening, Vanguard only events and screenings, as well as the opportunity to attend screenings without a parent or guardian.
5. B&B Backstage Pass
B&B Theatres owns 414 screens in 51 theaters, is a family owned and operated chain found in Missouri, Kansas, Oklahoma, Florida, Arizona, Nebraska, Arkansas, and Texas.
The Backstage Pass Loyalty Program offered by B&B Theatres for a price of $5 per year (occasionally given out for free) includes:
For every $100 spent on your account, a voucher for $5 will be added to be used on tickets or concessions
Birthday specials (free Combo #1)
Free refills on popcorn and soda per ticket purchased
Access to $2 Tuesdays (soda and popcorn for $2 each on Tuesdays)
Other promotions and discounts offered throughout the entire year
6. Bowtie Criterion Club
Bowtie Cinemas has nearly 400 screens in 55 theaters located in Colorado, Connecticut, New York, New Jersey, Maryland, and Virginia.
The basic Criterion Club Blue of Bowtie offers rewards for movie-goers, invitations to members-only events and discounts on Movies & Mimosas and Insomnia Theater tickets.
This program also offers points (1 point for every $1 spent) to be used as discounts or coupons.
50 points gets you a free small popcorn, 100 points for a free medium soda, 150 points grants you a medium popcorn for free, and 200 points gets you into the movie for free.
The more exclusive Criterion Club Gold offered at Bowtie Cinemas ($20 per year) offers you all the benefits of the basic membership as well as:
Free upgrades on popcorn and fountain sodas
Free birthday tickets
Free access to Movies and Mimosas and Insomnia Theater tickets
Double point Sundays (2 points for every $1 spent)
Bowtie, like most theater companies, offer a promotion on Tuesday: $7 admission and $5 large tubs of popcorn.
7. Cobb Moviegoer Club
Cobb Theatre has 232 screens in 18 locations in Alabama, Colorado, Florida, Georgia, and Virginia.
Those attending movies at Cobb movies theaters are welcome to join their rewards program: Moviegoer Club.
Earn two points for every movie ticket purchased
A cycle begins once you begin earning points that resets at 100 points
Along the way, there are rewards for every ten points:
At 10, 40, and 70 points you get free popcorn
At 20, 50, and 80 points you get a free drink
30, 60, and 90 points you have the option to either receive a free movie ticket or a large popcorn/large drink combo
Once you get to 100 points you will be able to receive a free ticket AND free popcorn and soda.
8. Frank Loyalty Program
Frank Theatres boasts 27 theaters with 249 screens located in Florida, Georgia, New Jersey, North Carolina, Pennsylvania, South Carolina, Virginia and West Virginia.
The Loyalty program at Frank Theatres offers you one point for every ticket purchased as well as one point for every $5 spent at the concession (max $20 or 4 points).
There is also a daily maximum over 8 points.
At 15, 45, or 90 points you get a free medium popcorn
At 30, 105, and 120 points you get a free medium soda
At 60 and 135 points you get both a free medium soda and a free medium popcorn
At 75 and 150 points you receive a free movie ticket
Most Frank Theatres also offer an all-day special "Tightwad Tuesdays".
You are entitled to $6 movies and $2.50 medium popcorn.
9. Georgia Theatre Company Reel Rewards
Georgia Theatre Company has 29 theaters with 288 screens spread across Georgia, Florida, South Carolina, and Virginia.
This peach of a company has a great Loyalty program.
GTC Reel Rewards gives you access to:
Free size upgrade on popcorn and soda at the concessions
$2 Tuesdays which gives members the opportunity to $2 small popcorns and $2 small sodas
A free ticket for your birthday to be used seven days before 7 days after the actual date.
Also, for every dollar you spend at the theater (not online) you receive ten points. Once you have 2000 points you can either choose a free ticket, a free combo of medium popcorn and large drink, or any one concession item
10. Goodrich FMG Reward Benefit
Goodrich Quality Theatres, Inc. controls 30 theaters throughout Michigan, Indiana, Illinois, and Missouri with 279 screens.
Goodrich Theatres has a Thrifty Ticket Tuesday special that allows its customers to receive discounted ticket prices on all Tuesdays however if you are a member of their FMG Reward Benefit program they discount and you can enjoy many other perks.
For example, FMG allows you to receive a free popcorn upon joining as well as another one on your birthday as well as every anniversary of your join date.
Also included are a 15% discount on their concessions' combos and free admission to Morning Movies during the spring summer and fall.
Also, for every $1 you spend you earn 100 points and you can use those points on rewards such as:
From 3,000 to 6,500 points you can receive anything from small soft drinks to medium freezes and large popcorns
9,000, 10,000 and 11,000 points earn you a small, medium, or large combo (dink and popcorn) respectively
14,000 and 15,000 earn you a medium (two medium drink and a medium popcorn) or large (two large drinks and a large popcorn) couples special respectively
Finally, at 30,00 points, you receive the Golden Ticket ($25 gift card to be used for tickets or concessions)
11. My Harkins Rewards
Harkins Theatres owns 446 screens in 31 theaters spread across Arizona, California, Colorado, Oklahoma, and Texas.
First of all, throughout 2018 Harkins is offering a Loyalty Cup for patrons.
For the one time cost of $6, each time you go to the movies thereafter all refills are only $1.50.
Also, My Harkins Rewards offer many great discounts and promotions:
$5 voucher to be used on your birthday at the concessions
Points are earned (1 point for every dollar spent on concessions or tickets) and are redeemable for a $5 voucher after 200 points are accumulated
For $30 a year Harkins also offers a Popcorn Perk which allows people with the perk to receive a free medium popcorn with every ticket purchase. This perk is also usable more than once a day as long as the purchased tickets do not have overlapping show times.
For every popcorn perk added to an account Harkins donates $1 to the Phoenix Children's Hospital Center for Cancer and Blood Disorders.
12. Landmark Email List and Discount Cards
Landmark Theatres boasts 54 locations in large cities all over the United States with a total of 220 screens that specialized in independent films and interaction with the filmmakers themselves.
By joining Landmark's email list you will be given a heads up as to special offers and free admission chances. Also, they will let you know when filmmakers are going to be appearing at your local Landmark theater.
Once joining the email list other sweepstakes (gift cards, shopping sprees, or even vacations) will be available for you to enter for free.
Most Landmark theaters offer a discount card that allows the owner to 5 discounted tickets and, even better, some locations offer an Aficionado discount card that gives the owner 25 discounted tickets.
13. Marcus Magical Movie Rewards
Marcus Theatres has 53 theaters in Wisconsin, Illinois, Iowa, Minnesota, Nebraska North Dakota and Ohio with 681 screens.
They also bought Wehrenberg Theatres, based in St. Louis.
They have some awesome deals, including:
$5 Tuesdays ($5  tickets, $2 hotdogs, and $2 candy)
$6 student Thursdays (students and teachers receive a free popcorn as well with the correct ID)
$6 Early Bird Viewings (before 11 AM)
Young At Heat Senior matinees (every Friday for shows that start before 5:30 PM)
Marcus has a Magical Movie Rewards Loyalty program that has many benefits:
In addition to cheap tickets on Tuesday members also get a free popcorn on that day
Also, for every $1 spent you earn a point. After you earn 100 points you get a $5 reward. Marcus also gives you 50 points just for joining
Members receive free refills on all soft drinks
Members also don't have to pay an additional fee for ordering online or through the app
Access to members only screenings
Members also have access to monthly special as chosen by Marcus Theatres (for example, one month members may get a large popcorn for the price of a regular)
14. Megaplex MegaRewards
Megaplex Theatres owns 19 theaters in Utah and Nevada that have 188 total screens have a $5 Tuesday special for all regular tickets and they give back to their customers with MegaRewards program which includes:
A point earned for every dollar spent and 10 free points for registering
Every 500 points a member will go through a reward list and then restart at 0 points again. The rewards system ranges from money off at the concessions, free refills or items at the concessions, and most importantly, free tickets
These rewards can also be upgraded (small soda to a large refillable soda) for a small additional fee
15. Showcase Popcorn Club and Starpass
Showcase Cinemas has 950 in Massachusetts, New York, Connecticut, Rhode Island, New Jersey, and Ohio across 32 locations.
Their theaters also work under the names SuperLux, Cinema de Lux, Showcase Cinemas, and Multiplex Cinemas.
Advantages of attending this theater regularly include:
A program for children that entitles them to free movies every Wednesday during the summer with an original book report
$8.50 for regular tickets on Tuesdays
Senior Wednesdays which include $7.50 admission price and $4.50 popcorn and soda for all persons over age 60.
This company offers two programs to their patrons:
Popcorn Club
Starpass
Popcorn Club: This membership, geared towards families and children,  gives you a free ticket upon joining, another on your birthday, a free Club backpack, and a "1-2-3 GO' box that is popcorn, soft drink or ICEE, and candy for free.
Starpass: With StarPass you earn 10 points for every dollar spent. You also earn a free drink, popcorn, or movie ticket for every $75 you spend.
Once you earn 25,00 points you become a StarPass Director which entitles you to free refills on popcorn and soda, 10% bonus on those earned and free candy with any popcorn and soda purchase.
Also, members of either group get a voucher for a free popcorn for their birthday and also do not have to pay any service fees for ordering online or through their app.
16. NCG Rewards and Dinner and a Movie
Neighborhood Cinema Group owns 20 theaters with 147 in Michigan, Indiana, Illinois, Georgia, North Carolina, and Tennessee.
This company offers a Dinner and a Movie package that includes a $25 gift card to participating restaurant locations in your area as well as two movie passes, all for just $39!
NCG also offers a reward program (NCG Rewards) that gives you a point for every dollar spent.
At 75 points you earn a small popcorn
With 150 points you get a large popcorn
With 250 points you can receive either a large popcorn or a medium popcorn and medium drink
17. Premiere Insider and Rewards
Premiere Cinemas has 257 screens in 22 theaters in Texas, Alabama, Florida, and New Mexico.
It has an Insider program that offers specials, promotions, and sales through email.
It is free to join the group and the savings are limitless.
Also, Premiere has a loyalty program that is free as well.
Like most programs, a member earns one point for every $1 spent and they can be redeemed with 150, 250, 350, or 450 points for a free medium drink, a free medium popcorn, a free order of nachos, or a free large drink and popcorn respectively.
18. Reading Email List and Special Programs
Reading Cinemas in California, Hawaii, New York, Arizona, and Texas total 23 theaters with 181 screens.
Joining their email list will give you information on screenings, coupon, and special free screening invites.
This company also offers programs, depending on your location, such as:
Crybaby Matiness designed for parents with young children (tickets are discounted)
Family Sundays that allow your family to get an XL popcorn (with free refills all day), two fountain drink and candy all for $10 (some locations also offer $1 hot dogs on this day)
Endless $6 popcorn every day of the week
19. Regency Rewards
Regency Theatres located in Southern California, Nevada, and Arizona have 27 locations with 180 screens.
The Regency Rewards Program offers you:
1 Point for every $1 spent at the concessions
10 Points for every adult ticket
7 Points for every senior, child, matinee (before 5:15 PM), or student ticket purchased
3 Points for tickets purchased at discount (Second-Run) cinemas owned by Regency
Once you have gained 50 points you get a $5 voucher for the concessions, 100 points gets you a free companion ticket, and every 200 points gains you a free movie ticket.
Once you have reached 200 points members reset to 0 points and begin to recollect to gain vouchers.
20. Southern Reel Rewards
Southern Theatres, also known as Amstar Cinemas or The Grand Theatre, covers almost all of the south with 36 theaters and 433 screens.
For $10 a year you can join Reel Rewards.
Just for joining you get a small popcorn and a small fountain soda.
They also have some birthday freebies. For your birthday you receive a $5 voucher for use at the box office or concessions and you also get free upgrades on soda on popcorn pay for a small get a medium.
Once you have spent $100 between tickets and snack you will receive a $10 voucher to be used at Southern locations.
In addition to Reel Rewards, you can also receive a free refill on all large popcorn and soda.
International Companies and Programs
Outside of the US, there are also many companies that will reward you for watching films with them:
21. Cineworld Unlimited (Europe)
Cineworld is both the second largest cinema company in Europe as well as the UK and the largest in Ireland with 221 locations in nine countries with 2,049 screens with over 800 of those in the UK and Ireland.
Cineworld offers an Unlimited card that allows its customers to see unlimited 2D movies for £17.90 per month.
Also included are:
Early access to movies
10% Discount on all concessions
Savings on events (live theatre, opera, sporting events)
Free months when you recommend a friend
Also 25% at Frankie and Benny's, Pizza Hut, and Chiquito
Also, after one year of membership Cineworld upgrades you to a premium membership for free that allows you to pay the same price and get 25% off at concessions and unlimited 3D movies.
Cineworld also owns the Picturehouse brand of cinemas in the UK.
Becoming a member at Picturehouse (costs £60/year) gives you the ability to receive:
Free tickets
10% Off on all concessions
Discounts on all ticket
Priority seating for members only
Local deals such as 25% all food at Giraffe or 10% off at Hotel Chocolat
If you wish to spend £100 a year and become a Member Plus you receive double the free tickets.
With Member Plus, you can also bring up to three guests with you and share the member admission price with them or, with the extra membership card you receive as a Plus member.
22. Vue (U.K.)
Vue is the third largest cinema group in the UK with 85 cinemas and over 800 screens.
Outside of the UK Vue has another 142 sites in Germany, Denmark, Netherlands, Italy, Poland, Latvia, Lithuania, and Taiwan.
Vue has a few specials for its patrons such as Super Mondays (discount on all tickets with use of our unique code), by making a purchase through Compare the Market you become available for Meerkat Movies (two-for-one tickets) every Tuesday and Wednesday, and the All-Inclusive Family Package that gives its buyer 4 tickets, 4 drinks, 4 snacks for up to 20% off.
Vue has also partnered with Nectar and allows its patrons to redeem 500 points for £2.50 off any purchase at their cinemas. This discount can also be used multiples times (if you choose to spend 2,000 points you will receive £10 off your purchase).
23. Maxx Card (India)
Vue also operates CineMaxx in India where the Maxx Card is available.
For every transaction made of at least Rp 1,000 you earn one Maxx point.
These points can be used for:
Free tickets
Concessions
Or merchandise for varying amounts
After one year of owning the Maxx Card and if you spend at least Rp 3,000,000 you will be automatically upgraded to a Maxx Star Card.
Star Card gives you:
Birthday gifts (400 Maxx points)
Gifts for joining and on the anniversary of your join date (1 free Jumbo combo)
Free buy one get one Jumbo combo on Valentine's day
Free upgrades from a regular combo to Jumbo combo
And access to Family day discounts (buy 3 tickets get one free)
24. MyOmniplex (Ireland)
Omniplex is an Irish cinema company with 12 theaters in the Republic and 13 in Northern Ireland with a total of over 200 screens.
The MyOmniplex program allows you to get 10% all ticket purchases including Maxx screenings and VIP seating.
You can use the Omniplex app to order tickets through your account and it's totally free.
Also, when you use this account and buy tickets for select movies you will be entered in competitions that could send you on vacations or get you free merchandise or rewards.
For only €3/£2, Omniplex offers all tickets (adults and children) to a family-friendly film every Saturday and Sunday.
25. Cineplex SCENE (Canada)
Cineplex Entertainment offers 161 with 1,635 screens making it Canada's largest movie theater company and North America's fifth-largest.
The Cineplex SCENE program offers users the opportunity to:
Gain 100 points for every regular movie ticket bought. Once you have 1,000 points you can get a free regular movie (or buy ten get one)
For IMAX showings you earn 1500 points and 2000 points for VIP showings however they still Buy Ten Get One (1,500 and 2,000 points needed for a free ticket respectively)
SCENE members also get 10% off on Tuesdays
Members also get access to offers, discounts, and contests exclusive to SCENE
Also, Cineplex offers  250 points just for joining.
Points can also be used for and earned with purchasing food and drink at the theater.
Cineplex has partnered with 8 restaurants (Swiss Chalet, Harvey's, Montana's, milestones, BIERMRKT, East Side Mario's, Kelsey's, and Fionn MacCool's) allowing them to give you 1 point for every $3 you spend there and they also accept 1,000 points for ten dollars off your final bill.
SCENE has also partnered with ScotiaBank and created three different cards options that get you points.
Debit Card: The first, a debit card, will award you 1 point for every $5 spent as well as gifting you 5,000 points once you have activated your card.
Visa Credit Card: The second, a Visa credit card, gives you a point for every $1 spent as well the opportunity to earn 4,000 points (four free movies) for spending $500 in the first three months of activation.
Prepaid Visa: The third, a prepaid Visa, is given to you once you join Scotiabank and you can use it to earn one point for every $5 spent.
26. Landmark Account and Student Price Card (Canada)
Landmark Cinemas, which is also operating the old Empire brand of Cinemas, have 54 locations with 359 screens mostly in British Columbia, Alberta, and Saskatchewan.
For creating an account with Landmark you can order tickets online, pick your seats, and receive deals and promotions only available to those with accounts.
You also receive a free medium popcorn for signing up.
The Movie 10 pack allows you to buy ten tickets at once, to be used anytime, for a discounted price.
This card also earns you 10 10% off voucher to be used at the concession stand.
The Student Price Card gives students an opportunity to:
Receive admission
A medium soda
Medium popcorn for $16.99 plus tax (a 33% discount) any day of the week
All you need is your SPC card and your Student ID when you go to the box office.
On Wednesdays, patrons can buy a Movie Twosome ticket and receive 2 tickets, 2 medium sodas, a large popcorn (with a free refill) and your choice of candy for just $29.99 plus tax.
27. Cinepolis Club (Mexico)
Cinepolis is the largest Mexican cinema company with 214 locations and is also the largest in Latin America with an additional 335 locations.
With over 4,500 screens in the world, Cinepolis is the fourth largest cinema company in the world.
Cinepolis has a Club that you may join for a small fee depending on your location.
Once you are joined and have you personalized card you may use it at the box office or concessions to earn points (5% of total sale equals the number of points).
You can trade these points in for concessions or free tickets.
Once you have joined you get a free ticket right off the bat.
Other benefits of Club Cinepolis include:
Cheaper tickets overall.
Two-for-one tickets on Tuesdays and the whole month of your birthday.
A free ticket when you come with four friends Monday-Friday.
A free ticket when you attend more than 4 times.
A two-for-one pass for Monday/Tuesday when you attend Saturday/Sunday.
And access to private offers and promotions.
In Mexico, there is also a tiered rewards system: the rewards above represent the fan tier.
The next tier (Fanatic) gets you:
10% Of your total purchases in points
A 10% discount when redeeming point
Refill for your drink and popcorn for 15 pesos a day
An opportunity to receive 15% in points on every last Thursday of the month
And 6 pass per year for a 3D or VIP film at 2D price
The final tier (The Super Fanatic) gives you:
All of the benefits of the fanatic level plus
20% Discount when using points to pay
12 Passes for 3D or VIP tickets at 2D price
Freebies through Cinepolis Klic (a streaming service powered for and by Cinepolis)
28. Cinemex Special Guest (Mexico)
Cinemex is another Mexican company, second only to Cinepolis, with 271 locations and 2,361 screens in Mexico alone plus cinemas in the United States as well as other Latin American countries, making it the sixth largest cinema business in the world.
Their Special Guest rewards program is a great benefit to attending these cinemas and it is also part of the Payback program that interworks with different companies to rewards its customers.
There are three levels to this program:
Basic
Gold
Premium
Basic
All you need to do to join is ask a customer service representative at the theater for help.
Here's what you get:
Earn 5% of purchase in points
A free combo for your birthday (medium popcorn, medium soda, 1 Snickers)
A 135 peso special that gives you 2 tickets
2 Medium sodas
And one large popcorn
Two-for-one tickets on Mondays
15 Pesos for popcorn refills
10 Pesos for drink refills
Loyalty combos (30 visits=free ticket, large popcorn, and soda – 40 visits=ticket, popcorn, soda and nachos – 50 visits= ticket, popcorn, soda and a hot dog)
And if you visit the same theater 5 times in a month you get a free ticket.
Gold
The next level is gold and you need to visit Cinemex at any location 12 times in one year while owning a Special Guest card.
This tier gives you all the same benefits except you earn 8% of purchases in points and you can also use the preferred line at the box office and concessions.
Premium
The best level is premium and it takes 24 visits a year to join this club.
You get 10% of total purchases in points and free popcorn and soda refills as well as all free upgrades to 3D films on Mondays, Tuesdays, and Thursdays, and offers to other promotions and discounts only a premium member can receive.
29. Event CineBuzz (Australia & New Zealand )
Event Cinemas has 55 theaters in Australia and New Zealand that utilize a free to join CineBuzz Rewards program and the benefits are great.
With it you get:
A Movie of the Week program discount price
Advance screenings
And specials deals and promotions for members only
Event also gives members points for every ticket purchased:
100 Points for standard viewings
150 Points for Vmax viewings
And 250 points for Gold Class viewings
Every sixth viewing at any level gets you a free ticket for that level or when you get enough points to match the cost of six tickets at a certain level you may elect to use them.
For example, rather using a free viewing after your sixth regular viewing you may save your points to reach 1,500 (15 viewings) and get a free Gold Class ticket.
You can also earn 25 bonus points for ordering your tickets online.
The is also a VIP CineBuzz Rewards program.
To get in you need to have 159 status credits (10, 12, and 15 earned for every regular, Vmax, and Gold Class viewing respectively).
Once you are in you enjoy such benefits as endless refills on popcorn and VIP only deals.
30. Hoyts Rewards (Australia & New Zealand)
Hoyts in Australia and New Zealand has 52 locations with 452 screens.
Hoyts Rewards program has two levels:
Bronze
Silver
Bronze offers you:
1 Qantas point for every two dollars spent on tickets or concessions
Discounts on Movie of the Week
Access to preview and advance screens
And member only event pricing
Silver earns you:
2 Qantas points for every dollar spent
All the other benefits in the Bronze level
A free screening for joining
And 10% Hoyts Dollars back on most purchases to be used on tickets or concessions
Also at this level, you can get a free scoop when you order one at Ben and Jerry's Scoop Store.
This level cost $13 dollars a year but also includes emails and texts with discounts and promotions.
31. MoviePass
This is not exactly a reward program but if you're looking to save money on box office tickets, this is one place you should look into.
So what is MoviePass?
It's a subscription-based service for movie lovers.
It costs $9.95 a month.
It lets you watch all the latest movies for free.
This is a great deal, especially considering that the average cost of a single movie ticket in 2016 was $8.65.
Essentially, you get to watch tons of movies for the price of one.
Here's how it works:
Step 1: Subscribe to MoviePass by paying the $9.95 fee to receive your Movie Pass Card (takes about 2 weeks.)
Step 2: Install the MoviePass app and browse theaters and showtimes on the app.
Step 3: When you get to the box office or kiosk, present your Movie Pass Card to get in for free.
Yes, it is that simple!
And the best part?
You can see a movie every day if you want!
If you are a frequent movie goer, this is definitely worth the small monthly fee.
Final thoughts
Whether you attend once a week, once a month, or once a year all of these companies reward you in some way.
With so much money being spent in movie theaters, and with their prices expected to rise, the savings they offer are impossible to pass up.
It's like getting paid for watching movies.
Don't cheat yourself out of a deal or saving opportunity.
Join your local movie theater rewards programs and get something back.