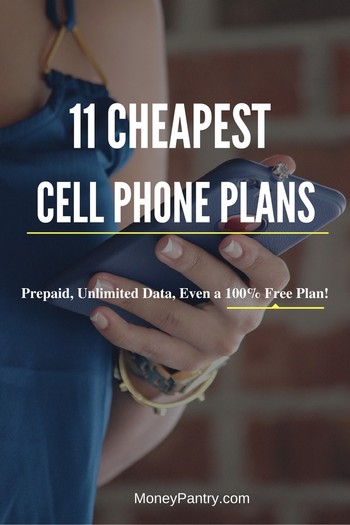 Cell phones have become somewhat of a necessity for most people.
So, whether it's a contract or a prepaid program, most people have some sort of cell phone plan that they pay for each month.
And, it's likely with one of the big four carriers:
Verizon Wireless
Sprint
AT&T
T-Mobile
While plans from these carriers are popular, they're also pretty pricey.
Statistics show that average Verizon Wireless customer pays $148 per month!
Need Extra Cash for Free? If you like getting paid for surveys, and are going to join only one site, I would recommend you choose Ipsos-iSay. Ipsos is the most fun and well-paying panel. Give it a try to see how you like it. It is free anyway!

And, the other three carriers are pricey too:
Sprint customers pay an average of $144 per month.
AT&T customers pay an average of $141 per month
T-Mobile customers pay an average of $120 per month
$100+ is a lot to be spending on your mobile phone each month and annually, you're spending more than $4000 just on your phone bill!
So, how can you cut the cost?
Switching Plans
If you want to pay less per month for your cell phone plan, then check out one of the plans below.
These cell phone plans cost much less than $148 to $120 per month.
In fact, all of these plans cost less than $70 per month!
So, check out these plans, see which one best suits your needs, and then consider switching.
Monthly Cost: $40/$35 with an iPhone and auto pay
Earn Free Cash Try Swagbucks, the famous rewards program that pays you for watching videos, taking surveys, shopping and more.

If you're the typical cell phone user, then consider switching to the Virgin Mobile $40 Unlimited plan.
With this plan, you get:
4GB data
Unlimited nationwide calls and texts
Unlimited music streaming.
This plan from Virgin Mobile is one of the best in terms of value for people that are looking for a decent amount of data.
4GB of data for $35 to $40 per month is a pretty great deal.
You do need to buy the phone outright to be able to get this plan – you won't be able to use your old phone or buy an unlocked phone somewhere else. Phones from other carriers won't work on the Virgin Mobile network.
Switching to this plan is very easy too, as the company offers a hassle-free switching service, which allows you to keep your current mobile number.
Monthly Cost: $40/ $35 with Autopay
Rather than offering annual contracts, Cricket Wireless offers a prepaid service to its customers.
With the Cricket Wireless Basic plan, you get:
A 2.5 GB data allowance
Unlimited nationwide calls and texts
If you're worried about leaving a big, reputable cell phone service produce, then Cricket Wireless is a good choice – as it is owned by AT&T
Cricket Wireless is on AT&T's LTE – meaning you get, arguably, the best network and coverage of the cheaper providers.
Monthly Cost: $35/$30 with auto pay
For light cell phone users, the Boost Mobile Data Boost 2GB plan is one of the best. With this plan you get:
2GB data allowance
Unlimited calls and texts
Unlimited Music Streaming
500MB of extra high-speed monthly data after every 3 on-time payments
You can only get this plan with basic phones, so if you need a smartphone, this isn't the plan for you. With this plan, you do need to buy the phone outright.
Monthly Cost: $55
Simple Mobile is a prepaid cellular service operated by TracFone, and it runs off the T-Mobile 4G LTE Network.
If you're looking for a more data-heavy plan, which is still budget-friendly, then the plan from Simple Mobile is a great choice for you.
With this plan you get:
10GB of data
Unlimited calls and texts
Unlimited international texts.
With this plan, you can use any T-Mobile compatible phone.
Monthly Cost: $35/$30 with autopay
With this plan, you get:
4GB Data
Unlimited calls and texts
Unlimited international texting to more than 200 countries
Unlimited 4G LTE Facebook access
Nationwide network & 3G speeds
If you don't plan on using mobile data to browse the internet, then consider getting the company's $25 per month plan instead.
With this plan, you get the same features listed above, minus the 4GB of data. So, if you generally use Wi-Fi, rather than mobile data, consider the $25 plan.
Monthly cost: $60/$55 with auto pay
If you're a data heavy user, then another great option is the Cricket Wireless Pro plan.
With this plan, you get:
10GB Data
Unlimited nationwide calls
Unlimited calls and texts to and from Mexico, Canada, and the U.S
Unlimited international texting
Please note that when it comes to calls, primary use must occur in the U.S and any calls and texts made, as well as data used, while in Mexico and/or Canada cannot exceed 50% of the total usage.
With this plan, you will need to buy the phone outright.
Monthly Cost: $19
If you're not planning on using much, if any, mobile data, then check out the Ultra Mobile $19 Plan.
With this plan, you get:
100MB of 4G LTE Data
Unlimited calling to USA and more than 30 international destinations
Unlimited domestic and global texts
This is one of the cheapest plans out there, and while you don't get much data with it, if you're planning to use Wi-Fi rather than mobile data, or you don't use your phone for browsing the Internet or streaming, then this plan is a great choice.
This plan works with any T-Mobile-compatible phone.
Monthly Cost: $15
Another great plan if you're not looking for something data heavy is the $15/Month plan from Republic Wireless.
For a ridiculously low cost, you can get unlimited calls and texts.
But, you don't get any mobile data – so you have to depend on Wi-Fi if you want to browse the Internet or stream anything from your phone.
One of the best things about Republic Wireless is that even though its plan is incredibly cheap, you don't have to be stuck with a basic phone. With the company's plans, you can choose from some high-quality phones, like the Samsung Galaxy for example.
Republic Wireless runs off Sprint, which means their coverage is pretty great, especially for a cheaper carrier.
Monthly Cost: Free!
What's better than a low-cost cell phone plan?
A free one!
It might sound too good to be true, but a carrier called FreedomPop actually offers free phone plans.
With this plan, you obviously don't get access to as many features as you do with paid plans, but, for free, you do get:
500MB data
500 texts/month
200 minutes/month
That's a pretty great deal!
FreedomPop also supports a lot of different devices, including iPhones. You can either purchase your phone in the FreedomPop phone store, or you can bring your own device.
Please note that whatever phone you do decide to use, it must be Sprint compatible.
Monthly Cost: $29.95
The $29.95 Plan from Page Plus is a great plan for those that want a mix of data and calling features.
With this prepaid phone plan, you get:
1500 minutes per month
Unlimited national and international texts
1GB data
You can use your old phone on this plan, but, it must be a 4G LTE device. All you need to do is purchase a Page Plus Sim Card, choose your plan and then activate your device on Page Plus.
You can also purchase a phone through the site.
Monthly Cost: $49.99
ROK Mobile offers an excellent $49.99 per month plan, which is pretty generous when it comes to data.
With this plan, you get:
5GB data
Music streaming (20,000,000 tracks)
Unlimited texts
Unlimited voice calls.
And, if you want to keep you phone, you can. ROK Mobile allows you to use whatever phone you want with its plans, or you can purchase one on the site.
Bottom Line…
If you want to significantly reduce the amount that you're spending on your phone each month, then you really should consider switching to another mobile phone carrier.
Often, you'll get many of the same features, but for a much lower price.
Just keep in mind that using your old phone or buying one upfront is always cheaper than paying in monthly installments!