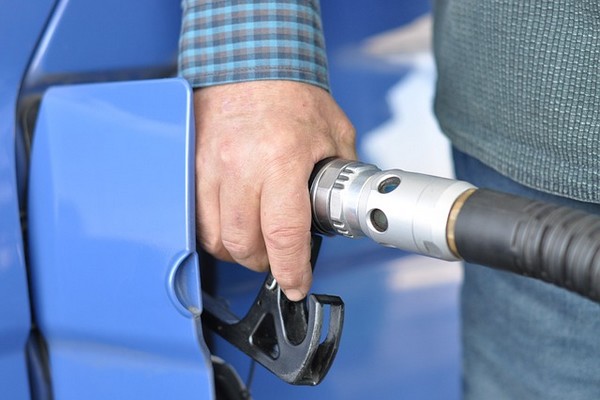 With gas prices so high, it would almost be crazy not to use a gas rewards credit card.
If you're one of those people with long commutes – whether fork work or for daily activities – you could save a substantial amount of cash by using gas rebate cards.
The data released by the Bureau of Labor Statistics reveals that for the period from June 2011 to July 2012 an average U.S. consumer spent $2,706 on gasoline.
A lot of people use cash to pay for gas. But smart shoppers know that they can earn some of that cash back if they use a gas reward credit card.
As is often the case with reward cards, gas rebate credit cards also require an above average credit score.
Note:
Gas rebate cards are different from gas charge cards that are valid for a specified brand of filling station. You get more flexibility with gas rebate cards and their benefits are not confined to just getting rewards on buying gas.
That said, I have prepared two separate lists:
Top 5 gas credit cards that can be used at any station.
Top 3 gas station credit cards that can only be used at specific filling stations.
1. Blue Cash Preferred® Card from American Express


This is easily among the best reward cards available, offering [email protected]% on your gasoline expenses.
Incidentally, this is also the top credit card for groceries.
Though you can earn any amount of cash back, the offered rate is not applicable if you purchase fuel from superstores or warehouses like Sam's Club and Costco.
Main Features:
On buying goods worth one thousand dollars within the first three months of having acquired your first card, you earn 100 Reward Dollars that can be redeemed for a $100 statement credit.
Additionally, you are rewarded one year of Amazon Prime on signing up for a fresh membership, using your card and on qualifying the spending conditions within the same time period.
On becoming an Amazon Prime member, you get limitless Free Two-Day Shipping on thousands of products.
Earn 6% cash back on purchases made from US supermarkets for a maximum of $6,000/annum,
Earn 3% cash back on purchases made at any U.S. gas station & specific U.S. department stores,
Earn 1% cash back on other purchases.
You get cash backs by way of Reward Dollars that may be exchanged for a statement credit.
0% introductory APR on your procurements and balance transfers for fifteen months, subsequently the rate varies depending on your credit worthiness and additional factors; the current rate is 12.99 %.
Subjected to terms and conditions.
2. TrueEarnings® Card from Costco and American Express


If you have been patronizing Costco card, you would know it amounts to great savings.
The consumer edition of Costco TrueEarnings card gets you 3% cash back on gas but this is applicable for the first four thousand dollars spent during the year.
Additional benefits include 2% cash back on restaurants and traveling, plus 1% cash back on all other purchases.
Surprisingly, 1% rate is also valid for goods purchased from Costco.
Generally, extra rewards are given for buying from co-branded merchants.
Another somewhat unusual feature of this card is that rewards are offered by way of a voucher every February. The voucher may be redeemed for cash at the customer service counter or you could use the same for making purchases at Costco stores.
In case you decided to close your account prior to February, you lose all your rewards.
If you have a paid Costco membership, you don't have to pay any fee for availing this card.
Main Features:
For purchasing gas at US gas station your cash back is 3% till you spend $4,000 in any year, for purchases exceeding the said amount in the same year, it comes down to 1%.
You are entitled to 2% cash back at restaurants in the U.S..
Earn another 2% on making qualified travel purchases.
You also earn 1% cash back on rest of the purchases, including those made at Costco.
You get your cash back one every year by way of a reward coupon.
Card membership provides benefits including Purchase Protection* and Extended Warranty* * underwritten by AMEX Assurance Company.
Terms and restrictions are applicable.
3. BankAmericard Cash Rewards™ from Bank of America


This card gets you 3% percent cash back on the amount you spend for buying gas but restricts it to the first $1500 you spend during each quarter. The limit is valid for spending on groceries too.
Need Extra Cash for Free? If you like getting paid for surveys, and are going to join only one site, I would recommend you choose Ipsos-iSay. Ipsos is the most fun and well-paying panel. Give it a try to see how you like it. It is free anyway!

You are not quite likely to reach that limit so often!
This works still better when you have a savings or checking account with Bank of America.
Main Features:
There's no annual fee.
You get 3% cash back on buying gas.
You are offered 25 cash back for buying groceries plus fuel totaling $1500 each quarter.
For buying all other items you earn 1% cash back.
On redeeming your cash back from a savings or checking account with Bank of America, you get 10% extra money, meaning on redeeming $25, you get $27.5.
4. Visa Platinum Cashback Rewards Card From PenFed


Ironically, one of the best gas rewards card is actually issued by this credit union, not an oil company.
PenFed comes from the Pentagon Federal Credit Union. They aren't too famous, but they surely offer quite a few of the most consumer friendly easily available goods.
On patronizing their Platinum Cash Rewards card, you earn 5% cash back on whatever you spend for buying gasoline products.
To be eligible for this card, you have to be a member of the credit union. The membership is offered to present and previous members of the military, a lot of government contractors, their household members, and relatives, too.
In case you do not fall in any of these categories, you can still qualify for their membership on donating just $15 to any military charity.
Main Features:
Plus Card: You get 5% on gas purchased from the pump with a certified PenFed product (An active checking account, money market certificate or IRA certificate, a mortgage, an installment loan, etc)
Plus Card: There's no annual fee.
Standard Card: You get 3% cash back on buying as from pumps.
Standard Card: Zero fee for the first year, thereafter an annual fee of $25 only.
No fee is charged for foreign transactions.
Cash back is automatically credited to your account every month
No limit is specified for cash reward earnings.
5. Barclaycard® Rewards MasterCard®


This card is quickly becoming a favorite among many card holders, mainly because of its benefits and rewards.
This card presents double the points for money spent on gasoline.
Additionally, whatever you spend on utilities and groceries also gets you the double bonus, making it an excellent for daily use.
Main Features:
For every dollar you spend on gasoline and groceries, you earn two points.
You earn one point for every other dollar spent anywhere.
There is no balance fee transfer.
There is no annual fee.
The points you earn can be used as cash for paying almost all other items you may buy.
There are no redemption fees, no blackout date, and no limit on the points you may earn, making it so simple to patronize.
Every month it reports to three credit bureaus that matter, allowing you to repair your credit score.
Top 3 Gas Charge Cards
As already pointed out you can utilize gas charge cards at specified filling stations. This works extremely good for people who like patronizing the same filling station whenever they require gas. Basically, they appreciate your loyalty.
The maximum cash back savings are linked to the gas company credit cards. So, if you are living close to one of the branded filling stations, you may find the following cards worthwhile:
1. Citi Shell Master Card


You get 5% concession on buying gas from Shell filling stations. Moreover, there's no fee to be paid. However, make sure to pay the bills regularly.
The card charges you an interest @ 23.99%.
If you carry a balance, you may end up paying $4 per gallon!
2. Chase BP Visa Card


This card offers you a 5% discount on gas that you buy only from BP stations. You also get 2% cash back on entitled travel and dining, plus 1% on most other purchases.
The incentive for the 60-day introductory period is a bit higher.
The interest rate is also slightly lower, compared to Shell card, and works out from 15.24% to 19.24%.
3. Citi ExxonMobil Master Card


The rewards, in this case, are not as liberal as with the other two mentioned already. However, it's worthwhile in case you are living close to these branded filling stations.
Using this card, you get a discount of fifteen cents /gallon of fuel bought from Exxon and Mobil stations.
Patrons of the card also get 2% cash back for the first $10,000 spent on other specified purchases. Ongoing beyond that limit, the incentive offered is 1%.
But mind that interest rate that comes to 19.99% to 23.99%.
Bottom Line
Here is the thing, if you drive often and pay for gas as often as I do, not using a gas rewards credit card would be like leaving money on the table. I mean, if you have to buy gas anyway, you may as well use a gas rewards card to get some of that money back.